Why Your Website Needs a Blog as Part of Your SEO Package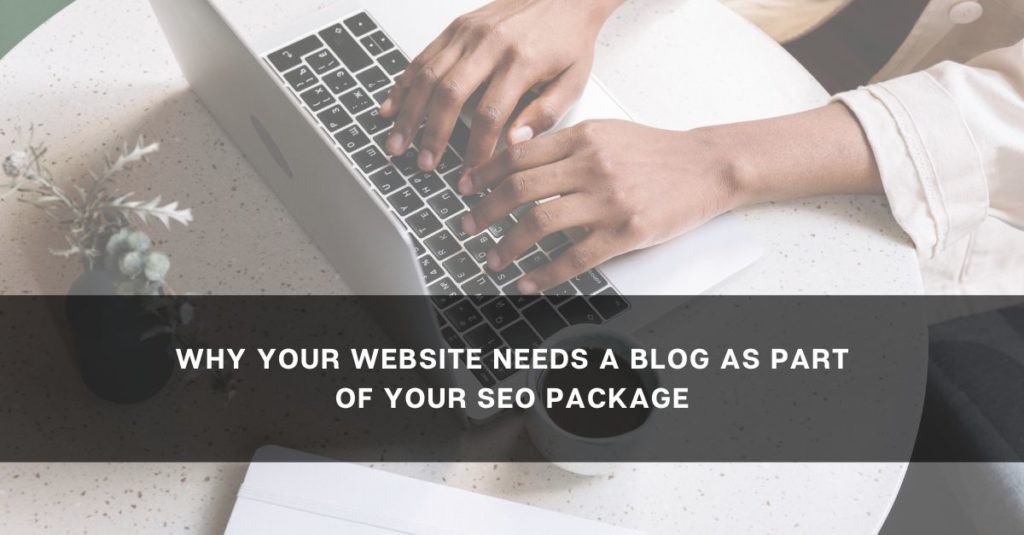 As the owner of a business, you might be wondering what benefits there are to adding blogs to your website. The truth is there are several important benefits that blogs can bring to your business. In fact, having a blog is one of the most important components of any SEO package. The following are eight reasons why a blog should be included on the website of every business.
Increases Your Search Engine Optimization
One of the best reasons to keep a blog is the possibility that it will show up higher in search engine results. When you add new content to your blog, a new page will automatically be generated on your website. This gives search engines more content to crawl and index, which could lead to better rankings in those search engines.
Increases the Number of Visitors to Your Site
Putting up quality and useful content on your blog can result in an increase in the number of people who visit your site. Your overall website traffic may increase as a result of this, which may ultimately result in an increase in the number of leads, conversions, and sales. Remember, that is not all about quantity but about quality.
Establishes You as an Authority In Your Field
If you use your blog to share your experience and knowledge with others in your field, you can quickly establish yourself as an authority figure. By doing this, you can build trust with your audience and bring in more customers while also creating a more strong connection with them.
Maintaining a blog is a great way to connect with your audience on a personal level, which can help you build stronger relationships with them. You can build a community of devoted followers who are more likely to interact with your brand if you share your thoughts, ideas, and insights with the people who are following you.
Provides a Platform for Brand Messaging
The messaging and values of your brand can be easily shared in your blog's content, which provides an ideal platform for doing so. If you make content that fits with your brand, you can strengthen your message and make more people aware of your brand.
Having a blog can help you differentiate yourself from the other people in your industry and become more successful as a result. You will be able to set yourself apart from competing businesses in your sector if you produce content that is both original and of high value.
Produces Content for Social Media Channels
Your blog could also be a source of content for the different social media channels you manage. You can grow the number of people who follow your blog and interact with the people who visit it by sharing its posts on social media.
Long-Term Benefits Can Be Obtained
Blogs can be useful for a long time, unlike some other marketing strategies that may only work for a short time before they are no longer useful. Long after they have been published, the blog posts you write may continue to bring visitors to your website as well as generate leads and sales for your business.
Provides an Outlet for Creative Expression
Your blog gives you a place to show off your creativity and your unique personality. You can get your audience's attention and build a loyal following if the content you make is first and foremost interesting, engaging, and unique.
Enhances the User Experience of Your Website
Having a blog, in the end, can make the user experience of your website (UX) better. You can keep visitors on your site for longer and reduce the percentage of visitors who immediately leave by providing content that is both interesting and simple to read and navigate.
Work With Industry Experts
If you're still not sure if your business needs a blog, think about the benefits of working with a digital marketing and SEO company like Website Depot. Their team of industry experts can help you create a blog that is interesting, fits with your brand, keeps your audience interested, and improves your SEO. They are also able to assist you in developing an SEO package that will help you improve your search engine rankings and drive more traffic to your website. This package will include a blog as one of the strategies that will assist you in doing so.
A Wide Array of Services
In addition to making blogs, Website Depot offers a wide range of other digital marketing services, such as web design, search engine optimization, and reputation management. We can help you build a strong online presence that brings in more customers and helps your business make more money.

Improve Your Site's Ranking Today!
If your company wants to improve its SEO and connect with its audience, having a blog is an absolute necessity for the company. You can become known as an expert in your field and get more people to visit your website if you create content that is valuable to your target audience and speaks to them. Website Depot is also here to help you build an interesting blog as a part of our SEO package. Contact us.