Why You Need Professional Rehabilitation Center Marketing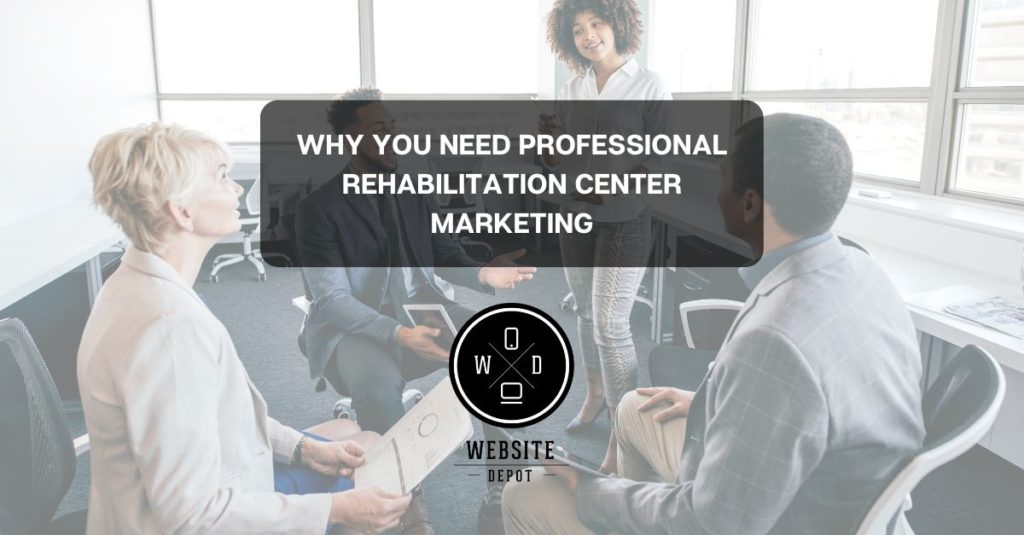 Professional rehabilitation center marketing is essential to building trust and changing more lives. But developing a marketing strategy, analyzing SEO keywords, and creating content can be extremely challenging and take you away from helping people. That's where the Website Depot team comes into play. Here's how we can help. 
SEO Is a Specialized Skill 
Organic Search Engine Optimization (SEO) isn't a skill that's learned overnight. The process includes adjusting code, links, and content to improve search engine rankings for targeted phrases. Improving your search ranking takes time and requires patience before you start seeing the fruits of your labor.
Pursuing an SEO strategy on your own might seem like a great way to save costs on your marketing budget, but it might not yield the results you're looking for. You might not be targeting the right keywords, getting low conversion rates, and creating content that doesn't build up your brand. 
We'll conduct an audit and analyze the content on your website to see what's what. The Website Depot team will consolidate your content so that it focuses on critical pages that get the most results. Stop waiting if you don't have an SEO strategy in place or you're going at it alone; Website Depot can help.
Social Media Will Make or Break Your Facility
Social Media is the beating heart of the modern-day. People share their lives, ideas, beliefs, and thoughts on everything, including businesses. You've probably noticed a tremendous benefit if you're already developing social media content. Unfortunately, you're losing out if you're not. 
It's challenging to build a positive buzz around your services or create a following of people who believe in your treatment. Your online community can become ambassadors for your treatment programs and act as secondary marketers. But that's only if you have an effective social media marketing strategy.
We'll create engaging content that sparks a buzz around your brand and services. We'll build up your online community into a dedicated following that believes in your treatment services and programs. Through Social Media advertising, we'll get the word out about how your services change lives for the better. Let the Website Depot team help you take your rehabilitation center to the next level with one of our marketing packages today.
Seek Professional Rehabilitation Center Marketing Today 
We understand the importance of helping people obtain sobriety, stability, and peace. Unfortunately, your business won't reach as many people without a proper marketing strategy. That's why it's essential for your company to utilize one of our marketing strategies. 
Our veteran staff of SEO experts is here to guide you through the process and take the load off your shoulders, allowing you to focus on changing lives. Contact us today to begin a strategy consultation. Or call us at (888) 477-9540 to speak with one of our experts. Whether you're looking for social media marketing, Google advertisements, or keyword adjustments, we're here to help.