Why Should You Start Paying Attention to Voice Marketing in 2019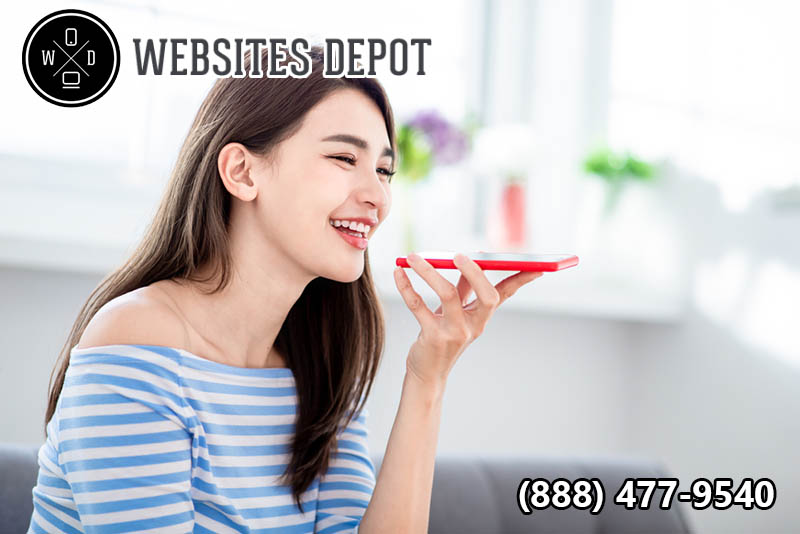 Voice devices like Siri or Alexa are not strange for most of the people anymore. They generated a totally new sales channel in the always changing digital marketing landscape. Voice devices work as a perfect blend of digital and physical world and generates a new level of interaction with users. And even though this technology is still quite young, you as a marketer should definitely start paying attention to voice marketing in 2019.
2018 was the year of voice devices, selling one billion units. And as the numbers keep growing and more people is getting used to voice assistants, a new question arises: such adoption might be affecting smartphones, tablets and smart watches, to the point that they are forced to mutate to adapt to voice or risk to disappear.
Voice Devices might Replace Tablets by 2021
In a recent global forecast by technology market analyst firm Canalys, there would be more smart speakers in use than tablets by the year 2021. The company also affirms that the worldwide use of these devices will grow from around 114 million units in 2019 to 208 million in 2020. In the USA only, over 100 million units are already in use, being the largest market seconded by Asia.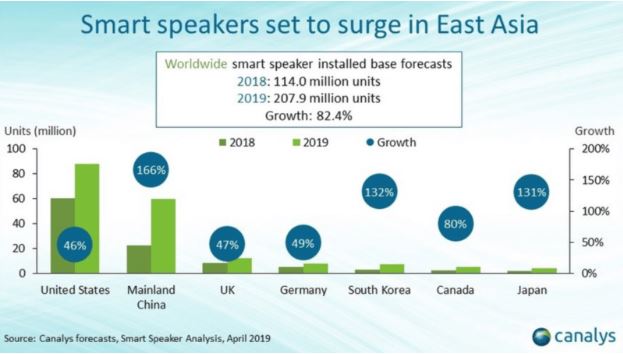 According to Canalys research, the US will continue being the largest market for voice devices. And they might eclipse tablets if we consider that, for example, iPads annual sales had been flat and even declining in the latest years. Another factor of the decadence of tablets is the growing size of smartphones screens, which has decreased their demand considerably.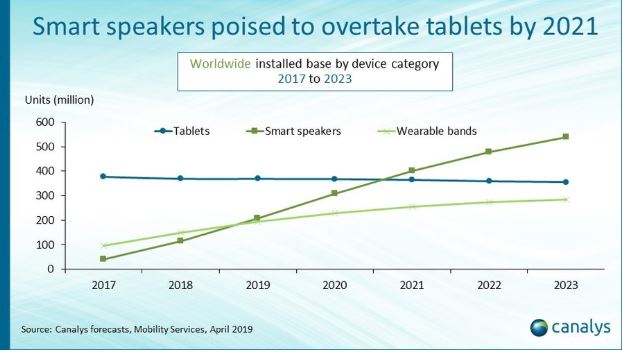 All this seems to make the displacement of voice devices over tablets quite imminent. And it is particularly interesting that there is still no marketing business model, even though they've been sold by the millions. Smart speakers have definitely helped build awareness and lead users to buy smart home accessories that run along with them. But they still don't end up emerging as an effective sales channel, even though practices like voice search optimization are no stranger in the digital marketing world.  
Are You Voice Ready?
Being voice ready for search engine optimization involves schema, discussing enhanced content and even FAQs. In a new analysis available only through registration, Location Marketing software Uberall asserts that 96% of SMBs, mid-market and enterprise level companies with offline locations do not meet the necessary criteria to perform voice-search readiness (VSR) the right way.

According to Uberall, there are "37 directories that directly feed voice search platforms," including major virtual assistants. Google Maps, Yelp, Bing, Facebook and Foursquare are among the big names that fulfill the needs of voice search. Uberall also compared business listings in such platforms and scored them considering their accuracy in categories like address, business hours, contact numbers, websites and zip codes.
These elements are the ABC of every traditional local SEO and online listings. However, Uberall report can't tell how they actually relate to voice search. However, it is deductible from this report that voice search is mostly performed on mobile devices, which also have a high level of queries when it comes to local or offline business information.
We can also deduct that VSR goes hand in hand with traditional SEO. So the mistakes you commit in your traditional search engine optimization are translated to voice optimization too. This makes sense if we think that voice is a UI to access content and information. Still, voice search has its own particularities. It requires longer tail keywords, with a question format or searching very specific information ('near me' keywords are also more frequent).
Get the Fundamentals of Voice Marketing in 2019
All indicates that voice search is growing fast. And even though we are not sure about the real volumes, truth is that queries through virtual assistants are gaining popularity in digital marketing. Google Assistant, Alexa, Siri and Cortana run more than 2 billion different devices all around the world.
It is in the best interest of every marketer nowadays to rank in the query results of voice devices. Local businesses are the main beneficiaries of these new voice searches and a new way to do local SEO. There are also many other factors and strategies to keep in mind and thus stand out in Google Assistant or Siri query results.
Most businesses, including local, SMEs and even mega corporations, are actually underperforming when it comes to listings management. And this also applies pretty widely when it comes to voice search. Getting the basics of voice marketing in 2019 can give your business a better chance to be at the vanguard in the new, increasing market of voice search results.
If you want to make a consultation on this matter or you want to make a consultation with our experts, give us a call at (888) 477-9540.