Why is online reputation management getting very important?
Do you have a website, social media marketing, a blog…etc? Then you must know the need to always keep in touch with your audience or simply keep your site active. Today, in the era of internet marketing, online performance, coupled with the need to remain relevant, online reputation management is something you cannot overlook. If you are running a business, you understand that it takes years to have a stable and acceptable brand. Now that the internet is part of our daily life, unchecked online work can bring your long-built brand name. To prevent this, you need online reputation management campaign.
How does online reputation management work, and why is it important?
The first reason why online reputation is important is to battle negative online content. With competition by businesses going digital, a competitor can easily start negative campaigns to bring your business down. Effective and experienced online reputation management team will help to provide the right and result-guaranteed maneuvers to tackle these negative comments.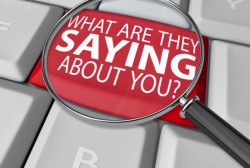 Secondly, to reach you're your customers and clients; you need to manage your reputation online so as to identify with them. Today, when a customer is making a purchase for a first time or from a given shop for the first time, they will fast want to see if the business is for real and what other customers say about the products or the business. Obviously, you don't want such customers to turn away because of a negative comment; this is why online reputation management is important.
Third, you need your customers to be there when you customers need you. Online reputation management does not only deal with negative comments, but also keeping your customer informed and their concerns addressed promptly. If a customer has a concern over a given product, they will most likely post a comment. So it is important that you address them or comments timely and satisfactorily.
To maintain positive online reputation, you need an IT team that is full time or available to handle effectively all the online concerns. This was, you will wad off any negative comments, address your customers concerns satisfactory and promptly, and inform your customers of what news or what they can expect.