What are Zero Search Volume Keywords? Should Law Firms Target Them?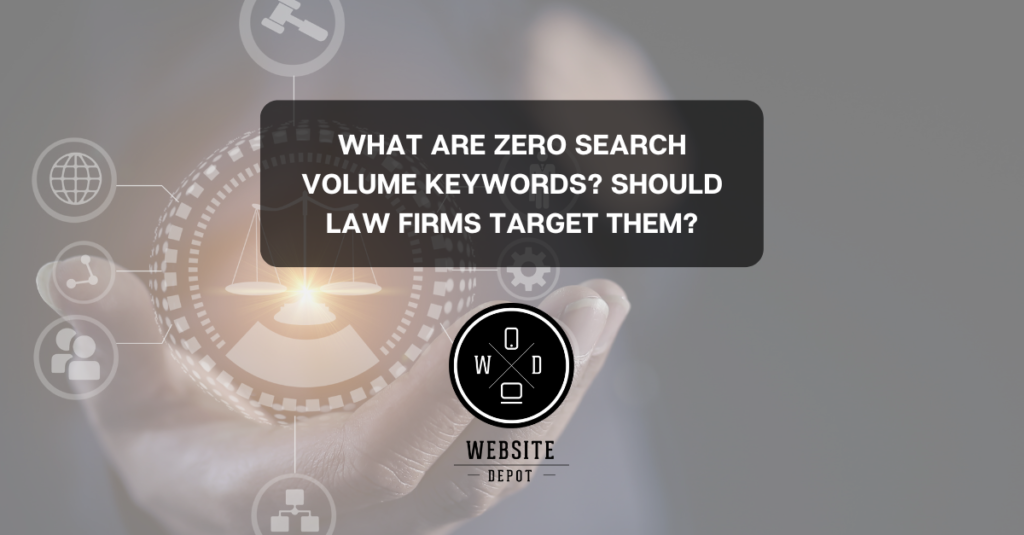 Keywords are vital to any website. But you can't just use any keyword for your law firm. Rather, it has to be keywords that your target audience will use to find you. Our law firm's SEO services include keyword research. Often, we see keywords with zero search volume. We do include them in the report that we send to our clients. 
Law Firm SEO Services
in Evaluating Keywords with Zero Search Volume 
When our clients see these zero search volume keywords, they are wondering if they are okay to target them. The good thing is that Google does not prohibit any site owner from optimizing keywords with no search volume. Instead, it encourages anyone to use or optimize keywords that are valuable to their users. 
Remember that when searching for keywords, you should not always focus on the volume. Instead, you should target keywords that would allow users to find your page. To achieve that, it is ideal to consider how people are searching online and how they find you. 
How People Find You
Google provided documentation about how to get started in SEO. The guide recommends thinking about how users are going to find a page. It also suggests thinking about how readers search depending on their experience or knowledge. For instance, when people would search for a certain topic that is new to them, they would just use unconventional phrases. But if they are knowledgeable about the topic, they would utilize jargon terms. 
If you focus on this difference in search behavior, you could definitely produce positive results. When writing your content, you need to write and optimize it for your readers' needs. 
Should You Use Keywords with No Search Volume? 
It is okay to use them. However, since there is no search volume for this keyword, people won't read it. But just because it has no search volume, it does not mean that no one is searching for it. There might be a few people who are looking for it. And those few people might end up being your loyal clients. 
This is still a useful keyword strategy. But you also have to consider how people might search and how you use those keywords in the content. 
Writing High-Quality Content
Whether you use zero search volume keywords or not, what matters most is the quality of the content. When writing web content, you need to be concise and avoid the inverted pyramid. That is, you must provide the essential information at the start. In this way, people's interest in your content won't fade. You should also break up ideas into various paragraphs. People don't like reading long blocks of text. Instead, opt to write short paragraphs. 
Content for Your Users 
If you struggle to write content that converts, then let our law firm SEO services help. We have a team of writers who know what to do to attract the right audience and make them convert. Call us here to know more: (888) 477-9540.