Website makeovers are our specialty.  Our team of expert coders and designers can work with your old existing web platform and turn it into a modern, user-friendly experience for all of your site's visitors.  Our team has decades of collective experience in web development, marketing and content creation.
If your site is outdated or a pain to maintain, we can present to you a plan of action and make it happen.  If you have a vision for your new site, we're here to listen and make it a reality.  Our re-design projects have been proven to drive more customers to your business and offer them added functionality and a smooth experience.  All our work provides you with a website that is SEO-friendly, meaning it is searchable on search engines throughout the world.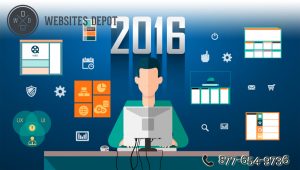 We provide clients with the option to re-construct their site, or we can provide affordable hourly maintenance to iron-out any kinks you may be experiencing.  Our team of business consultants and design experts can suggest ideas that are in line with the latest web trends, then deliver on them. Contact our team today and we can provide you with free quoting and informative consultations.  We can provide you with several hundred dollars worth of analysis using advanced tools at our disposal– all at no cost.
Website Depot's website makeovers ensure your site is:
Mobile-Friendly
User-Friendly
Responsive
Visible on major search engines
Visually-appealing
Synced with social media
Optimized for content
Fill out our contact form on the right, or reach out to us on our live chat on the lower right of your browser and we'll respond promptly.