Website Depot Features Mobile to Go: Responsive Website Design and SEO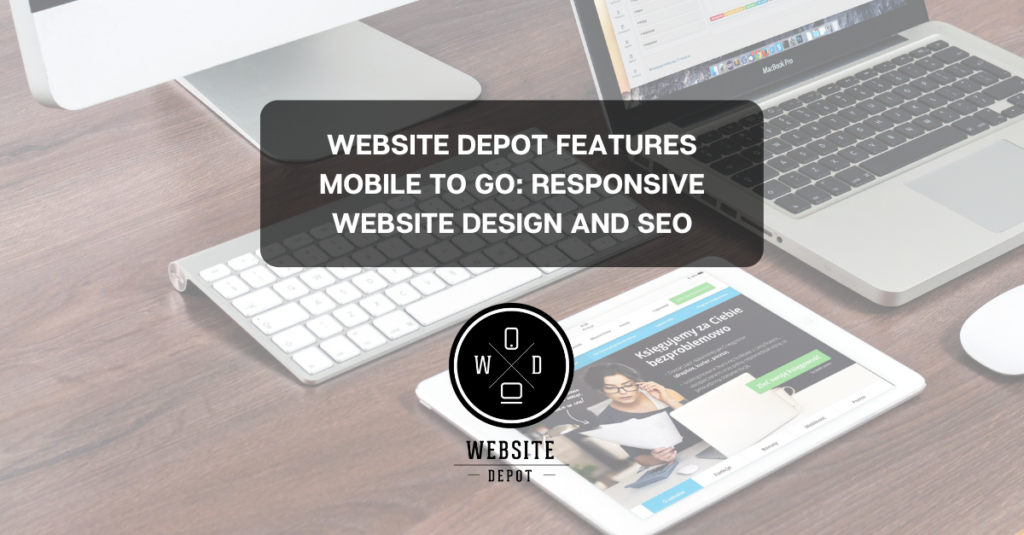 In today's digital world, having a website that looks good on all devices is essential. But it's not enough to just have a responsive website design. You also need to make sure your website is optimized for search engines. 
Responsive Website Design and SEO: Why Website Depot Promotes MTG Services
Website Depot's MTG program places an emphasis on responsive website design and SEO, Both services are a must for any business that wants to be successful online. The information below will give you an overview of responsive website design services and SEO. It will outline why both services matter. Whether you're a start-up, an entrepreneur, or have been in business a long time, you can't afford to overlook the need for responsive web design or SEO.
What is responsive website design?
Responsive website design refers to a website that is designed to look good on any device. This includes desktops, laptops, tablets, and smartphones. 
To ensure increased traffic, a responsive website automatically adjusts its design based on the user's device. This allows everyone to view your website quickly and easily, regardless of the electronic they're using. It's important to note that a responsive website design covers all devices. It doesn't just apply to having a mobile-friendly website. 
Therefore, a responsive web application automatically adjusts its design based on the device. To make your site mobile-friendly, we'll need to make some manual adjustments, such as resizing images or writing code. 
A responsive design then isn't just about styling. It also includes using coding to detect the device that a person is using so that your website can properly readapt its design.
What is SEO?
SEO stands for search engine optimization. It is the process of improving your website so that it ranks well in search engines. The goal of SEO is to get more traffic to your website. More traffic means more customers, more leads, and more revenue. 
Basically, there are two types of SEO: on-site and off-site. 
On-site or on-page SEO is when you optimize your existing website content and code. Each change that Google makes in its algorithm or changes in a competitor's content can unseat you from your top spot on the web. On-page SEO is therefore important for keeping up with these modifications.
Off-site or off-page SEO is when you get other websites to link to your platform.
When you use off-page SEO, it tells the search engines why your website is popular, or important to other sites on the web. Each link you receive represents an endorsement from another website about your site's quality. 
Combining both on-site and off-site SEO is called "integrated" SEO.
Why both responsive website design and SEO matter for your business
Next, let's further explain why both responsive website design and SEO matter for your business. We're sure you've heard that having a website is important. However, you may be wondering why this is so crucial.
When you're out there trying to find customers, you want to be wherever they migrate. That's why you need to make a website easily accessible to everyone, regardless of their location. It doesn't matter if you're an online business or a brick-and-mortar company with a physical location, you need a website.
Your website can help you find more customers who are interested in what you have to offer. Consider your website as your 24/7 sales department – readily available anytime a customer seeks services or assistance.
Tips for getting started with Website Depot's Mobile-to-Go Services
If your website isn't responsive, it's probably time to make some changes. As noted, a responsive website is essential these days. People spend most of their time online.
Therefore, it's just not enough to have a responsive website design. You also need to make sure your website is optimized for the search engines and that you connect with customers through other digital means.
To get started with MTG, there are a few things you need to consider. We recommend that you update your website's content. Make sure your copy is easy to understand and well-written. You should also optimize your images. Make sure your images have proper alt text and are sized appropriately for the web. 
In addition, it helps to optimize your website code. There are many different ways to do this, so make sure to look into the different ways you can make it happen. We, at Website Depot, can work alongside you so you become a prevailing presence on the web.
Reviewing the Packages
Make sure you work with an SEO and digital marketing agency that can help you plan a website and SEO plan that will give you an edge in the marketplace. To accomplish these goals, schedule a free SEO audit of your website's page first.
Website Depot can accommodate an audit request so you can see where you stand immediately. All you have to do is email us or call us to go ahead with the assessment. Once you know more about your site and how we can improve it, you'll need to figure out which digital services to include.
Besides responsive website design and SEO, it's also important to learn more about social media marketing, Google Ads, logo design, and branding. Packages are offered that cover digital marketing, regular and local SEO, web design, monthly web maintenance, and online reputation management.
Get Started with MTG Today: Call Website Depot Right Away
Keep up on the trends that keep you out in front of the competition online. Call Website Depot today so we can create a marketing plan and package that fits your business's website and regularly drives ongoing traffic. Call 888-477-9540 to schedule an SEO audit of your site today.