Website Depot: A Full Service Web Agency Made to Amplify Your Business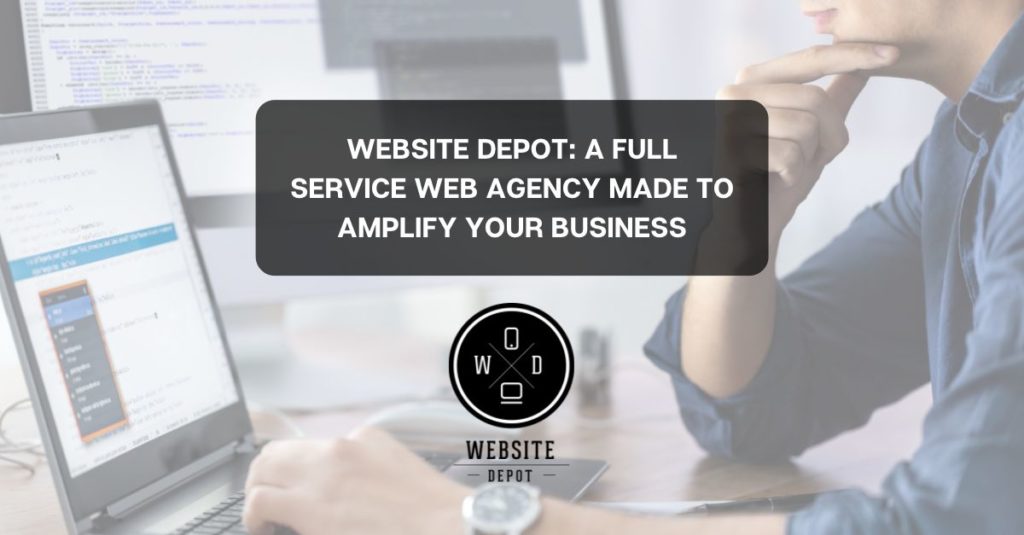 Whether you are starting up your own business or you simply want to improve your current business, Website Depot can be of great assistance. Website Depot specializes in creating website designs for businesses, big and small, to help gain viewers as well as success within their company. The Website Depot team has mastered the art of website design by making each business's site factual as well as personal. With great research and dedication, the Website Depot team can guarantee your business a website that is appealing to viewers while also high in viewer traction. This full service web agency continues to help small businesses across the globe become successful through digital designs. 
Given how many websites and businesses there are nowadays, it can be difficult to set yourself apart from competitors. Websites are constantly fighting to remain at the top of relevant searches to ensure viewers click on their page first. With this being said, the Website Depot team has mastered SEO techniques in order to make your business stand out. These small details that Website Depot incorporates into their designs can ensure your business has a website at the top of the search results. 
Read on to learn more about how Website Depot can amplify your business website.
What Can a
Full Service Web Agency
Offer Your Business
The Website Depot team focuses on customer satisfaction through website design. We have formulated a way to incorporate necessary business information with appealing designs and SEO content in a website that is booming with viewer traction. 
Read on to learn more about Website Depot's process in creating a successful website.
A Personal Touch
One of the main things that set Website Depot apart from competitors is its ability to make your website personal. Although our team puts great effort into learning the intricacies of your business in order to display a clear message to viewers, we have also managed to make these descriptions sentimental and unique to each business. No matter what your business is or who is involved, Website Depot acts as a partner in your growing process. We value your company as much as you do and aim to display this gratitude with superb and personalized website designs. Contact Website Depot to make your website appealing as well as successful in the easiest way possible. 
SEO
One of the main ways to gain viewers on your website is through SEO techniques. SEO, or search engine optimization, is the process of making your website more visible to people who are searching for relevant information. According to MOZ, "from finding the terms and phrases (keywords) that can generate qualified traffic to your website, to making your site friendly to search engines, to building links and marketing the unique value of your site," SEO can be of great use when trying to make your website more popular. The Website Depot team makes sure to use SEO keywords that have been shown to gain more traction when making your website, to ensure it receives the publicity it deserves. With research and dedication to your business, Website Depot continues to make detailed websites that can help guarantee you success. 
Final Notes 
Website Depot has made website building easier than ever before. Our team continues to make great progress in completing websites for several different businesses across the globe that remain on the top of every search engine. No matter the genre, Website Depot will guarantee your business a professional yet personalized website to represent your company. 
Contact Website Depot at (888)477-9540 to learn more today!