Ways SEO for Lawyers Will Boost Your Business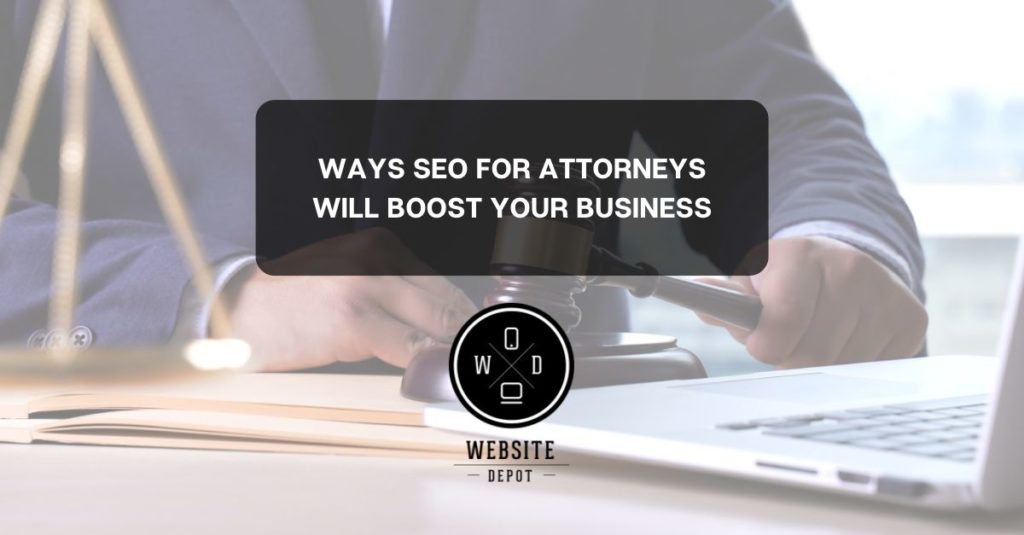 If you're still unsure about the value of SEO for attorneys, read on. A staggering 96% of individuals utilize the internet to locate a lawyer, for example. It's hard for people to recall the yellow pages or the massive billboard they saw on their way to work this morning.
Because it's quick, free, and easy to use, the internet is often the first port of call for those who find themselves in a jam. Visitors to your website must enjoy their time there to see growth in your company. When someone has a good experience with your company, they are more likely to recommend it to others since they have complete faith in your company.
When optimizing your website for search engines, you know what it means to be a lawyer. If you've read even one piece on SEO for attorneys, you're in the top five percent of those practicing law online. As a legal company, how can you benefit from this information? Every day, your prospective clients search for an attorney on the internet.
What kind of buzz are they hearing about you and your rivals? Is it possible to measure the success of your marketing campaigns? Is your website's content in line with what prospective customers are looking for in terms of legality? All of those questions can be answered with a few keystrokes. In order to compete with other legal offices in your region, it's a good idea to get started on the internet.
Positioned For Success in the Market
If you are currently ranked on the bottom pages of Google, it is time to establish a strategy to go up to the top! When it comes to search engine optimization (SEO), the goal is to have your law firm's website appear higher in search results than the websites of similar law firms in your region.
It shouldn't be difficult for an attorney with a well-regarded, long-established law practice in the area to get high rankings in search engines. However, it may not be the case for smaller and younger businesses. A well-established market position is not something that can be obtained quickly.
For your legal practice to get recognition in your market, you must put up significant effort daily, week after week. For those working as solo practitioners or as part of an ongoing personal branding strategy, this is something that may assist you in establishing a reputation as an industry leader.
Targeted Web Traffic
When consumers use a search engine, it's likely that they already know what they're searching for according to infoentrepreneurs.org. By optimizing your company's website for specific keywords relevant to your industry, you'll make yourself more readily accessible for this kind of targeted traffic.
This is far more successful than, for example, pay-per-click advertising on social media networks since the audience that views such adverts does not necessarily want your services. Relevant traffic is ten times more helpful than irrelevant traffic.
The most effective sort of traffic that you can get is focused traffic. These folks are very interested in your goods and services, and there is an excellent likelihood that they will convert after viewing your company's adverts if they are appropriate.
More Conversions
With the help of an SEO marketing plan, you may find and contact more potential customers than ever before. When you use SEO, you will have the potential to bring in more quality leads to your business. Ensure to contact these new prospects and concentrate your efforts on turning them into paying customers.
You'll be able to develop your company the way you've always wanted since your marketing efforts will now be working for you, rather than against your interests. The greater the number of opportunities you have to convert them into customers, the more time you have on your hands to devote to other vital duties.
Furthermore, by putting that initial step in place, you will be better prepared for the future. Prospecting becomes much simpler when you have a consistent stream of fresh leads coming in via SEO.
SEO may help you generate more leads by improving client visibility to your law practice and attracting online traffic to your website straight from search engines. After all, generating leads is just one side of the whole equation.
Additionally, you must turn them into paying customers. In order to convert more visitors into leads and ultimately customers, landing page optimization (including the use of CTAs or Calls to Action) may be a helpful tool for your business.
Increased Return on Investment
There is likely to be competition in your legal field, no matter your firm's specialty. This may be particularly strong in the legal profession. Fortunately, by effectively boosting your SEO efforts, you may position yourself ahead of your competitors without having to invest a lot of time or money in your efforts.
It takes a lot of effort initially, but after your website is optimized and your legal firm begins to follow SEO best practices, the clients will start to pour in like a flood. The return on investment (ROI) for SEO is much greater than that of other marketing tactics accessible.