Using Data Analysis to Look for SEO Opportunities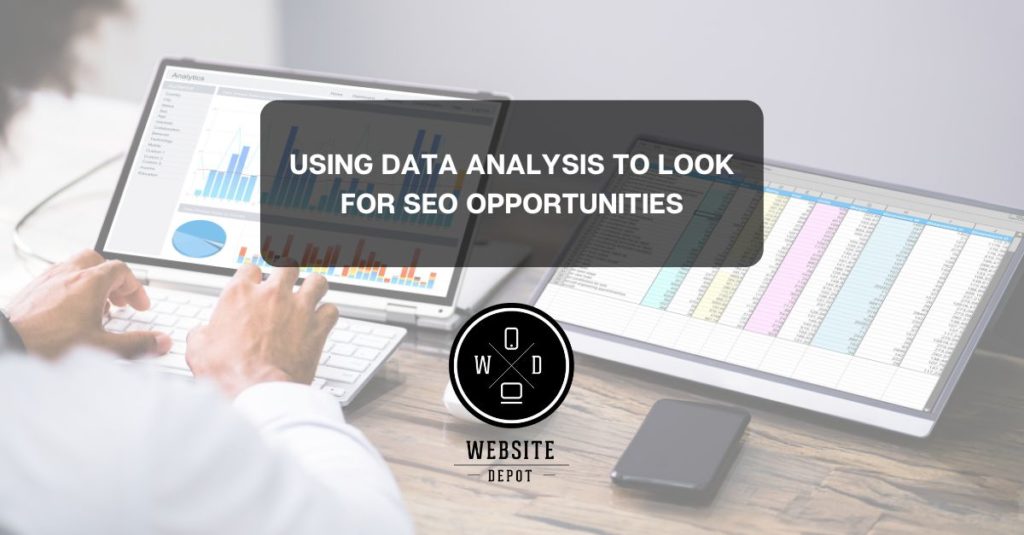 Businesses must have a data-driven strategy if they want to compete in today's digital environment. To uncover SEO opportunities and maintain a competitive climate, they must regularly analyze data.
Why Data Analysis is Important
Therefore you must learn more about SEO data analysis in order to comprehend how to identify SEO opportunities when they arise. This form of analysis allows you to discover the insights that can guide your marketing decisions and increase your website's ranking.
By doing this, you will gain the knowledge you need to create an SEO plan. This will enable you to see your digital world from a broader, if not more objective, perspective.
Make Online Comparisons
You can begin this journey by starting off with a study of your SEO competitors. Analyzing their data is one of the best ways to see where you stand as an online business. This will enable you to focus on the strengths and weaknesses of your rivals as well as give you a keen understanding of the improvements you can make as well.
Finding Better Ways to Increase Your Online Presence
When you analyze your SEO strategy, you may come upon revelations that will improve your user experience or help you update your content. You can analyze data in one of the various ways. 
For instance, you could do a keyword analysis to discover phrases with less competition. 
Also, a content examination will give you the means to find out what, exactly, constitutes high-performing content.
Opportunities for Behavioral Research
Analyzing audience behavior is one of the best ways to spot SEO improvements. You must first take a look at your target market to learn more about what they like and how you can serve them better. That way, you can use the information to seek opportunities relevant to your audience's reactions and behaviors. 
When you focus on user intent, you can also enhance the user experience. Knowing the psychology of your market, or how your audience thinks, will give you the chance to dramatically improve your SEO strategy.
Finding Opportunities for Content
What is your audience's persona? What are their interests? Use this information to hone an SEO plan that gives them the information they need to buy your services or products. 
Stay Connected with Customers and Prospects
Not only should you review your audience's likes or dislikes, but you also need to make sure they receive answers to questions quickly. Whether they are interested in new technologies or have a strong interest in travel, you always need to be able to answer their questions.
This can be done through onsite FAQs as well as chat services and email support. According to ecommerceguide.com, FAQs save time, build better customer relationships (always good for SEO), and bill you as an expert in the field.
Also, always answer questions on social media or respond to negative reviews. Doing so will keep things professional and increase your SEO opportunities and online credibility.
That is why you also have to develop a strong presence on social media. Companies who get ahead in the world use social media channels to stay connected to customers and improve their opportunities for SEO.
Whether you receive positive or negative responses, you'll find out how to meet your customer's needs and give them what they're expecting in your product or service offerings.
Finding SEO Opportunities for Goods and Services
To ensure you're offering goods and services of the highest value, you can use SEO to ensure higher returns. For example, by using SEO, you can choose keywords that direct the customer to delve further into the benefits of what you're selling.
That is why an important component of your SEO strategy lies in analyzing data. Reviewing your data is the best approach for discovering prospects and elevating your ranking in the SERPs. Once you do this you can uncover a number of SEO methods to support your business's specific marketing requirements.
Finding the Right Keywords for Your Platform
One of the ways you can gain momentum in this regard is to find the right keywords. Think about the keywords your audience uses to conduct searches. Next, create a list of about 30 keywords. Visit Serpfox to make things simple. You can use the platform to find more keywords to build your keyword list.
When you determine the keywords you want to use, you can add them to your website pages to help you rank higher and give prospects the ability to find you more easily. 
Begin by using keywords in your URL, which appear in the browser for each webpage. Include them in titles and meta descriptions too. Meta descriptions represent the brief text in the search results that gives a quick overview of your content.
Use Keywords that Uniquely Describe Your Products or Services
Don't forget that you are competing with other companies in your field, trying to grab the attention of prospects. To rise above the pack, seek the words that correlate with the differentiators in your market. These differentiators include your geographic location or the unique benefits associated with your products or services.
Take Advantage of Pay-Per-Click
To enhance your chances of being found, use pay-per-click so you can focus on niche keywords and phrases. This is especially important if you don't have a big budget.
Avoid Overstuffing Your Content with Keywords
When your data analysis gives you the words you need to use, don't make too much of a good thing. In other words, don't overstuff your website with keywords. You want to produce informational content that is easy to read and decipher. 
Make your pages relevant to your readers in this case – not the search engines. These guidelines are given to Google webmasters, so it's important to keep this in mind. By randomly sprinkling keywords throughout your content, you'll just cause confusion and irritate your readers. Therefore, "less is more" when it comes to analyzing data for SEO.
Linking is Important
The more authoritative websites that link to your site, the better. You can accomplish this goal by asking the owners of related websites to send a link to your site. Offer to link to their site in return. Again, quality is important. Rather than directing a dozen links from obscure platforms, it's better to use direct linking from a university website, governmental platform, or popular publication.
Measure the Results
Data analysis allows you to use low-cost or free tools to measure the results of keyword insertion, user responses, and overall SEO performance. When you review your website's performance, you'll learn more about your visitor's preferences and how they found your site. It will also tell you how long they visited each page.
Be patient and consistent – always aim high. Doing so will help you formulate a winning SEO strategy.
Call Website Depot Now
Would you like to enhance your SEO strategy? If so, contact Website Depot – your one-stop hub for all your digital marketing needs. Contact the agency today and find out what it takes to stay ahead of the competition Call (888) 477-9540 to schedule an appointment today.