Use Title Tag Optimization to Increase Your Website's Influence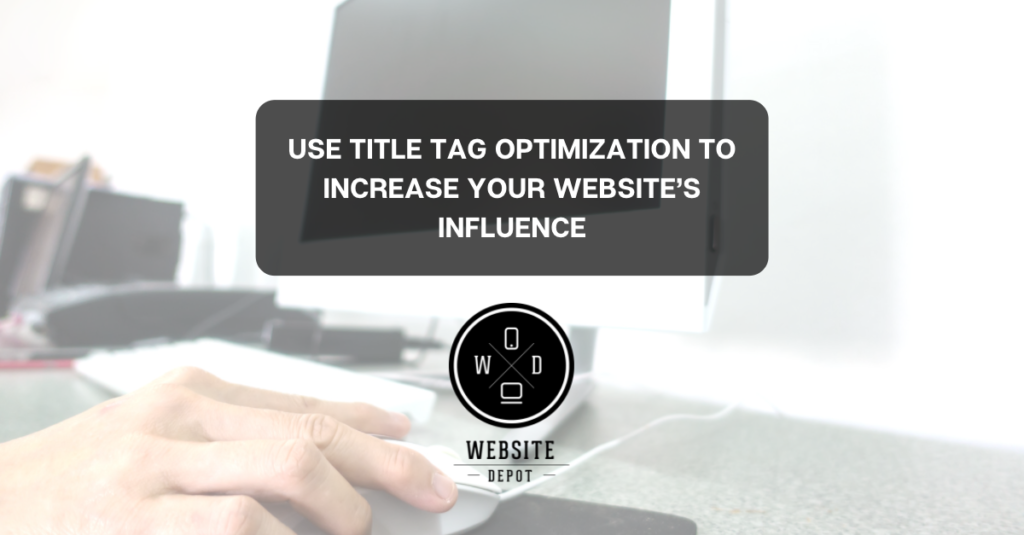 You can use title tag optimization for your articles, blogs, or webpages to increase website traffic and conversions and earn money from Google Adwords. The idea is to limit each page to one keyword phrase so you don't get into trouble with keyword stuffing. Less is indeed more when it comes to creating title tags. However, with that said, adding additional keywords that are related to the main keyword phrase can help you boost traffic to your website. The following information will give you insights on how to optimize keyword title tags for the best impact.
What Is a Title Tag?
Technically, a title tag is part of the metadata used for a website – a piece of HTML code that tells search engines the name of a page. Because the tag is what search engines see first, it sends a strong signal to bots about a page's content. The title tag is also part of a site's meta description for a webpage. While website visitors do not see these elements, they still will appear in the search engine results pages or SERPs. The blue clickable line in a Google SERP is the meta title and the following short blurb in black lettering is the meta description.
Don't Confuse the Title Tag with Your H1 Tag
Some people confuse a title tag with a web page's H1 tag. Heading tags from H1 to H6 define SEO terms for titles and headlines that are added to the content and are visible to website visitors. For instance, an H1 tag for an article represents the main title on the page. Unlike a title tag, the heading tags do not impact SEO to any great extent.
Keep the Title Short and Add One Keyword Phrase for Each Webpage
To get started, begin by targeting separate keywords on each webpage and using several pages for related words. Landing pages that contain general topics or a combination of subjects usually will not work when it comes to optimizing titles. That is because you cannot compete for a single popular keyword without using a longtail keyword in the title. Because you need to keep titles down to 60 to 70 characters, targeting only one or two primary keywords is the best approach. Use these keywords plus some logical modifiers to create a reasonable and eye-grabbing title. In other words, the title should make sense to both the search bots and humans visiting your page.
How to Avoid Keyword Stuffing
Never overuse keywords in a title, a meta description, or in the body of a webpage's copy. Google is a taskmaster in this regard and invokes its wrath in the form of a penalty for keyword stuffing. However, Google's threshold for the activity has not yet been determined. Therefore, to avoid a problem in this regard, use online tools for checking the frequencies of keyword use, or a page or title's keyword density. Google Search Central stresses that website pages have a specified title in the <title> element. Make each title as concise as possible.
How Keyword Density is Measured
Keyword density involves measuring the number of times a search term (keyword or keyword phrase) shows on a page (as a percentage of the total words). Therefore, a page's keyword dentistry typically should not go over 5.5%. The keyword density, when reasonably high, will boost a page's ranking. However, you just have to remember not to go overboard when adding keywords to titles or content. You can increase keyword density and increase traffic by using keywords repeatedly in your title tag, the header tag, comment tag body tag, anchor tag, and alt tag. Keywords may also be included in the image tag, a paragraph tag, or the website's domain name. Just make sure that you do not use an identical keyword in a title more than twice.
How Google Crawls and Ranks Keywords for Title Optimization
Google registers and ranks individual keywords in a title, plus every mix of the same, including the positions and orders of the keywords. Google prefers keywords that follow a sequence or that appear first in a title. Google plus other search engines register and rank all the keywords or phrases that are used.
Beware of Creating Too Long of Title
It seems Google views that longer titles are more spammy. That is because longer titles may appear to be keyword-stuffed. The first keyword appearing in a title has the highest weight while a second keyword carries less weight for optimization purposes.
Keep keywords in close proximity for targeting phrases or two-word searches. Therefore, you need to match the keyword order in the search phrase with the order of keywords in the title. While using multiple keyword phrases can multiply website traffic, you also have to consider the relevance of the title to the page's content. Google will penalize a page if the keywords and title are not relevant to the content.
If you notice a great deal of competition for certain keywords, it is best to stick to a single keyword or keyword phrase. Use a tool, such as Serpfox for coming up with keywords in titles. Using a keyword research tool allows you to see how even a modest change in a keyword phrase can impact competition and traffic. If you are up against the stiff competition, you have to maintain your page's strength and title in order to compete. Because adding additional phrases can dilute the weight given to each keyword, it is best to focus on a strong and single keyword for use in a title tag. According to Semrush, a well-written title tag will make your website both readable and easy to understand.
Call Website Depot about Digital Marketing and Web Design Services Today
Would you like to know more about title tag optimization? If so, you can find additional details about this topic as well as learn more about other SEO and website services. Contact Website Depot at 888-477-9540 for more info today.