Top 5 Reasons You Need A Mobile Site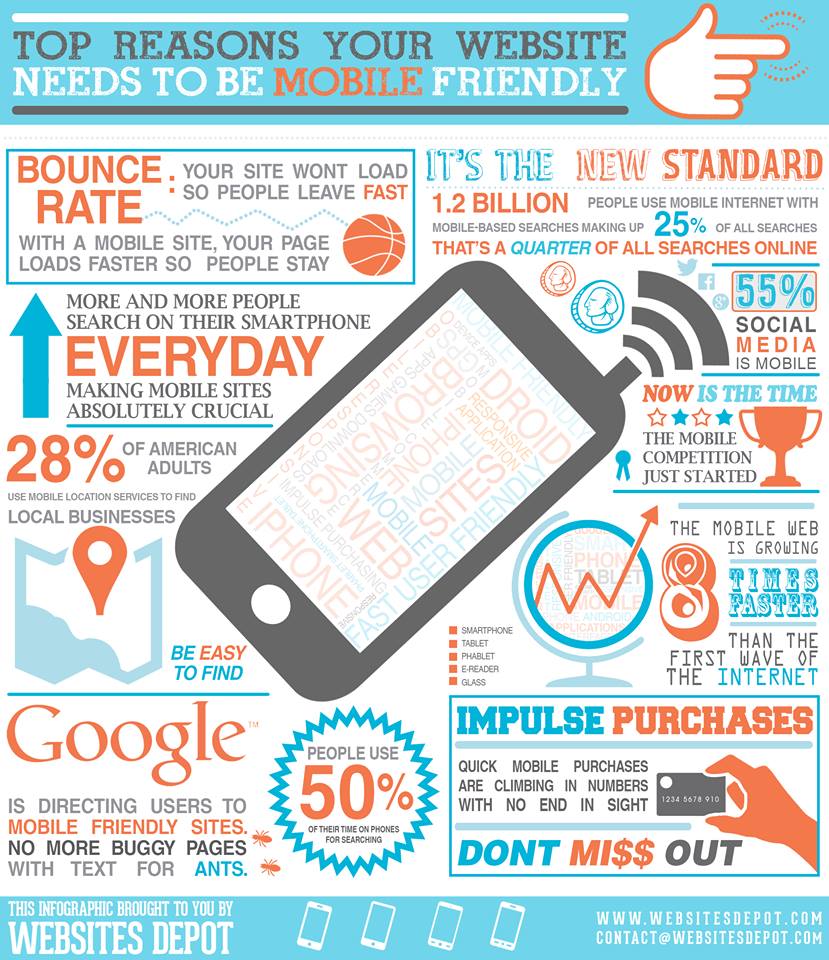 Did you know that Google is now penalizing and redirecting mobile users to more mobile "friendly" sites? If your site isn't optimized soon the consequences could be fairly harsh consider mobile web traffic accounts for 25% of all searches! So, if you need further convincing, let's break down Top 5 Reasons you need a mobile site:
1. Bounce Rate : People go to your website on their Smart Phone, Tablet, or Phablet and what do they see? It looks like your website is far off in the distance, all the buttons are smaller than your finger can click, you zoom in and the text stretches across the whole screen rendering it unreadable without extensive tedious scrolling. Nobody can tell what's going on. Mixed with slow loading, zero functionality, and looking just plain buggy, people leave FAST. When people see your site isn't working, they click that back button before even giving it a chance and that's "Bounce Rate." The rate at which a person leaves you website. You want people to stick around, browse your content, get to know you. This doesn't only benefit you and the customer, it's also a factor in your Google Ranking. The lower the rank, the lower your site on the search. Mobile responsive sites bypass all of these issues by creating a totally smooth interface that works right there in the palm of your hand. 
2. The New Standard: Most people know smartphones and other mobile devices are taking over, but not at what rate and how much.  1.2 BILLION PEOPLE use mobile internet, accounting for a quarter of all the searches online. That's a huge HUGE, Ginormous chunk of people your site isn't going to reach because you haven't updated. People use 50% of their time searching for things online. Don't be fooled thinking mobile internet is  just for apps, email, and social media. 50% of the time, really actually statistically HALF of the time people are searching for things in their browsers. Just to give perspective on how huge this really is, the Mobile Web is growing 8 times faster than the initial wave of internet adoption, and that inital wave was no drop in the bucket.  Make the conversion to mobile, and make yourself visible to potential viewers. 
3. Impulse Impulse Fast Right Now : We all want instant gratification, but can we always have that? With Mobile Web, there's more leaning towards YES. With Mobile Sites, people are there and browsing your content within an instant. You don't have to be at home, work, or at a coffee shop. You can be sitting in a car, in the middle of the woods, or standing on the beach. Mobile Web is all around you. For Businesses in particular this is huge for consumer goods. Not just for the Yelp Factor, or product comparison and price shopping, but because many people are making impulse purchases off their mobile devices. It's so easy to link bank accounts and Paypal to your device, that it's like they're walking around with a swiped credit card. If you're selling goods online, this is a huge part of people's business, which is continuing to grow everyday.
4. Game Face: Appearances are everything. Since the market is dominated by supremely functional mobile designs such as social media, calendars, applications, and other extensions specifically for the mobile interface, coming across as unreliable will have your potential visitors drop like flies. Once they've seen your non mobile site, they may never return, assuming you never updated. The faster you update, the faster you join the marathon, and protect yourself from the dreaded non functional first impression.
5. Penalties: Google Announced that if your site isn't configured properly for mobile then there could be penalties. Not to say your site is bad, but if it's being accessed on a mobile device some rules apply. This is because Google is focussed on user satisfaction, allowing them to return again and again to use Google, because they know it will be right. To check if your site is configured properly you should follow Google's Official Recommendations For Mobile  that came out with the update.
Infographics by Website Depot ©