Tips To Maximize Your Search Engine Optimization for Your Website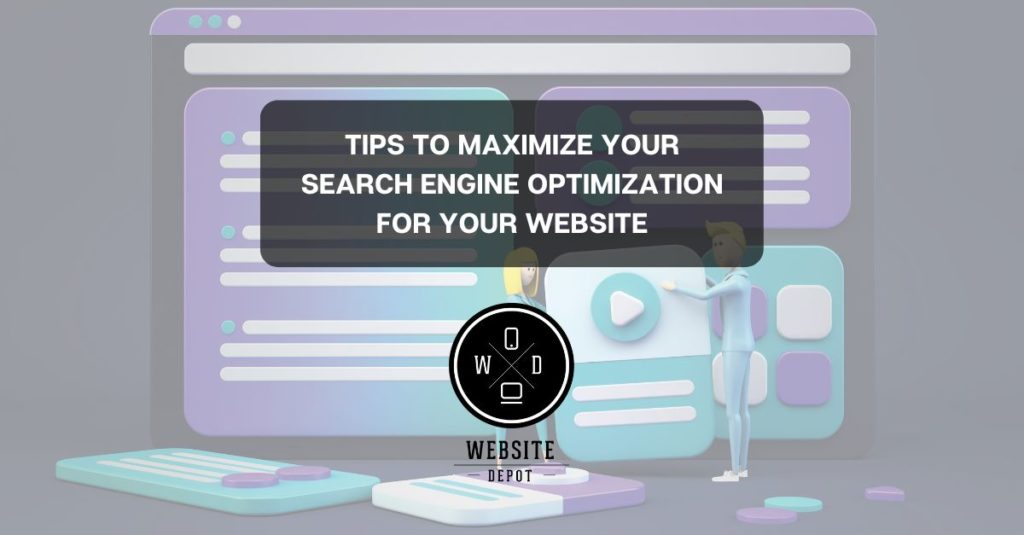 As an entrepreneur, you know the importance of online visibility. The use of search engine optimization (SEO) is one of the most efficient methods to boost the rating of your website and raise the likelihood that prospective clients will discover it. The internet has created a level playing field for companies of all sizes, which is one of the many wonderful things about the internet.
You no longer need a significant marketing expenditure to communicate with the people you want to reach. Would you want to increase the number of people visiting your website while minimizing the amount spent on promoting it? If this is the case, you should consider enhancing your website's exposure by using search engine optimization and good web design.
Make Sure Your Website Is Optimized for Mobile Devices
Keep in mind the growing popularity of mobile devices while creating content for your site and optimizing it for search engines. You ignore a sizable demographic of Internet users if you haven't made your site mobile-friendly. While your site may seem great on a desktop computer, mobile visitors may give up on it before they ever get to the excellent parts because of how cumbersome it is to use.
The first step is to check that your meta tags (the HTML coding that enables search engines to classify your site) are optimized for mobile use. A search engine optimization service may help you improve your site if you are unsure how to do so or want assistance. Using Google's Mobile-Friendly Test is a wonderful approach to checking whether your website is mobile-friendly. Find out whether your site is mobile-friendly and get advice on how to improve its performance.
Use Keywords Throughout Your Website Content
You may use SEO or search engine optimization to increase your website's ranking in search results. Because of this, your site's visibility will increase, which is crucial for attracting visitors. Despite popular belief, search engine optimization should be applied to all of your site's pages, not just blog entries. Because of this, you should use keywords liberally throughout your website's text.
Somewhat over-optimization is preferable to under-optimization. That's why it's important to strike a balance between being subtle about your keyword use and fearing you can't get away with ever using it. Use the keywords strategically, but you also want to seem natural and conversational. Remember that search engines often update their algorithms, necessitating you to do the same. If you stop optimizing your site after its initial launch, it is unlikely that prospective buyers will find it since there will be no organic (unpaid) results for your keywords.
Publish Fresh Content Regularly
Make sure you routinely publish new blog posts, articles, etc., since search engines favor actively maintained and updated websites. Blogging is a fantastic platform to publish fresh information regularly for indexing by search engines. If you're stuck for ideas, consider what topics others are interested in reading about, or write about what fascinates you.
According to unlv.edu, some individuals may believe they are safe if their website is accessible. Despite this, you shouldn't expect the hoped-for volume of visitors and purchases once your site is live. You need to consistently add new material to your website if you want it to be successful. If your website isn't consistently updated, it doesn't matter how wonderful it is; it will never rank higher than page 2 on Google.
The same holds for private blogs as well as professional ones. Keeping your website up-to-date ensures that Google has the most up-to-date information, which maintains your website's good search engine optimization and a steady stream of visitors.
Optimize Your Website Images with The Help of Search Engine Optimization
Optimizing your website's photos for search engines is important if you want them to aid your SEO efforts. A search engine like Google will only care about one thing when it comes across a picture you've uploaded: how many people are looking at it.
How a picture impacts your site's rating depends on the response to this question. The pictures you use on your site contribute greatly to its search engine optimization. The photos in a search result may be clicked on to reveal further details. Potential clients may see your ad this way.
Add alt tags and names to each picture on your website to improve its search engine optimization. Users may learn about an image's subject through the alt tag, while search engines like Google can learn about it from the title tag.
If you're having trouble getting your site optimized, don't worry. Website Depot has plenty of resources to help you understand search engine optimization and get your website in tip-top shape. Each client is given a complimentary consultation with an SEO expert before the project begins, so you know exactly what needs to happen on your end. You can also call our team at (888) 477-9540 to set up a consultation if you think you are ready for your website's next big update!