The Top SEO Tips You Need to Know in 2022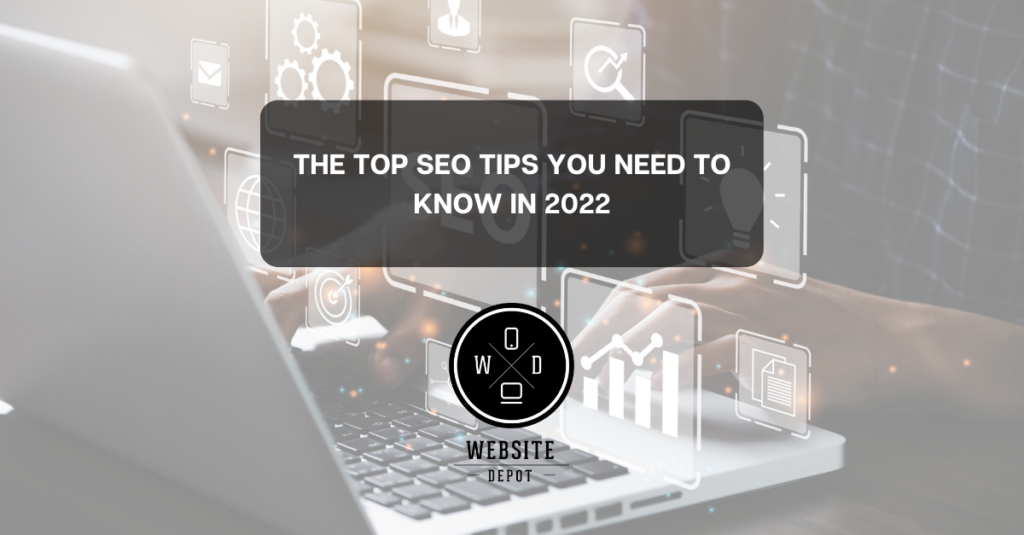 Search engine optimization (SEO) is one of the most important digital marketing techniques available to you today. It helps you reach the right audience, drive website traffic and increase website visibility. However, SEO is a fast-changing field. New algorithms, ranking factors, and search engine updates keep SEO specialists on their toes. Therefore, it doesn't matter whether or not you're an SEO specialist, you need to stay up to date with all the latest changes and SEO tips in the field. 
That's why you need to coordinate your efforts with a knowledgeable digital marketing agency. This type of support is necessary if you want to stay on top in any industry.
Because search engine optimization (SEO) helps sites rank higher in search engines, it has become an essential part of the digital marketing process. It's also not going away anytime soon.
In fact, Google recently announced that its new algorithm will give priority to websites that are mobile-friendly and have high-quality content. If you want your website to thrive online then, you need to master specific SEO tips. This is easier to do when you have the support of a digital marketing specialist.
Below are the main tips to get you pointed in the right direction.
Tip #1 – Understand User Behavior
Understanding how users interact with search engines can help you decide how your business should approach SEO. For example, you should know that users often search for very specific products. Therefore, understanding user behavior is paramount to improving SEO.
If you sell wedding invitations, for example, you might see a lot of searches for "wedding invitations white." Also, users are more likely to click on the top organic results than on paid advertisements. If you want your business to get clicks then, you need an SEO strategy that puts you in a position to receive both organic and paid clicks.
Tip #2 – Create Quality Content
Another step to getting higher search engine rankings is creating high-quality content. This means developing a mix of original content, and reader-based info, and developing a format that makes it easy for search engines to read and understand your content. 
Google places a high priority on fresh content and regularly updates its ranking factors to account for new challenges in the digital landscape. 
Focus on 3 Key Areas
When creating content then, you should focus on three key areas: 
Make sure the content is relevant to your readers.

Include fresh information that has never been published previously.

Organize your content so it makes perfect sense to the search engines and to your readers.
Tip #3 – Use Structured Data
Search engines rely on machine learning so they can provide the best results to their users. However, some things, like products, recipes, people, and places need clarification.
By adding structured data to your website, you can help search engines understand these items. 
Therefore, along with SEO services, your digital marketing provider must know how to develop a user-friendly website – one where your customer can find what they are seeking and navigate it easily.
Tip #4 – Don't Forget About Mobile Optimization
Mobile searches are increasing every year and are taking over desktop searches all the time. That's why you need to organize your website to prioritize mobile-friendly content. You can also use structured data to optimize your content for mobile devices. 
When structuring the content for a mobile application, remember that users often have shorter attention spans when they're on a mobile device. Therefore, keep your content brief and to the point. 
You should also make sure your message is simple to read on a smaller screen. When it comes to optimizing for mobile, you have two options. You can either create separate content for your desktop and mobile devices, or you can create responsive content that is easily readable across both electronics. Naturally, it's easier to choose the latter way of doing things, as it will give you more time to focus on your business and attract visitors to your site.
Tip #5 – Partner With an Experienced Marketing Agency
One of the best things a business can do is a partner with an SEO/digital agency. Marketing agencies have the experience and resources needed to deal with SEO and increase your presence online.
Use an SEO/digital firm that has experience working with businesses similar to yours. You should also read reviews for the agency and make sure they are current and positive.
Also, before signing a contract with an SEO agency, make sure you understand their strategy. Do they have a proven track record of success? What are their offerings? They should be your one go-to source for everything digital.
Final Words
SEO is a long game. You won't see results immediately, but you need to make sure your business is prepared for the future. 
As changes continue to develop and emerge, you need to make sure you stay ahead of the curve. That's why you need to keep updated with the latest SEO initiatives. When you become more familiar with SEO and how it impacts your business, you'll be better equipped to make strategic decisions that drive results.
Take Your Business to the Next Level by Contacting Website Depot Today
You have it in your power to increase your profits and expand your business online. To begin the journey, contact Website Depot today. Call (888) 477-9540 for more information right away.