Take it to the next level with Google Ads
Discover how Website Depot can help drive more traffic, increase conversions & boost sales for your business.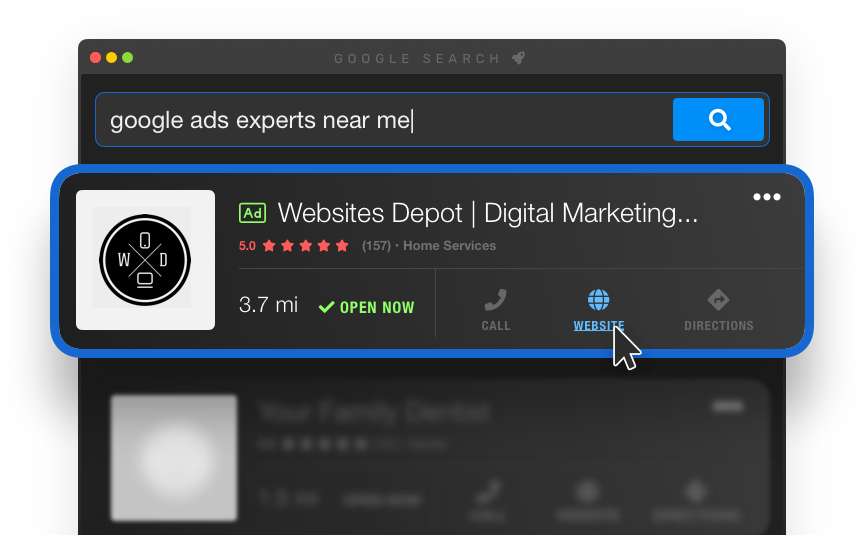 What is Google Ads?
Google Ads is an online advertising platform developed by Google, where advertisers pay to display brief advertisements, service offerings, product listings, video content, and generate mobile application installs within the Google ad network to web users.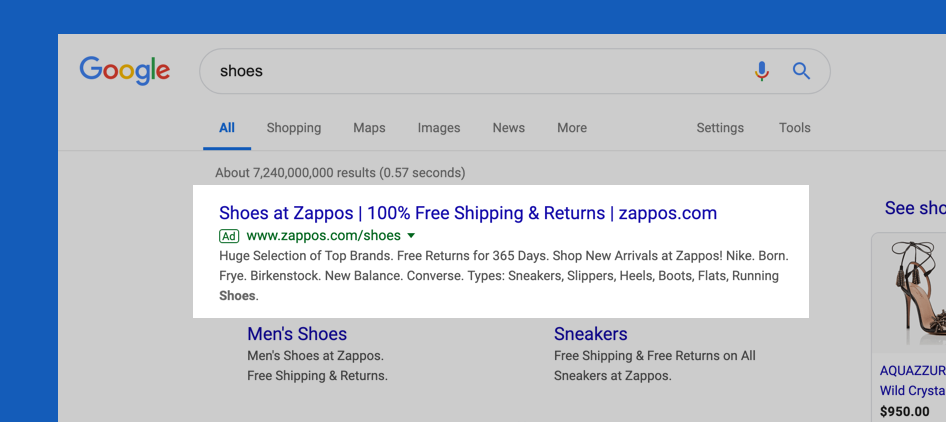 Why do you need Google Ads and how can it help your business?
TRACKABILITY
Unlike traditional media such as newspaper and television, Google Ad allows you to track and improve the performance of your ads.
DYNAMIC TARGETING
Google Ads allows for maximum reach based on factors like gender, age, location and weather.
LEADING DIGITAL ADVERTISING PLATFORM
Google searches are responsible for 96% of all web searches globally.
RETURN ON INVESTMENT
Businesses make an average of $2 in revenue for every $1 they spend on Google Ads

Why choose Website Depot?
Save Money
Our team will optimize your conversion rate to reduce costs.
YEARS OF EXPERIENCE
Over 12 years in the Google Ads Business.
GOOGLE PREMIERE PARTNER
Over 12 years in the Google Ads Business
Save Money
Over 12 years in the Google Ads Business
204%
INCREASE IN CONVERSIONS
What people say about us
I first reached out to Website Depot about a year ago, I needed a website designed for a new company that we were launching. Not only did I need the website designed quickly, but I needed a company I could easily get in touch with and get quick responses from. Our deadlines were all met and our website was launched. We're so pleased we decided to use Websites depot to take over some other services for us. We now use them for SEO and PPC management. Whenever there is an issue with the website, they're on top of it and they alert me so that we can find a resolution quickly.
James L.
Website depot is a lifesaver! Danny and his team are super knowledgeable and I was quite honestly surprised that I was able to meet the CEO! I was also quite impressed with their level of service, I felt taken care of every step of the way even if I didn't know what something meant, my project manager Elizabeth was happy to do a screenshare with me and guide. They were very friendly and were able to provide suggestions for a plan increase SEO and I've already experienced quick results. I would recommend them to be your first stop for your web needs.
Cheyenne S.
Elizabeth is a rockstar! She is very professional and actually takes time to sit with you to explain how everything works! They have an SEO team, as well as separate Website builders. It helps with the focus on what you're looking for. Website Depot is a small local office and business who is familiar with the surrounding area. They are great at researching competitors in the area. I highly recommend them. Free parking validation.
Ethian I.
Robert and his team at Website Depot came through with flying colors. I had a lot of specific needs for my rather unique website. Truthfully, at first, I wasn't sure that they would be able to accomplish what I wanted. But Robert made sure that everything was done perfectly. We had conference calls, communicated with emails, and everything was done very professionally I will absolutely use them again
Jonathan V.
I was just on the phone for a consult about a website. Narrowing down exactly what I needed was sort of a tricky situation since I didn't really know exactly what I needed. Since technically it's nothing more than a "portfolio" site. The idea was that I'd love to be able to show interviewers in place or alongside a resume to stick out from the crowd upon graduation. Liz worked with me to figure out how it would be possible to actualize my vision. Not being an artist, with visual projects.; I still had things I wanted to showcase; my college writing. I can't wait to move forward to collaborate to create personal site after graduation.
Dean E.
I couldn't be happier with the amazing job Website Depot team did designing my logo and website! They were great listening, understanding and visualizing my ideas, that eventually they developed and made them a reality. I've asked for a very specific design for my homepage and the results were even better than expected. I'm very pleased with how my e-commerce website looks and works. Everybody at the company has a great attitude, open minded and up to date with the latest trends as well as classy styles. I will recommend Website Depot to anyone who is in need of a professional looking and working website, everyone there rock - great company and people to work with!
Lisette M.