Take it to the next level with Google Ads
Discover how Website Depot can help drive more traffic, increase conversions & boost sales for your business.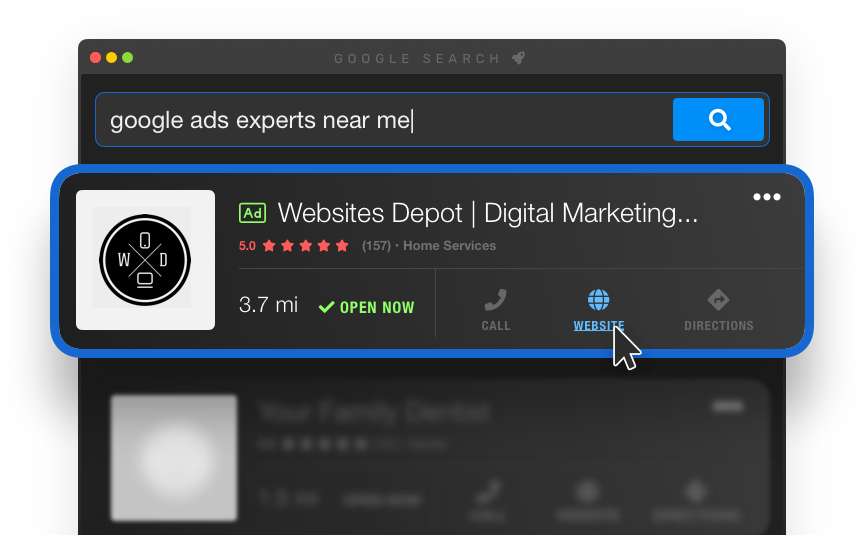 What is Google Ads?
Google Ads is an online advertising platform developed by Google, where advertisers pay to display brief advertisements, service offerings, product listings, video content, and generate mobile application installs within the Google ad network to web users.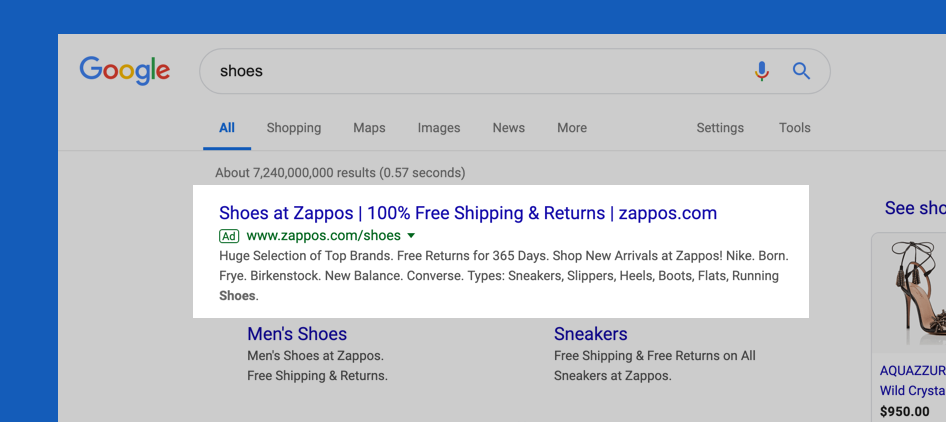 Why do you need Google Ads and how can it help your business?
TRACKABILITY
Unlike traditional media such as newspaper and television, Google Ad allows you to track and improve the performance of your ads.
DYNAMIC TARGETING
Google Ads allows for maximum reach based on factors like gender, age, location and weather.
LEADING DIGITAL ADVERTISING PLATFORM
Google searches are responsible for 96% of all web searches globally.
RETURN ON INVESTMENT
Businesses make an average of $2 in revenue for every $1 they spend on Google Ads

Why choose Website Depot?
Save Money
Our team will optimize your conversion rate to reduce costs.
YEARS OF EXPERIENCE
Over 12 years in the Google Ads Business.
GOOGLE PREMIERE PARTNER
Over 12 years in the Google Ads Business
Save Money
Over 12 years in the Google Ads Business
204%
INCREASE IN CONVERSIONS
What people say about us
We are working with Website Depot from last 2 years and these guys help us a lot in scheduling more phone calls via adwords and other sources.Today we had achieved our yearly target of 2019 in only 9 months and trust me our target does not include our recurring clients.We are planning to start one more business in next year for that we will contact
Danny
 development team to design beautiful website for us.
Daniel W.
I didn't realize our entire SEO strategy was wrong until I went to 
Danny
and Website Depot. SEO should be local. I was trying to rank high all over instead of focusing on my neighborhood. We couldn't figure out why our competitors across town were eating our lunch.Our SEO is on point now, puts us where we should be.
Nellie C.
For a project under my new branding and content production company Real Brand, Inc. I had the good fortune to work with Robert Alvarez, the Senior Technical Project Manager @ Website Depot, Inc. on up-leveling a client's websites. Robert and his team, including a terrific graphic designer named Marc Marsico and Edwin Quijada (Developer) are professional, fast and creative. The work we did together is stellar and I will call upon them again for sure.
Johnnie R.
Positive: ProfessionalismDanny and the entire Website Depot team are very knowledgeable, professional and responsive. We have been with them for years and i consider Danny a friend not just a media company. If you need social media, website design, SEO or some of the new crazy stuff, Danny is your guy.
SG
Together with Website Depot Inc we worked on the creation of advertising companies on social networks and Google. The Website Depot team has developed the design and content for these companies. On their advice, we refined the content of our website and added a few more keywords. We are very pleased with the result as we got the number of customers that was planned. Now Website Depot Inc is our permanent partner.
Timothy E. C.
Website Depot Inc. was hired by a moving company for SEO efforts. The client wanted to improve their presence with their growing services. Work included keyword search, monthly blogs, and more.Everything had been done on a high level.The site successfully improved its ranking in organic search. Moreover, the client received more inquiries from customers. Website Depot Inc. was responsive and followed all instructions given to them. The entire process was seamless.
Alexey Y.