SEO Services- Tips to Improve SEO Of Your Ecommerce Website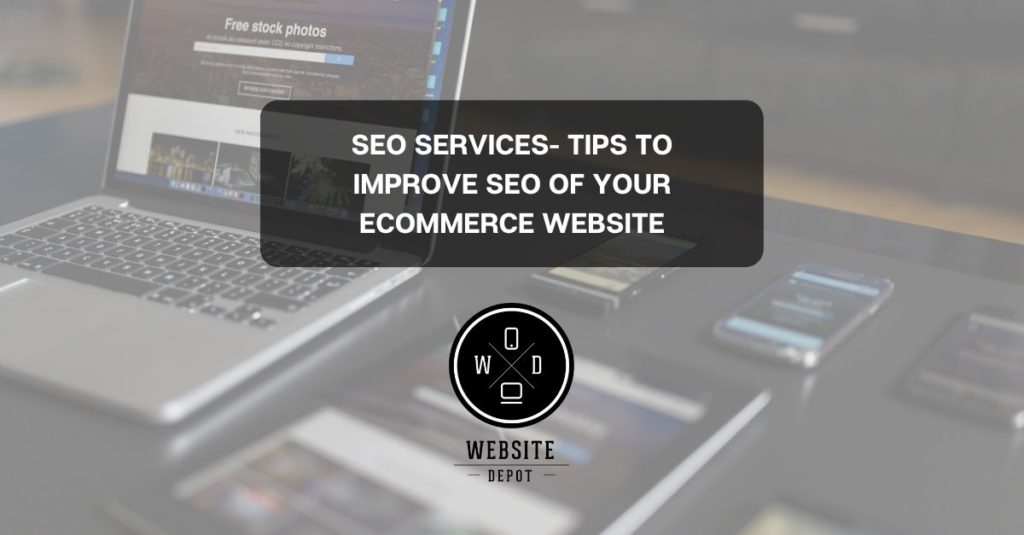 When it comes to running a successful online business, SEO services are essential. Your website must be appropriately optimized for search engines and have excellent content. Search engine optimization (SEO) is critical for every company with an eCommerce website. In other words, utilize search terms that people could use to find what you're selling. SEO (search engine optimization) has many criteria, but here are a few recommendations to get you started. A solid internet presence is critical to the success of any organization. Search engine optimization (SEO) is critical for eCommerce websites because it allows you to be found by prospective clients. These strategies can help you boost your SEO and rank better in the search results:
Optimize Your Site for Mobile Users with The Help of SEO Services
To boost their SEO, e-commerce websites continually seek new strategies to increase their traffic (SEO). If you follow a few basic procedures, you can improve the quality of these sites. First, make sure your website is mobile-friendly. There is a tendency for mobile users to skim the first page of search results and only click on one or two of the highlighted links. If you don't have a mobile-friendly website, you won't appear on the first page of Google search results. Having a noticeable call-to-action on your website is the next stage. 
There is a wide range of options here, including "Buy Now" buttons, "Sign Up" buttons, and even "Learn More." Having something on your website is important to encourage visitors to take action. Another strategy to boost your SEO is to use attention-grabbing headlines that entice readers to continue reading your material. As it is so simple for individuals to become sidetracked online, they are likely to click through a few results before giving up and moving back to other things if they don't discover an attractive headline.
Research Keywords That Are Relevant to Your Products and Services
In order to figure out what keywords to utilize, you need to do some internet research to see what other people are using to find what you're selling. If you want to achieve this, there are a few options. A good place to start is by searching for some keywords relating to what you're offering on Google. If you choose the right keywords, you'll be able to attract more individuals searching online for what you offer. As a bonus, it will help search engines better classify and rank your material, which is one of the variables utilized in deciding search engine results. Do some research on your items' most popular search terms if you aren't sure how to choose the ideal keywords for your company. Begin by doing a simple Google search for your product or service and clicking on "Keywords related" a few times to get an idea of what others are searching for when looking for the same thing.
Connect With Customers and Potential Customers on Social Media Platforms
SEO services are seen as a mysterious technique by a lot of individuals. However, it truly is a simple and cost-free approach to increasing the number of visitors that visit your website. Even if your website is about the most uninteresting subject imaginable, effective search engine optimization (SEO) may bring you a flood of new visitors and help your company expand. Connecting with current and prospective clients on social media sites like Facebook, Twitter, and Instagram is the second step in achieving success with search engine optimization, according to gov.au. 
You'll be in a better position to immediately react to the comments and queries of your customers if you create online communities centered on your brand. You'll also be able to advertise forthcoming bargains, a refer-a-friend program, and other offerings that might be relevant to your target audience. It is a wonderful opportunity to create connections with consumers before the customers have ever purchased anything from you.
Make Sure Your Website Is Mobile-Friendly So That Customers Can Easily View It on Their Phones or Tablets
Making your website more mobile-friendly is another technique to enhance your SEO. Customers increasingly use smartphones and tablets to access websites and applications; therefore, it's also critical that your website be available on these devices. It's important to remember that nowadays, more individuals than ever utilize search engines to locate local companies. Many prospective clients will never find your business if you do not appear at the top of search results. Using URLs that are optimized for mobile devices might also increase your SEO. When a person enters a URL into their browser, they put in the domain name followed by the URL. Rankings in search engine results are heavily influenced by a site's URL structure, considering both the domain name and the subdomain. As a result, some websites have more authority than others because of the popularity of their domain names and the fact that not all web addresses are created equal.
When choosing a new eCommerce platform, you have plenty of different options. But there is one thing that all of the top platforms have in common: they offer SEO services. In today's digital environment, you can't just throw up a site and hope that people will find it. You have to make sure that your site is optimized for search engines. And the easiest way to do this is to enlist the help of SEO experts who know how to make your site fit into Google's algorithm. Contact the Website Depot today at (888) 477-9540 for more.