SEO Company in Los Angeles to Tackle the Core Web Vitals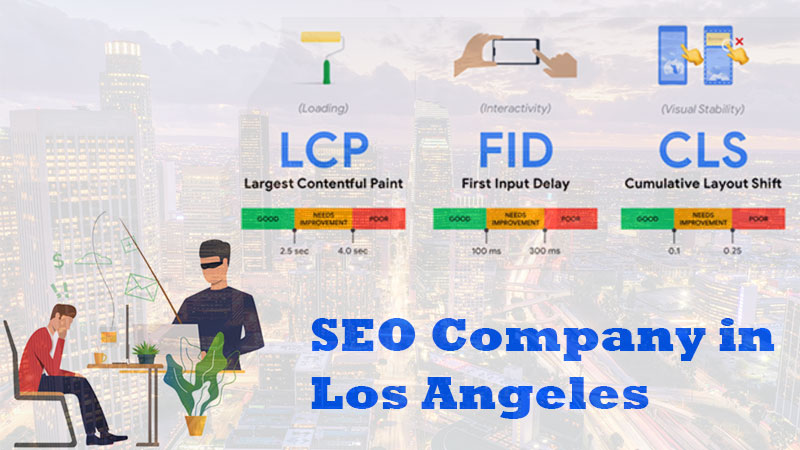 First, let's understand what these Core Web Vitals are. For starters, they are a set of factors. They are vital for Google as they can show them the page's overall user experience. To know if your site passed Google's evaluation through these factors, you may contact our SEO company in Los Angeles.
What are the Core Web Vitals that SEO Company in Los Angeles Can Help? 
These factors include input delay, contentful paint, and cumulative layout shift. As mentioned, Google uses these factors to evaluate a site's page experience. 
It is a way for Google to size up a page's UX. 
If you wish to know your site's Core Web Vitals, you may check them out in your Google Search Console. 
Importance of Core Web Vitals
A page experience can be a Google ranking factor. But it hasn't made it official yet. Instead, it only announced that it would introduce a new signal that would integrate Core Web Vitals with the current signals to better understand page experience. 
Google considers HTTPS, mobile-friendliness, and safe-browsing as part of page experience evolution. The Core Web Vitals are important to get a high score. 
Will the Vitals Push Your Site On Top? 
Unfortunately, they are not magical factors. Even if you have a higher score, it doesn't necessarily mean that your site will be on top of Google's search results. 
As mentioned, Google will use it as a ranking factor. But keep in mind that it has several factors to consider when ranking a site. 
Thus, you should not freak out when your Core Web Vitals are low. There's still enough time for you to improve your score as Google will implement it next year. 
Then again, if you wish to improve your site's score now, then it would be great. 
What Things to Do
One of the Core Web Vitals is the largest contentful paint (LCP). It evaluates how long it takes for a page to load, from clicking a link to seeing the content. 
It's like PageSpeed Insights. But the LCP data show reports about your entire site, instead of random pages. 
To improve your LCP score, you need to ensure that the site loads in less than two seconds. In that case, it is important not to rely on CDN solely. 
Rather, you may need to eliminate those third-party scripts, upgrade your web host, and set up lazy loading. You should also remove those large page elements. 
Then, don't forget to magnify your CSS. 
It is also helpful to minimize JavaScript. Other non-critical third-party scripts must be removed as well. Then, make sure that you add a browser cache so your content can load faster. 
What the SEO Company Can Do? 
Website Depot will do the necessary changes to help improve your site's Core Web Vitals score. 
Our team will conduct a thorough audit of your site to troubleshoot the things that caused your site to have poor Core Web Vitals. 
Contact our SEO company in Los Angeles today to know about the services we provide for the improvement of your site's ranking: (888) 477-9540.