More than 350 million Americans on the internet every day
Today is very important for the business owners to have their presence on the internet known as WWW (WorldWideWeb). It means just being up with the time, since competitors are presenting themselves on the web, it is time to move on with the time and get it done. If you don't have in-house designers, web developers, then you need to hire established and qualified web design agency to help you make this move and build up a professional website.
Not only the website is going to give you better image of your business, but will also drive several new customers to your business. Website will help you improve sales, increase numbers of repetitive customers, explore new connections.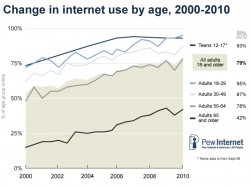 Almost everybody is using smart phones, lap tops, any device that has access to the internet. And what those potential customers do on the internet? They are looking, reading and shopping. They need direction how to get to the business that supplies their needs, and if your store, shop or service is not listed, they will most likely go to the competitors.
Some small business owners believe that their business just does NOT need to be online. They might be comfortable with sales they are making, they might see too big of the obstacle to deal with the web designing, developing agency or just simply use any excuse that is not time yet. Let us inform you websites are like real estates, that have structure, history, connection, equipment and so on. Meaning longer you will pro-long your website project, harder will be to get out there and be known online. Start as soon as you can – today.
Being listed on Google local or having fan page on Facebook, be part of Yelp, those are only basics, which have to be connected with the online foundation of the business which is a website.
When it comes to hiring the best agency, keep in mind there are several free-lancers offering cheap web design, that will build up your site and when it comes to ranking or being found on Google, they will just walk away. Hiring a good and affordable web design agency its extremely important for your project and budget. Don't be afraid of shopping around, asking several question and finding out more about your potential web designers.
Feel free to contact Website Depot Inc. for free consultation, we will be more than happy to answer any of your question. You can also send us an email and we will get back to you in less than 24 hours.