Measuring ROI in Digital Marketing: Los Angeles Case Studies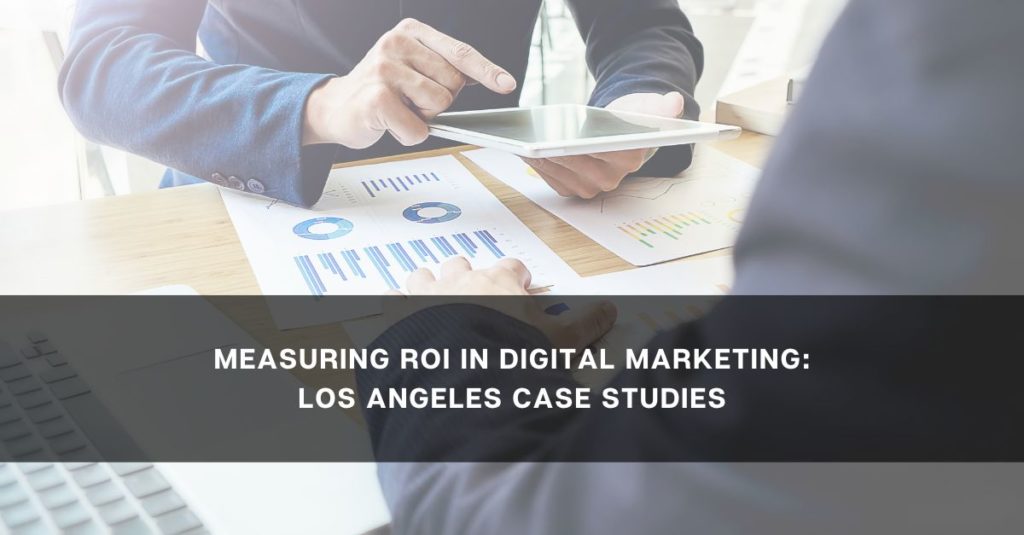 In the bustling landscape of digital marketing in Los Angeles, measuring Return on Investment (ROI) is paramount for businesses aiming to thrive. This city, known for its diverse markets and competitive industries, demands a precise understanding of the effectiveness of digital marketing campaigns. In this article, we'll delve into real-world Los Angeles case studies to unveil how Website Depot's strategies help businesses achieve remarkable ROI in the realm of digital marketing.
A Hollywood Success Story: Entertainment Promotion
In the entertainment capital of the world, digital marketing plays a pivotal role in promoting movies, TV shows, and events. A Los Angeles-based production company sought Website Depot's expertise to promote their latest film. By utilizing highly targeted social media ads and influencer partnerships, the campaign generated buzz that translated into packed theaters. With a comprehensive tracking system in place, the company witnessed an ROI of 300% within the first month of the film's release, showcasing the effectiveness of digital marketing in Los Angeles' entertainment industry.
Retail Revamp: Fashion E-commerce
For a fashion e-commerce store based in the trendy neighborhoods of LA, optimizing their online presence was crucial. Website Depot revamped its website for a seamless user experience, implemented local SEO strategies, and executed a strategic content marketing plan. This holistic approach led to a remarkable 150% increase in online sales within three months. Through detailed tracking of website traffic and conversion rates, the business saw a clear ROI of 450% over the course of the year.
Culinary Success: Restaurant Promotion
Los Angeles boasts a vibrant culinary scene, and standing out in this industry requires effective digital marketing. A local restaurant partnered with Website Depot to enhance their online visibility. By optimizing their website, running targeted Google Ads campaigns, and leveraging user-generated content on social media, the restaurant experienced a 200% increase in reservations and online orders. The precise tracking of ad spend versus revenue allowed them to measure an ROI of 280% in just six months.
Tech Start-up Growth: B2B Marketing
In the tech hub of Silicon Beach, a start-up aimed to expand its B2B reach. Website Depot devised a strategy involving SEO, content marketing, and LinkedIn advertising to target decision-makers in the tech industry. The result? A 300% increase in inbound leads and partnerships within the first quarter. Through detailed analytics, the company determined a staggering ROI of 500% within a year, showcasing the potential of B2B digital marketing in Los Angeles.
Wellness & Health: Local Clinic Promotion
With health and wellness being a top priority in Los Angeles, a local clinic needed to boost its online presence. Website Depot optimized its website, ran local SEO campaigns, and implemented Google My Business strategies. The result was a substantial increase in website traffic and appointment bookings. By analyzing call tracking data and appointment requests, the clinic confidently measured an ROI of 200% within six months, demonstrating the effectiveness of digital marketing in the healthcare sector.

Real Estate Rise: Property Marketing
In the highly competitive Los Angeles real estate market, a brokerage firm needed an edge. Website Depot devised a digital strategy that included search engine marketing, social media advertising, and a visually appealing website. This comprehensive approach led to a 250% increase in property inquiries and listings sold within a year. By tracking leads and conversions, the firm recorded an ROI of 380%, highlighting the impact of digital marketing in the real estate sector.
Measuring ROI in digital marketing in Los Angeles is not just a necessity; it's a competitive advantage. The case studies presented above exemplify how Website Depot's tailored strategies have helped businesses from various industries thrive in this vibrant city. Whether you're in entertainment, e-commerce, hospitality, tech, healthcare, or real estate, a data-driven approach can unlock remarkable results. In the diverse markets of Los Angeles, knowing your ROI is not just a metric; it's the key to digital marketing success. Partner with Website Depot and harness the power of data to drive your business forward in the City of Angels.