Long-Form Content for Rehabilitation Center Marketing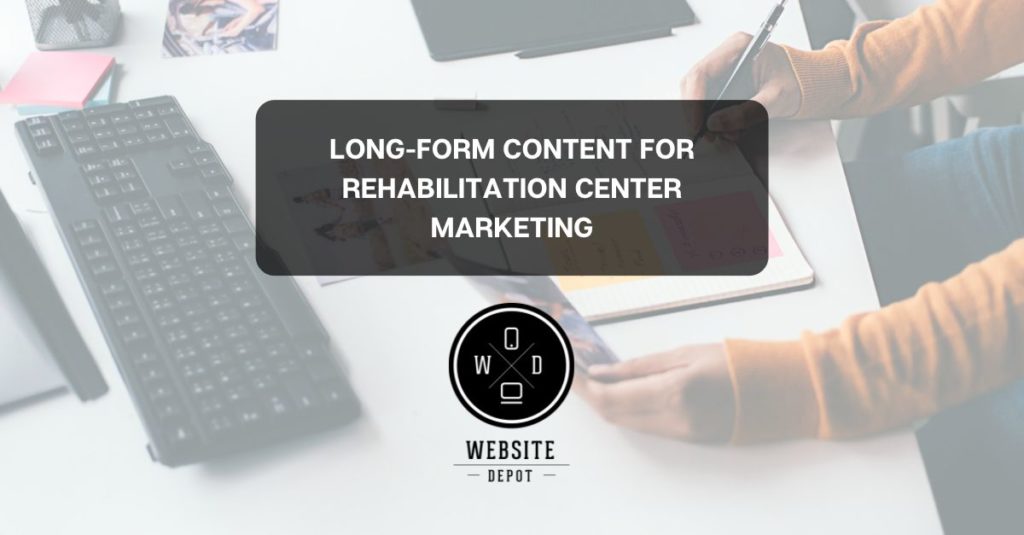 Rehabilitation center marketing is a tricky area to navigate. We understand that marketing mental health services can feel slimy and wrong in some circumstances. As a rehab treatment facility, your primary goal is to help people achieve peace, stability, and sobriety—not sell products or retain customers. That's why it's crucial to use the best marketing strategies that align with your values and goals.
What Is Long-Form Content?
As the name suggests, long-form content is longer pieces of material, usually in the range of 1,000 to 7,500 words. But wait, aren't shorter pieces better for digital content? Not necessarily.
Long-form content allows you to execute efficient SEO strategies. Longer pieces allow you to use more keywords in more organic ways. Lengthier pieces can help rank your website and services higher in Google searches.
Longer articles allow more room for internal and external links, as well. You can link to respectable sources to strengthen your SEO. Internal links can be used to keep your audience on your site for longer periods of time.
Build Authority With Longer Pieces
Well-written and high-quality long-form pieces allow you to demonstrate expertise and authority within your industry. Authoritativeness is one of the cornerstones of how Google ranks websites. Wait, how does this help with marketing a rehab facility?
Credibility, Trust, and Utility
So how exactly can long-form content help a rehabilitation facility, you ask? It's vital to build credibility and trust and provide your audience with useful content as a rehab center. Long-form content provides you with an easier avenue for achieving these goals.
Think about someone searching for rehab services near them. There's a lot that goes into this topic, right? They might have questions about inpatient services, outpatient treatment programs, or how certain substances can affect them. Longer pieces allow you to answer these questions, delivering value and information.
Our team of expert writers can help craft long-form pieces for your facility. You can count on our crew to deliver high-quality content, whether it's about alcoholism, detox programs, post-treatment advice, or related topics. We'll create multiple pieces, ensuring all of your audience's questions are answered.
People coming to your site will see these pieces and know that you're a credible facility that has their best interest in mind. Individuals will realize they can trust your programs, team, and knowledge. Long-form content will help them make the courageous choice toward sobriety.
Utilize Rehabilitation Center Marketing Strategies Today
We understand the importance of helping people obtain sobriety, stability, and peace. Unfortunately, your business won't reach as many people without a proper marketing strategy. That's why it's essential for your company to utilize one of our marketing strategies.
Our veteran staff of SEO experts is here to guide you through the process and take the load off your shoulders, allowing you to focus on changing lives. Contact us today to begin a strategy consultation. Or call us at (888) 477-9540 to speak with one of our experts. Whether you're looking for social media marketing, Google advertisements, or keyword adjustments, we're here to help.