Is Professional Web Design More Important Than Digital Marketing?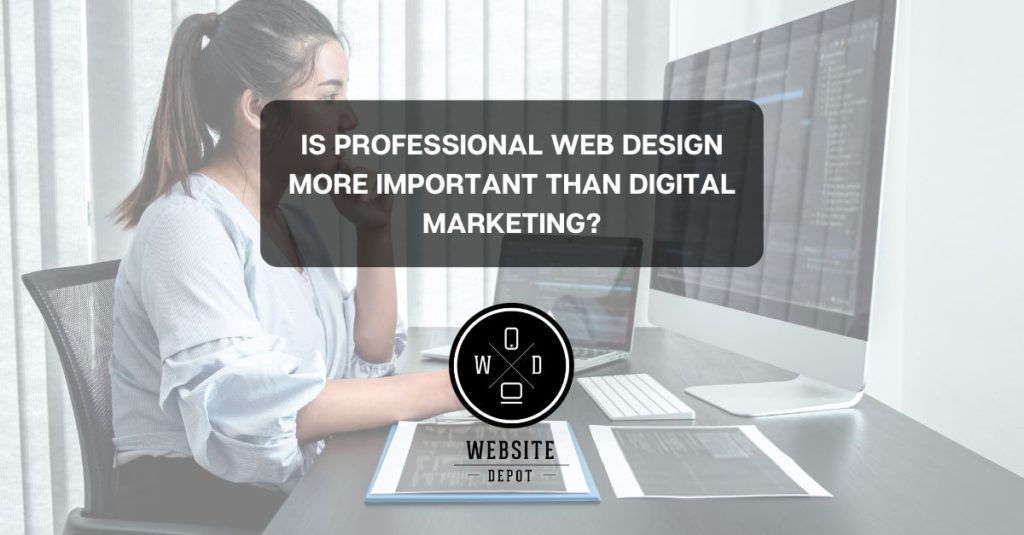 It can be hard to determine which services to use to grow your brand. You may have to decide between Professional Web Design and Digital Marketing. So, which services should you look for when trying to grow your business in 2023? Let's take a deeper look at everything you need to know to get started.
Why Is Website Design Important?
One of the first questions you might have is, "Why is website design important to growing my business?" This question is understandable, as website design doesn't directly draw in customers like digital marketing strategies.
Instead, website design helps you retain customers, improves your online reputation, and allows customers to access your services more easily. Let's take a deeper look at how the correct strategies can help you achieve this below.
Retain Customers
Optimal website design strategies help you retain customers. With the correct techniques, customers will stay on your site longer and be less likely to click off. Customers using or browsing through your site for a longer time, give you a higher chance of conversions or sales. 
Improves Online Reputation
Everyone judges businesses and services by their appearance. You may have the best products or services in your area, but an unappealing website will quickly turn customers away. A professional, high-quality, and easy-to-navigate website improves your online reputation. 
Customers will be more likely to recommend your services to their friends and family.
Customers Can Use Your Services Easier
Have you ever used a website that was difficult to navigate? Maybe the buttons or links didn't work correctly. Or perhaps you couldn't find what you were looking for. What did you do? If the business wasn't worth it, you probably clicked away and looked elsewhere, right?
Your customers will do the same thing if your website isn't optimized! Hard-to-use websites aren't worth the hassle to new customers. You'll lose out on sales, conversations, and your online reputation will diminish over time. 
Responsive Website Design Is Crucial
Website optimization is crucial to increasing sales, retaining customers, and improving your online reputation. Responsive website design is one way you can optimize your platform for new customers.
Responsive website design uses various techniques to ensure your platform works smoothly on all devices. Regardless if a customer is using a computer, tablet, iPhone, or Android, they'll have easy access to your information and services.
Responsive websites improve conversions and help you retain customers. Not to mention, your online reputation will improve, and customers will be more likely to recommend your services. 
So, what are you waiting for?

Hire
Professional Web Design
Agents Today!
Digital marketing is challenging to navigate if you don't have experience. You can spend hours learning techniques and strategies without improving your circumstances. That's why your company needs to utilize one of our professional marketing strategies. 
Our veteran staff of SEO experts is here to guide you through the process and take the load off your shoulders, allowing you to focus on changing lives. Contact us today to begin a strategy consultation. Speak today with one of our experts. Whether you're looking for social media marketing, Google advertisements, or keyword adjustments, we're here to help.