How to Prevent Link Spam and Increase Your Website Ranking ( Part 1)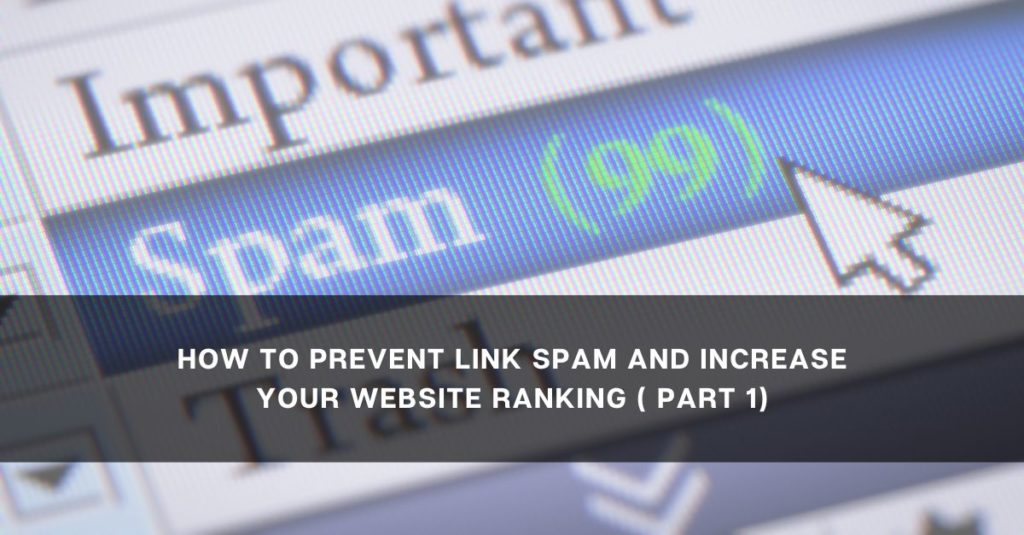 Are you tired of sifting through countless spammy links to try and build your website's authority?  Do you want to identify high-quality sources to leverage social media? Maybe you simply want to improve your website ranking. If so, the following information will help you attract genuine website traffic. 
What is Link Spam?
Link spam is any type of unsolicited, usually automated, message that contains a hyperlink to a website. The most common form of link spam is comment spam, in which spammers post comments on blogs and other websites with links back to their own sites. 
Link spam is a major problem for search engines because it artificially inflates the importance of certain websites and can lead to search engine ranking manipulation.
One way to prevent link spam is to build authoritative links. Authoritative links are links from high-quality websites that are relevant to your website. These links send trust signals to search engines that help them better understand the quality and relevance of your website. 
Building authoritative links can be difficult and time-consuming, but it's one of the most effective ways to improve your website's SEO and organic search visibility.
How to Prevent Link Spam
Indeed, link spam is a major problem for any website that relies on links to drive traffic. Therefore, it's important to be proactive in preventing issues, as it can not only hurt your traffic numbers and damage your reputation.
Below are the top tactics for preventing link spam and building authoritative links:
1. Use Google Search Console's Disavow Links Tool
If you suspect that you have already been the victim of link spam, the first step is to use Google Search Console's Disavow Links tool. This will allow you to tell Google which links you don't want them to take into account when determining your website's ranking. Only use this tool if you know that certain links are impacting your ranking.
2. Nofollow All Links from Spammy Sites
If you know of any websites that regularly engage in link spamming, make sure to add them to your list of sites to nofollow. This will ensure that any links they include on their site will not be counted by Google when determining your ranking.
3. Monitor Your Site for Link Spam
It's important to regularly monitor your website for link spam. There are a few ways to do this, such as using Google Analytics or other web analytics tools. You can also manually check your website's backlinks. If you find any suspicious or irrelevant links pointing to your site, be sure to disavow them using the steps above.
4. Be Careful Who You Link To
One way to avoid getting caught up in link spam is to be very careful about who you link to. Make sure you do your research and make it a point to link to .gov or .edu websites and other popular and authoritative sites.
5. Become a Bigger Authority Yourself
It helps to become a bigger authority yourself. To make it happen, ask certain key questions:
What do I want to accomplish?

Will I meet my viewer's expectations?

Can I answer the reader's questions adequately?

Will I make my reader's life better?
Ways to Get Authoritative Links
There are a few key ways to get authoritative links:
Reach out to other bloggers and site owners in your niche.

See if they're interested in doing a guest post swap, or simply link to each other's content from time to time.

Create great content that other people wish to link to

. This could be an informative blog post, an insightful video or even a helpful infographic.

Submit your website to relevant directories and online listings.

This helps give your site more exposure and can also lead to some high-quality links.

Get involved in online communities and forums related to your niche.

Share your expert knowledge and help others out, and you may just earn yourself some valuable links along the way.
Tactics for Building Quality Backlinks
One of the best ways to prevent link spam is to use a rel="nofollow" attribute on all outgoing links. This tells search engines not to follow the link, which helps to prevent your site from being associated with spammy websites. You can also use this attribute on links that you don't want to endorse, such as paid links.
In addition to using the rel="nofollow" attribute, you should also, again, be careful about who you link to. Make sure that you only link to high-quality websites that are relevant to your niche. If you link to too many low-quality websites, it could hurt your own website's ranking.
Finally, remember that building quality backlinks takes time and effort. Don't expect to see results overnight – it can take weeks or even months for your efforts to pay off. But if you're patient and consistent, you'll eventually see higher search engine rankings and more traffic from referral sources.

Contact Website Depot for All The Details
To make sure you stay on course,  contact Website Depot to schedule a consultation now.