How To Optimize an E-Commerce Product Page for Search Engine Optimization?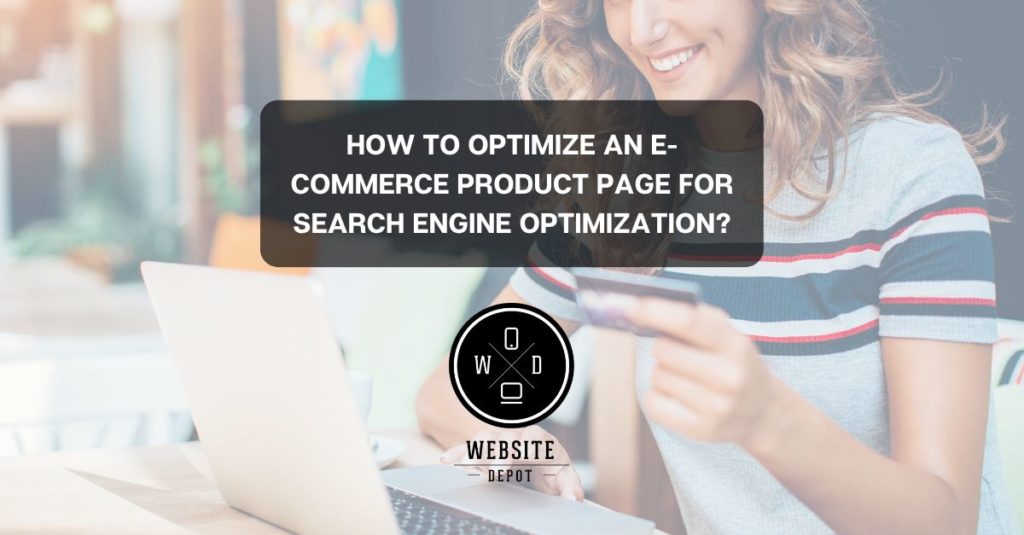 Are you looking for ways to boost the search engine optimization of your eCommerce website's product pages? If this is the case, then good fortune smiles upon you! Whether you are just getting started with search engine optimization (SEO) or seeking to take your efforts to the next level, there are certain things you could have overlooked along the way. You may be able to increase both the traffic to your site and the sales with the aid of these tactics. Continue reading to learn about four different methods that may improve the search engine optimization of your product pages to bring in more visitors to your website.
Make Sure That Your Title Tags Are Accurate and Descriptive
It's essential to ensure that your title tags are clear and concise. However, using the product title as the page title might confuse site visitors who are clicking through from a search result to learn more about your product. For example, if you have many products with the same name, customers may accidentally search for a product they don't need and arrive at your site instead of the one they were searching for. Alt-text is a visual representation of an image tag's information and may be used to prevent this issue. Title tags are often placed above images, but this isn't the case with product images. Instead, the language that indicates what viewers are in store for is placed underneath them. Users who see a well-written title tag are likely to continue reading the page and learning more about the topic.
Use Keyword-Rich Titles to Help with Search Engine Optimization
Make your product page names keyword-rich as the first step in improving your e-commerce product pages. An item's title appears in search engine results when a user types in the product's name or description. The temptation to utilize the name of a specific product as the title of your page may be strong, but this might be an issue if it isn't keyword-rich enough. In e-commerce, product page names are critical, but they don't receive the attention they deserve. Because it appears first in search results, the title significantly impacts the number of people that see your product page. The title, on the other hand, is crucial for Search Engine Optimization according to diva-portal.org. This is your product's headline, and this is the text that will appear on other sites when you get backlinks.
Add Clear and Concise Descriptions of Your Products
Search engine optimization -friendly product pages may be improved by adding clear and succinct product descriptions. It's not uncommon for e-commerce site product pages to be filled with only a list of product features and specs that don't tell you anything about the product itself. It's possible that your website won't appear at the top of a search result for a product you offer since it doesn't include the precise phrases someone would use in a search query. When customers search for specific phrases connected to your items, you'll have a better chance of showing up in the search results. 
This includes the title, subheadings, picture captions, and body content of your pages. You want to incorporate phrases relating to your items. You can write (or optimize) clear and concise descriptions of your products that describe what the customer is actually purchasing rather than simply describing the physical attributes of the item being sold by knowing what terms people will use when searching for products similar to yours. Links are one of the most important aspects of search engine optimization.
Add Customer Reviews and Ratings to Help Potential Customers Make a Decision
When people shop online, they want to see ratings and reviews from other customers. They might be hesitant to purchase an item if there are only a few reviews of it or none if there are no ratings. You need to include customer reviews and ratings on your e-commerce website if you want your customers to feel confident using it to make purchases. You should consider including various review sections for multiple products if you plan to include ratings and reviews from previous customers. For instance, if you already have a section dedicated to men's shirts, you might consider establishing a separate area for women's shirts. In addition to dividing your products into sections denoted by gender, you may also divide them into sections represented by the various sizes you offer.
Website Depot offers an array of services to ensure your online presence is the best that it can be. They create, build, host, and maintain websites for small businesses, optimize them for search engines, track compliance, and everything in between. Contact the Contact Website Depot today at (888) 477-9540 for more information on e-commerce SEO and how we can help improve your site's rankings!