How to Make Your Website ADA Compliant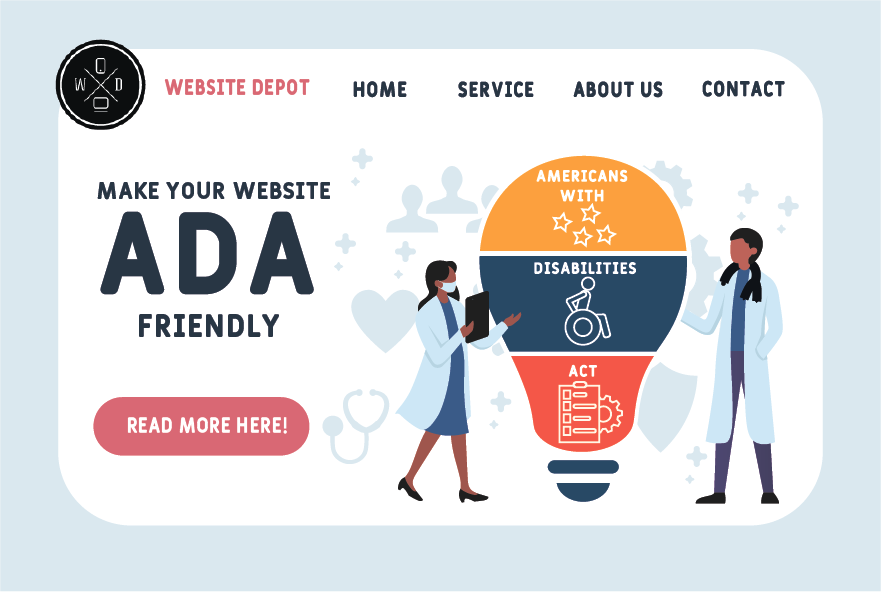 If you have received a letter, or worse yet been served with a lawsuit claiming that your business' website is not ADA compliant, it could seem daunting. It could come as something completely unexpected to the common small business owner. Here we'll explore what's been going on, what the law is, and how you should proceed if you recieve one of these letters or demands. We'll also explore actions you can take to make sure your website is accessible and as ADA compliant as can be.
In our industry of digital marketing and working with websites, we have heard countless stories and phone calls of people who are completely caught off-guard when they receive notices about ADA compliance, or a person not being able to properly read a website. Unfortunately this is becoming a all-too common thing that has been plaguing unsuspecting small businesses, in particular. A pattern is starting to emerge that there are many lawyers (especially in California) who are using this as their bread and butter.
Outside of the digital realm, small business restaurants have become easy targets for demands and litigation in regards to ADA compliance. Certain groups of lawyers and plaintiffs have developed methods of scouting out a small business like restaurants for any violation that can be found. In most cases, most of the small business owners that were targeted may not have been as privvy to accessibility regulations. In the same way, instances targeting small business websites have become increasingly common places where certain people, arguably labeled "serial litigants"– look to target.
In defense of this practice, the ADA law, written originally to protect against discrimination of people, had been purposefully written to be enforced through the courts . You have instances like a lawsuit against Nike, in which the company forked over millions of dollars in a settlement regarding its website accessibility issues.
After that happened, there were some people out there that saw this as a great opportunity to make money. Unfortunately, this has come at the expense of some vulnerable small businesses.
Background on the Americans with Disabilities Act
The ADA was signed into law by George HW Bush in 1990. It is a very broad-sweeping and well-intentioned law that protects disabled individuals in professional, civic, and public settings. Inclusion and accommodation are key things the law calls for. However the language contained in the litigation does not address the web or business websites for that matter. This created a gray area.
Since 1996, the Department of Justice (DOJ) has taken the stance that websites actually are covered under the jurisdiction of the ADA. This is confirmed in ADA.gov, a DOJ website. However a problem persisted for many years with no legally-defined guidelines on what it means for a website to be accessible.
Since that time, there have been an increasing number of ADA lawsuits in Federal courts, many of which involve websites belonging to small businesses. One of the reasons given for California having such a higher number is that lawyers and litigants use a state law called the California Unruh Civil Rights that allows for more potential damages to be claimed than just the ADA alone.
What to Do If You Get Sent a ADA Demand Letter For Your Website
Keep in mind that it's two very different things to get sent a letter from lawyer or law firm, and actually getting served with papers of litigation against you. So take into account which of the two you're getting.
Many of these lawyers have been known to send out demands en masse, and some of the litigation they bring forth against some website owners can be either borderline or outright frivoulous. That's why it's important to take inventory on what's going on with your site first before taking action or responding. Be sure to get advice, test your site, and do research before responding! Get help if needed.
Some of these letters are boilplate templates
This means that they are sent out to a large group of website owners, and many just swap out the business name, the owner's name, and a few other identifying details. Always be wary of this. You can kind of tell with the way a letter is worded if it is actually addressed to you, or to many.
In either instance, our strongest advice is to not ignore it. It is possible there is something on your website that could have triggered you getting targeted for one of these threatening demand letters.
First Steps in Making Your Website Accessible:
Get to know the law, or at least the jist of Title III. You don't need to be a legal scholar about it, just get a general understanding about it so you can apply it to your site.
Get to know some of the key stuff — people with speech, hearing, typing, and vision impairments are areas that need to be addressed in the website. People who are limited in these abilities must be able to access your site in the same way any other user would.
Get to know some of today's widely-accepted guidelines for making your site accessible. W3.org is probably the best resource for learning how to execute this stuff. Here you'll find insights into WCAG- Web Content Accessibility Guidelines which fortunately for everyone, are creating a more universally accepted set of rules to follow. Both the Department of Justice and Interpreters of the Unruh Civil Right Act have cited the WCAG on w3.org as being adequate references to web accessibility. Further, W3.org  has some articles that are very readable to someone not as technically-proficient as a programmer, and also specific to-do's and guides for programmers, webmasters, content creators and other web experts.
Use Google Chrome's Lighthouse to run a test of your site, see how you score, and what specific items and areas need attention.
Perfection is Rare
Don't fret over being perfect. Sure, it's something to strive for, but know that in the case of ADA and websites, it's a close-to-unattainable feat. Cover the main things that need to be covered and let it show on the front end of your website. Simply demonstrate that you made a good-faith effort to be accommodating to anyone with a disability. As you move forward with making updates in the future, apply some of the same principles you've learned through the general rules or design methods this article mentions.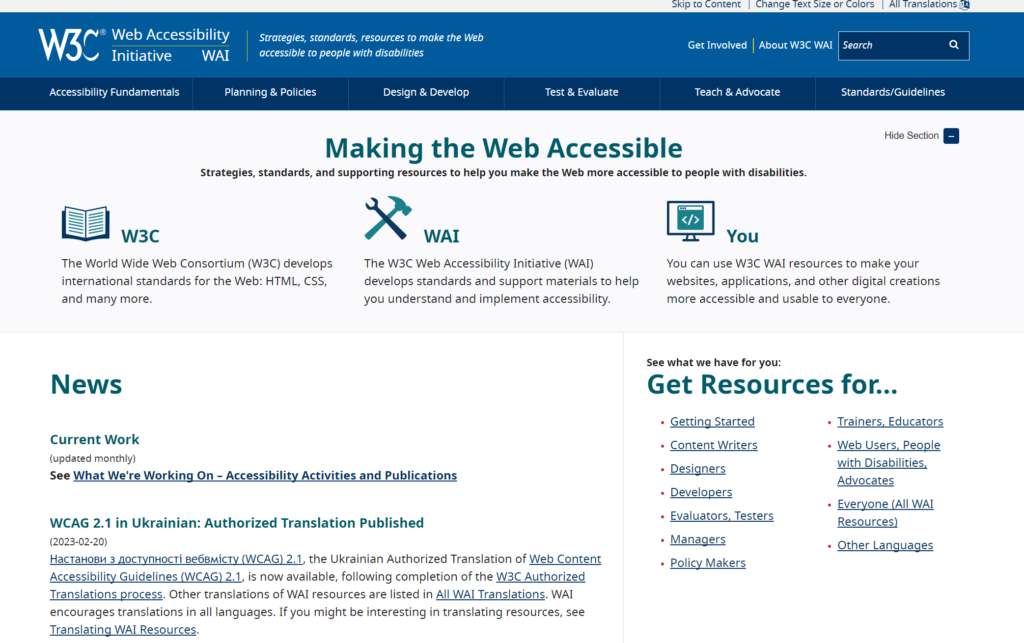 W3.org, put together by the Web Accessibility Initiative – is probably the best resource on guidelines and how-to's of making your website accessible to everyone. There is a wealth of knowledge (more than can fit in this blog) that is the best place to reference for site accessibility. We here at Website Depot use this ourselves.
You can Have a Fairly Accessible Website By Doing The Following:
Make sure your website's written content has good color contrast. Avoid bright text on bright backgrounds and dark text on dark backgrounds. This is specifically a challenge for those who are visually impaired and colorblind.
Keyboard navigation throughout your site is important. Mouse-only is non-accessible with people who cannot see. Not to mention– it translates bad to mobile and everyone else!
Properly title, and tag your media items. This includes photos, videos, other visual files. Name them, caption them, add descriptions where you can. If you know how to code, apply appropriate descriptive title tags.
Properly title your buttons also— Avoid images for buttons unless they are properly tagged with ALT text attributes– make sure that a screen reader can read them, so that someone who is visually impaired can select it.
Text needs to be flexible to be re-sized by accessibility software, it also needs to be readable by most major screen readers that people might use as accessibility tools.
We Empathize With Small Business Owners
It is completely understandable if this seems like a tall order, or far-fetched. But it is somethign that is worthwhile because it will protect your business in the future, as well as give a wider audience a better experience. If you're a business owner, you probably don't have the time to take away from running your business to tackle some of these items that can be very specific. If it is within your resources, seek help from a professional.
If you are facing litigation about your website's ADA compliance, it is advised that you contact a lawyer or legal expert on matters of ADA websites. Don't settle for big amounts! I'm not a lawyer, so do seek proper licensed legal advice if you're dealing with this issue. In many cases, they will be able to advise you on what are the most imporant things you have to fix, and things you don't really need to fix, thus saving you money by avoiding unnecessary overhauls. Also, through help of a legal professional, they can guide you towards the process of making your website adequately accessible before any potential court date, thus taking out the legs of the case against you in the process.
If some of what it takes to fix your site is beyond your tecnnical prowess, contact someone who knows how to make a website ADA accessible like Website Depot. We have a team of website developers who know what they're doing on this matter.
There is so much more (both technical, legal and anecdotally) that can be written about this, so stay tuned for some more how-to's, news bits, and advice on this fluid issue in website ownership that is ADA accessibility. Thanks for reading.