How Many Times a Day Should You Publish a Content for Your Law Firm?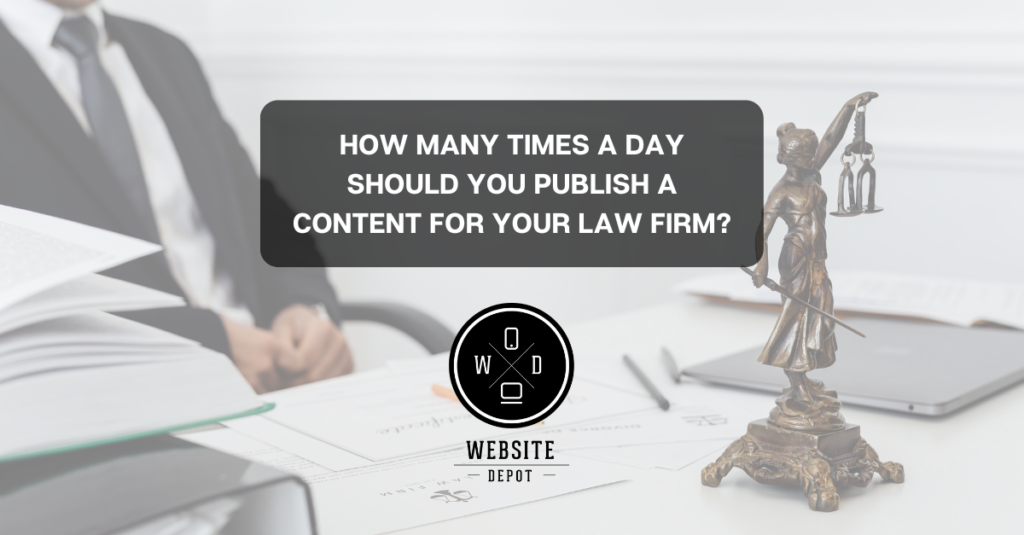 Will publishing daily content help your law firm's website? It is one of the common questions we receive when our clients ask about our law firm SEO marketing services. Publishing content regularly does encourage readers to come back to your site for more information. 
Law Firm SEO Marketing
on Publishing Content
The frequency of publishing content does not matter, unfortunately. The reason for this is that it does not help with your ranking better. In other words, even if you publish four posts a day, your ranking may still not go up in Google search results. However, you must keep in mind the more pages you have on your site, the more pages Google may index. In other words, if Google indexed those pages, the more chances your content will show up in search results. 
Crawling Content 
Sadly, Google does not crawl all content on your site. In that case, not all content on your site will be indexed. And indexed pages are vital for ranking. If Google can't find those pages, it can't rank them and people won't discover them. 
Reasons Google Won't Crawl and Index Your Content 
One of the main reasons Google will not index all content is the quality of a website. If it is spammy, then it will never index it. It is one reason you need to convince Google to crawl your site by providing it with high-quality content. This is where most new sites struggle. That's why it takes a lot of time for your site to rank well on certain keywords. If you don't consistently produce high-quality content that is helpful for your audience, Google will not give your site a better ranking. 
Thus, each time you write content for your site, don't just think about the number of pages. Rather, always consider how helpful the content will be. Google is extremely cautious about crawling websites. If it is not sure about the site's quality content, it will never index it. 
How to Make Google Index Your Pages? 
There are many ways to encourage Google to crawl and index your pages. One important thing is to ensure that you have an XML sitemap. Then, add the sitemap to your Google Search Console account. 
You should also conduct a site audit to find orphaned pages. They are pages without internal links pointing to them. This strategy is useful because it allows Google to discover those pages. 
Make sure that all internal links are no-follow. Most of all, the page must be valuable and unique. As mentioned, google will only index sites full of helpful content. Google recommends focusing on making your site inspiring and awesome. 
Get the Help 
If you struggle to make your law firm's site to be inspiring and awesome, then you will need the help of our law firm SEO marketing experts. Find out more about our services here at (888) 477-9540.