Google Algorithm Update June 2019: What Should You do With Your SEO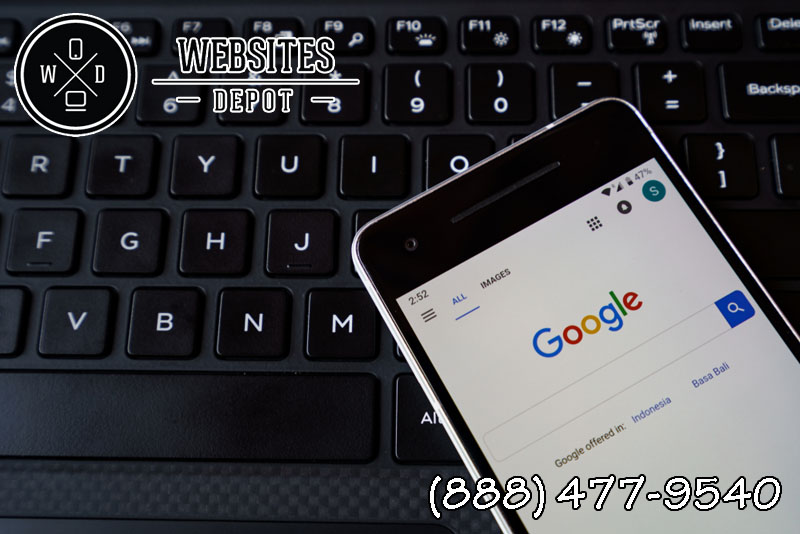 On Monday the 3rd of this month it was announced the Google Algorithm Update June 2019. The update was officially released live by Google via Twitter that date. However, the announcement was originally made one day before in another official tweet in Google SearchLiaison account. This original tweet linked to another tweet from October 11, 2018. This message was known as 'An Update about Updates', In which Google advices that there's usually nothing to fix in broad core updates.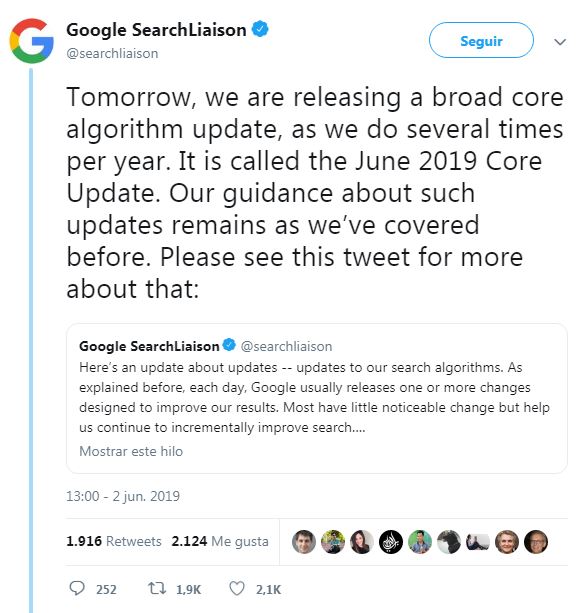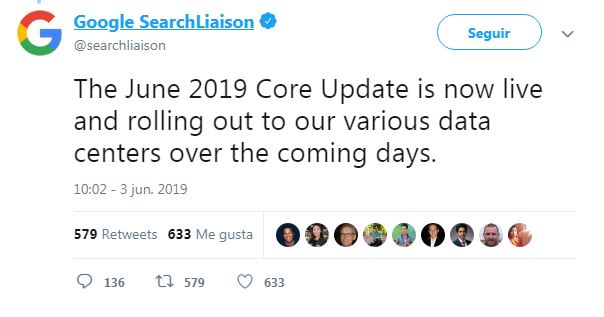 Google mentioned this because when it comes to core algorithm updates there's usually nothing to fix and are aimed to eradicate low quality content or improve relevance. By 'relevance' Google means to show users accurate results, understanding (or even anticipate) search queries through a proper use of relevant content.
CCN and the Google Algorithm Update June 2019
Despite Google's 'nothing to fix' position, the internet community was shocked when cryptocurrency news website CCN reported they were forced to shut down because of Google Algorithm Update June 2019. They openly blamed Google for it, saying that their organic visibility and daily revenue dropped 90% after the update. "Our visibility on Google dropped from 1.2 to less than 0.6" says CCN report. " This change by Google is directly having a significant impact on us as a small independent news organization that has never received any outside funding".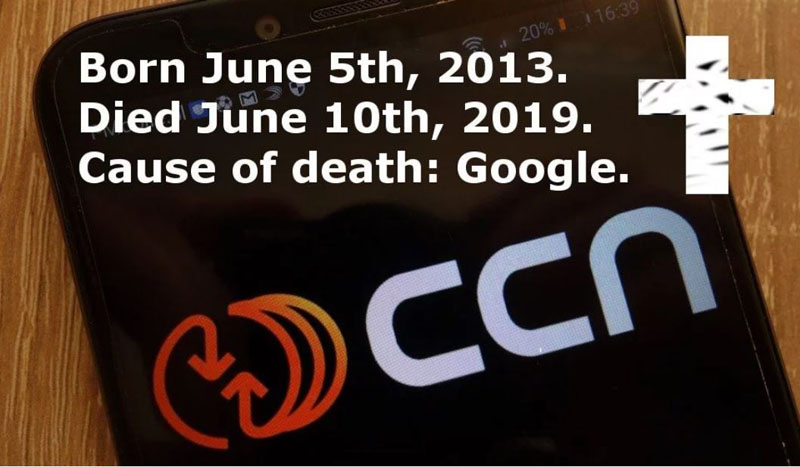 CCN also suggested that Google's update is a "Crypto Crackdown", as some other cryptocurrency-related platforms seem to be affected by it. "Why would simple fixes be the cause of the immense Google-listing drop, when other similar sites are experiencing the same blowback? The leader in blockchain news, CoinDesk, has experienced a 34,6% drop according to Sistrix.com".
Eventually it was known that CCN's traffic was not affected by Google's update but it's own SEO issues that were pointed item by item by SEO expert Dan Shure in a comprehensive tweet. In this message, he pointed that CCN website highly depended on organic traffic from only two pages. "My main point is that with the latest Google core updates, you have to segment things by queries, query types, pages, and page types" said Shure, and highlighted that "I don't see these updates as being sitewide 'punitive' based updates (like Panda or Penguin)".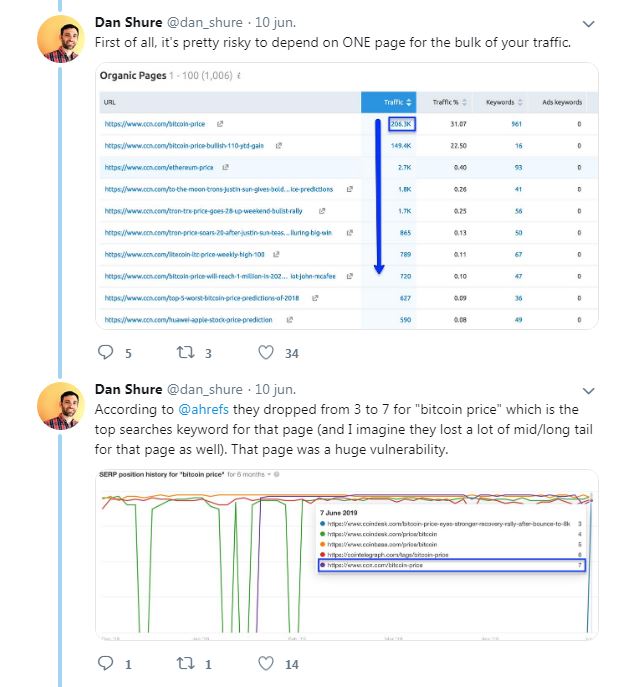 How to Minimize the Update's Impact on Your SEO
A solid SEO strategy can minimize the impact of Google Algorithm Update June 2019 as well as many others to come. It will also make your website less dependent on organic traffic. Here are the bullet points that are necessary to follow on this matter:
Create Long-term strategies:

back to the CCN case, all indicates that poor planning was what actually plummeted their SEO; not Google. Relying the site's traffic on just two pages to deliver the bulk of its organic traffic was irresponsible. A solid strategy would contemplate issues like spreading organic traffic through more pages, building traffic from other sources and generate a solid link building, syndication, and redirection. In other words, it's always necessary to take a long look at how your business approaches general search and how to implement a long-term, low-risk  strategy.

Make content that stands out from the rest

: it's been said a million times before and it seems it's still necessary to repeat it: content is king. This is also part of a long-term strategy. If something taught us

Google Algorithm Update June 2019

is that it is necessary to predict fluctuations in organic traffic. The only way to avoid major catastrophes on your site and actually benefiting from a core algorithm update is to invest in a long term approach to organic search. Such approach goes hand in hand with the periodically delivery of quality content and useful user experience.

An interdisciplinary approach

: all indicates that the future of SEO is linked to other disciplines. SEOs need to collaborate with other marketing and business functions and understand their challenges. Pay per view, UX/UI, CRO,

web development

are some of them. It is necessary to build a stronger relationship with the teams within an organization. That's an effective way to reduce a website's dependence on organic traffic and its continuing variations.
Get the Guidance You Need from Premier Google Partners
At Website Depot, we can build a robust strategy for your website to rank well on SERPs and also sustain such good positioning. We are Premier Google Partners and have more than 10 years of experience helping small businesses reach their goals, grow and prosper. Our team of in-house experts will sit with you, listen to your needs and give you a tailored strategy that fits your business needs. 
For more information about our SEO services or to make a consultation with our experts, call us at (888) 477-9540.