Getting the Most Out of Digital Marketing Packages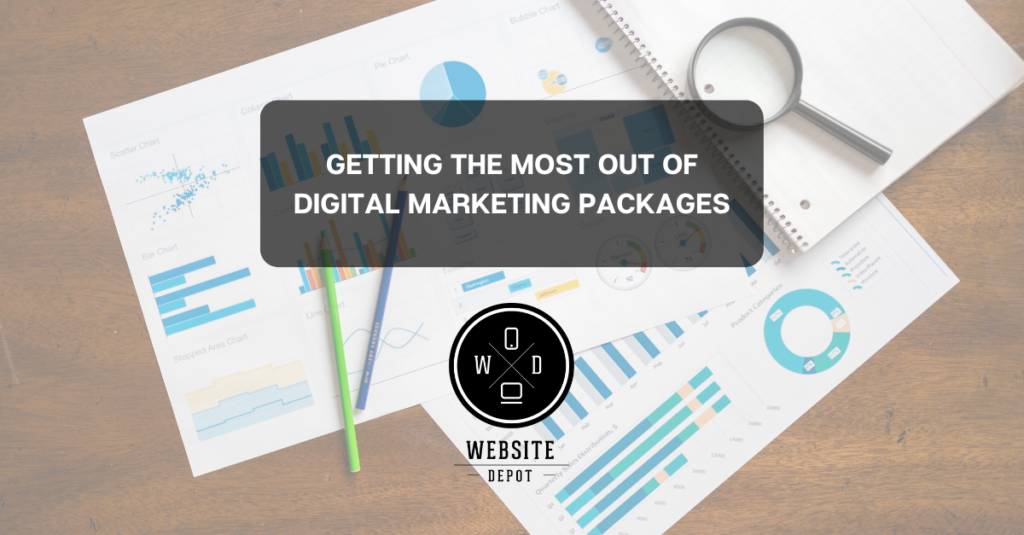 In 2022 and beyond, your business needs to have a dynamic web presence. No matter what industry you are in, or if most of your revenue comes from brick-and-mortar sales, marketing your business online is an absolute must. While having a website is a good initial step–and one that many business owners choose to complete themselves–it should not be the full picture of your online branding efforts. You may understand this, but you simply lack the knowledge on how to boost your digital presence, or, if you are somewhat tech-savvy, you may not have the time to put into building your online brand. For this reason, many organizations will outsource this aspect of their marketing plan, often purchasing digital marketing packages from web agencies. While this tactic can make a lot of sense, you should really have an idea of what you want to get out of such a partnership.
Digital marketing is a huge, ever-growing industry. Just Googling what is available for businesses in your area can land you a deluge of results. You will also probably notice that just about every digital marketing agency will promise you unmatched results. In truth, digital marketing packages should be tailored around the needs of the business that they are sold to. You are going to want to work with an agency that will listen to your goals and then build a custom marketing plan for you. What follows are just a few components that you should be sure are included.
Web Build and Design with Digital Marketing Packages
Are you starting a brand new business and do not as of yet have a digital footprint? Is your business just a bit behind the times and needs a dynamic, new website? No matter your situation, any digital marketing plan worth it's salt should include basic web design and build. At the outset during your initial consultation, you should make sure that anything built for you is optimized for the mobile experience. It is estimated that more than 60 percent of all web traffic comes from mobile devices, and your website should be built with this in mind.
If you are revamping a current website, make sure that the agency you work with is willing to do a full audit of your existing content. The reasoning behind this is that your content may be performing well and showing strong domain authority, in which case you may not want to do a full "tear down", but rather you should incorporate those successes into your new site. Your agency partner should also generate strong, keyword-rich content that has a specific audience in mind. Remember, you also want to think about mobile users, so images with an embedded copy or long walls of text are generally not advisable.
Search Engine Optimization Services
Before a potential customer can make contact or a purchase, they need to find your website. The best way for you to reach clients in the online space is by having strong search engine optimization (SEO). Think about how you shop online: chances are, you enter a search term into Google or some other search engine, and you generally will click on a result on the first page. Your goal, as a business owner, is to get your website in a prominent position on search engine results pages (SERPs). This can be done in a number of ways, and any agency you hire should have a strong knowledge of SEO best practices. 
A digital marketer will first look at your on-page content and intersperse valuable keywords that will be crawled by Google. Those keywords should come from their own research, using a variety of tools to see where you should be ranking. They will also know to optimize your meta descriptions, alt text, and other "behind the scenes" elements. Your marketer may also work with you to build a Google business page (GBP), which can really improve your local SEO.
A Solid Social Media Presence
Having a social media presence is no longer a novelty–it is a must, regardless of your industry. A good digital marketing service will present you with a multi-platform plan on how to create strong content that will generate engagement and conversions. Depending on the package you ultimately purchase, this may be an ongoing service provided to you, or you may need to take the reins yourself. Potential customers respond well to businesses that frequently make new posts and interact with them, and just staying on top of this task can help you attract more business.
An Experienced Digital Marketing Agency
At Website Depot, we offer a wide array of different digital marketing packages for businesses of all stripes. Our experts will take the time to listen to your needs and goals before ultimately tailoring a marketing strategy that is right for you. To learn more, schedule an initial consultation by calling us at (888)477-9540.