Focus on These Legal Keywords to Generate Leads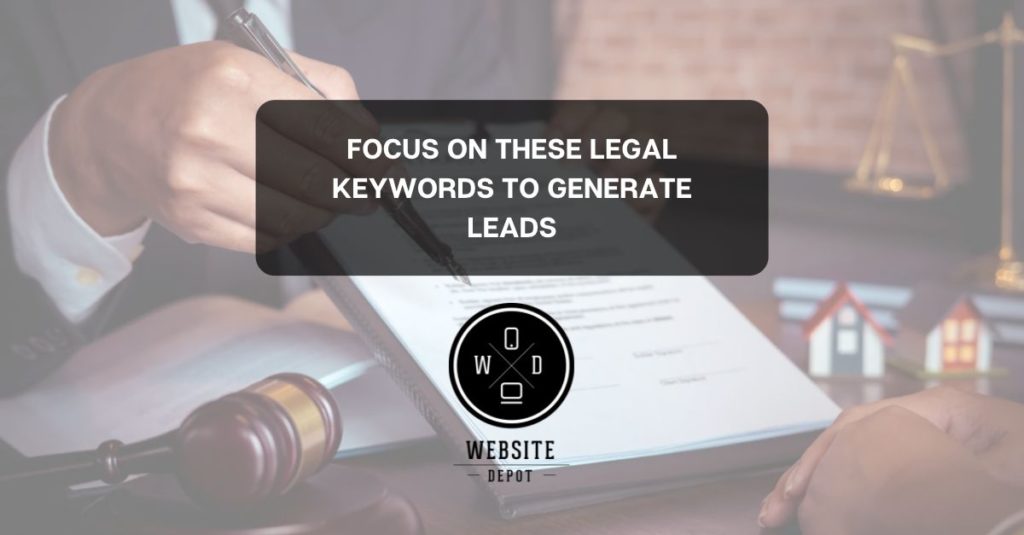 To step up your SEO as an attorney, you need to focus on certain keywords. These legal keywords, although simple and obvious, will place you out in front of the competition. If you're serious about building website traffic, this will make a difference. So, what legal keywords are movers, motivators, and shakers? What words do people search for regularly? What words should you include in Google Ads?
How to Generate Legal Keywords that Increase Traffic
Answer these questions by using a keyword analysis tool such as Serpfox. This tool will give you an edge professionally and socially. Know which words draw the most traffic and use variations of the phrases.
If you use an older rank tracker, such as SerpFox, you'll receive more accurate results. You can also keep track of your rankings. Whether you need to assess weekly changes or changes over the year, you're covered. Set up notifications so you'll know when one of your keywords moves up in the SERPs.
The Top Legal Keywords for SEO
According to SEO experts, the best keywords to use in Google ads, which increase visibility, are "lawyers near me" and the word, "attorney." You can use these keywords and their variation regularly.
Other top keywords include "immigration lawyer" and "personal injury lawyer." These obvious choices make it easy for you to plan the content for your ads and landing pages. The idea here is to obtain a strong quality score for your ads. Doing so will lead to a higher ranking and lower ad costs.
To make things happen, you need to look at your target market and how they search. Therefore, to be successful in digital marketing, you have to know your audience. In other words, you have to get acquainted with your demographic.
Learn More about Your Audiences
To improve your response rate and generate leads, you need to answer the following questions:
Who searches for your services more often – men or women?
What is their age range?
What are their specific legal concerns?
What are their fears?
How do they make a living?
Do they need your legal services immediately?
What kind of legal advice do they need?
By answering the above questions, you can improve your digital marketing strategy.
When you understand your audience, you can write better posts and add more client-friendly keywords.
You also want to search keywords yourself. In this instance, it helps to know the search intent of your audience? Is it informational, transactional, or navigational?
If the search is navigational, the searcher is searching for a website. An informational query represents a quest for information. A transactional search is commercial and typically means the user needs immediate access to the services.
When to Use Pay-per-Click
Research shows that PPC is good to use for commercial content, as searchers click on paid results twice as much as they do organic search results. Usually, the more clickable ads catch their attention quickly as they take up more space in the SERPs. While you still need organic links in your content, you'll receive a better return if you use commercial keywords for PPC.
Searching Keywords Yourself
When you're searching terms yourself, look at the common thread in the content and what keywords are used. Notice the tone of voice to get a better idea of how to reach your audience.
Use your keyword analysis to optimize your search results to improve
Ad performance;
Individual performances of keywords; and
Keyword alignment
By continual analysis, you can find out what keywords work and what phrases can be omitted. To make sure you're getting the most of your keyword choices, you need to partner with a digital marketer. Doing so will give you more insight into how to format a successful marketing campaign.
Again, using the right keywords can be a game-changer. Therefore,  you want to make sure you understand the process thoroughly. That means getting to know your audience and the reasons for their searches.
Setting Your Digital Goals
Naturally, as a lawyer, you want to generate leads. Therefore, you not only want to be found in the local searches, but you also want to inspire trust and confidence. To increase traffic, you'll need to make sure your content is both readable and informative. Adding links will increase referrals and add authority and prominence to your website.
Matching Your Keywords with Your Goals
To work your keywords into your content, you need to answer the following questions:
What did people want to read about my content?
What keywords do my readers use?
Your keyword research should frame your content strategy.
How to Use Legal Keywords for Lead and Traffic Generation
To generate leads, you want to use niche keywords, such as Los Angeles personal injury attorney or immigration lawyer LA. You can use these keywords in how-to videos, in legal guides, or on your "About Us" page.
To attract more traffic, it helps to use high-volume or trending keywords. These keywords might include news about a celebrity arrest. For example, "Lindsay Lohan drunk driving arrest," is an example of this type of keyword.
Or, you might choose a less controversial subject, such as "top tips for incorporating a business." You can use these words in articles, blog posts, videos, and lists.
Contact Us Now to Increase Your Influence Online
To make the most of SEO, you need to partner with a digital marketing company that has your firm's interests at heart. Contact us here at Website Depot now to increase your influence online. Call us now at (323) 922-5959 for further details.