Five Ways to Boost Your Attorney SEO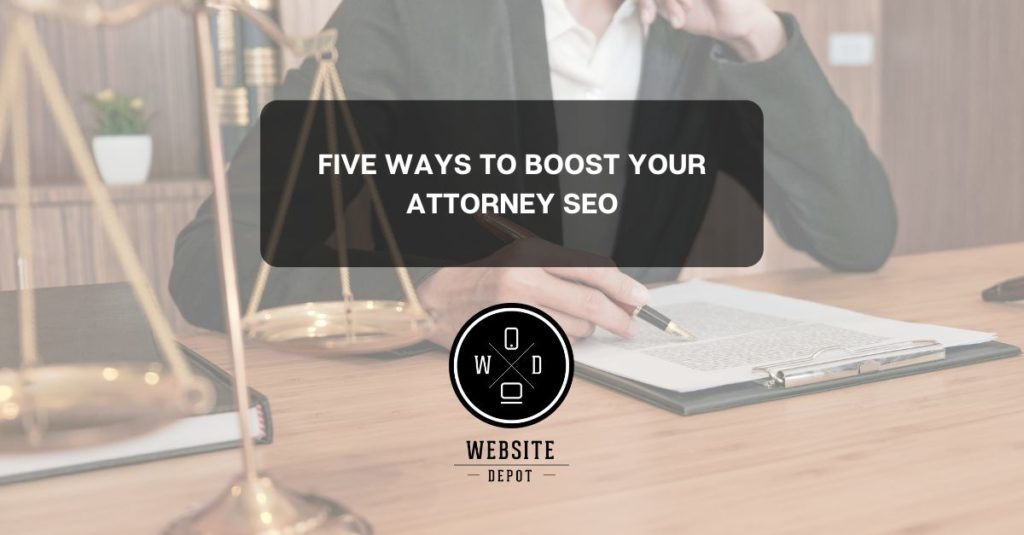 If you own and manage your own law practice, your free time is likely pretty scarce. Your day can quickly become full of client calls, court appearances, and meetings. While being busy is undoubtedly a good thing for your business, it can make it difficult to tackle your own marketing efforts. Depending on how involved you are in your overall advertising strategy, you may have input on everything from basic marketing copy to real-world billboard placement. When it comes to the digital space and search engine optimization (SEO) in particular, however, you may find it beneficial to turn to a team of experts. At Website Depot, we understand the importance of attorney SEO, and we employ a multi-faceted approach to helping our clients rank as highly as possible. If you are in the market for a more dynamic digital footprint, we are ready to help.
SEO is an ever-evolving concept. At a fundamental level, though, search engine optimization is the practice of positioning your website to rank highly on search engine results pages (SERPs). If you think about it, whenever you Google something, be it a product or a service, you will likely click on one of the first few results that show up. As a matter of pure convenience, you probably are not likely to scour multiple pages of results. This same routine most likely would hold true for your potential clients as they are looking for a law firm to work with. While finding the right attorney may call for positive reviews or word-of-mouth referrals, the more likely an individual is to find you, the more likely they are to make contact. Read on to learn about how you can strengthen your website's attorney SEO.
1. Beef Up and Optimize Your Current Content
When was the last time you looked at the on-page content on your current website? Has it been a while since you refreshed your internal pages or composed a new blog? As Google is constantly shifting its algorithms to seek out more authoritative content, the days of keyword-stuffing and slapdash pages are over. Try organically inserting keywords in your H1s and H2s. If you have paragraphs that are six lines or more, shorten them up a bit. Link to valuable internal and external links and position calls to action (CTAs) in logical locations (a heat-mapping tool can help with this). A good place to start in refreshing your pages would be anything that has not been updated in a year or more.
2. Seek Out Backlinks from Reputable Sites
One surefire, time-tested way to improve your attorney SEO is to build backlinks on reputable sites and blogs. The more of these you have, the more authoritative and trustworthy your site will appear to Google and other search engines. You may be wondering, how can I do this? Isn't this a bit outside of my control? Well, there are a couple of pathways to explore. The first method would be old-fashioned networking–try and get links from other lawyers that you know and work with. Another avenue to explore is writing solid blog content. By presenting yourself as an expert, other sites may link to you as source material.
3. Improve Attorney SEO by Optimizing Your Images
Does your website feature images of yourself, your associates, or maybe your office space? No matter what imagery is on your page, it can offer valuable SEO real estate. You can optimize your pictures by inserting keywords into the metadata. This means in the image file names, their descriptions, and even the alt text. As Google will crawl this information, you should do everything you can to make sure your images are optimized.
4. Mobile is King in 2022
When you look up a restaurant or perhaps just shop online, are you doing it from a desktop computer? Odds are, the answer is no. It is estimated that more than 50 percent of all web traffic occurs on mobile devices, and if your site is not optimized for mobile, you could be losing out on potential conversions. You can improve your mobile optimization by using short, scannable blocks of text and reasonably sized image files. An experienced digital marketing agency such as ours at Website Depot will have the tools to assist you in this strategy.
5. How is Your Site Speed?
Similar to mobile optimization–and in the same general strategy–having a solid load time is essential to SEO in 2022. When you visit a website, how patient are you? If it is slow to load do you close the tab and try something else? Well, if so, the same is likely true for your potential clients. In order to get conversions, you need people to stay on the page. At Website Depot, we make sure that you have optimal site speed as a part of our SEO strategy. If you would like to learn more, contact us today by email or phone and arrange for an initial consultation.