Easy Steps to a Successful Law Firm SEO Strategy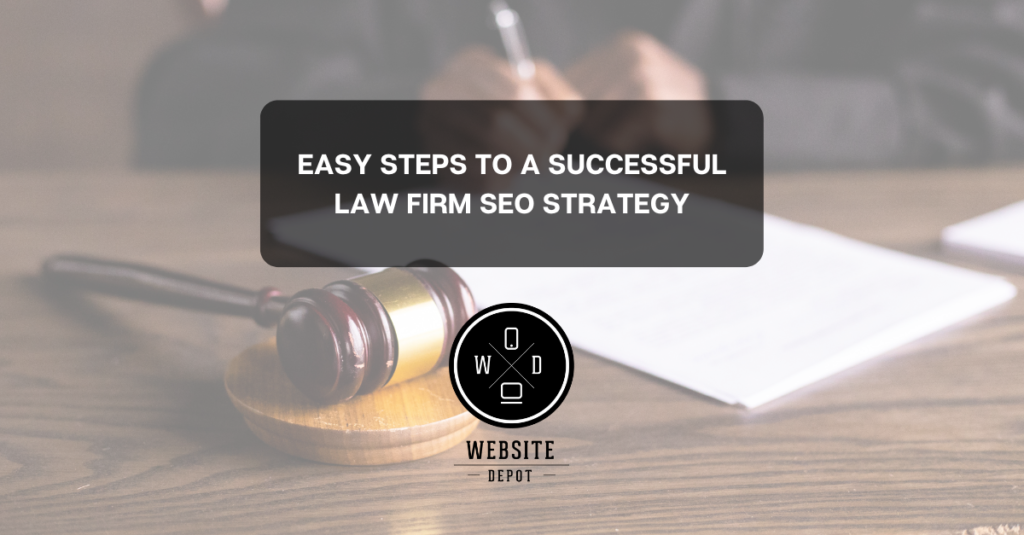 Law firm SEO strategy can feel like a daunting task. There are so many moving parts, and it can be hard to know where to start. If your legal company is like most others in the industry, you are probably continually searching for new methods to expand your client base and business. You are passing up a significant opportunity if you are not already employing search engine optimization (SEO) to increase the exposure of your website. 
These simple steps will get you on the path to developing a successful SEO strategy in no time. Thank goodness, since executing a successful SEO plan doesn't have to be difficult. What exactly are you looking forward to? Start improving your site's performance right now! Here are some easy steps that you can follow to create a successful SEO strategy for your law firm:
Create a Keyword Research Plan
Organize your keyword study in advance. When finding a lawyer, internet users often use these " keywords. " By analyzing the terms used by your audience in their searches, you can better tailor your content to them. SEMrush and the Google AdWords Keyword Planner are two of the more useful tools for discovering the most searched-for terms related to your business. Initiate Google Analytics and Google Search Console (formerly Google Webmaster Tools). Use these no-cost resources to monitor your site's performance and identify areas for improvement. 
By examining metrics like visitor numbers and page views, you can better gauge what kinds of adjustments to make to your site to increase your content's popularity. Titles, headers, and body text that include relevant keywords can help improve your website's search engine rankings. A page's title tags should accurately describe the content, and the body language should use relevant keywords as frequently as feasible without appearing spammy or artificial (for instance, "criminal defense lawyer Los Angeles").
Optimize Your Website for Local Keywords
Creating a website optimized for local keywords should be the first step in any search engine optimization approach. The domain name, title tag, meta descriptions, and website content may help. Another option is to create a separate page on your website for this purpose. You should add a plugin that allows geotargeting to your website. Yoast SEO and All In One SEO Pack are two of the most effective ones. Using these plugins, you can choose the most relevant local keyword on each page of your law firm's website. 
On every page of your law firm's website, you should create optimized content for these keywords. Make sure that every piece of information you post on your website includes the location of your office. This will ensure that Google knows where to direct site visitors who have searched for phrases related to your business.
Make Sure You Have Quality Backlinks
Check to see if you have some good backlinks. You must pay close attention to this phase since backlinks are one of the most significant aspects of Law firm SEO strategy. If people can't locate your law firm's website online, it won't matter how much time or money you invest in the other parts of the website for your legal practice. Create original material that delivers value to visitors. Look at what other websites in your business are doing with their content and see whether they employ long-form blog articles. 
Please look at what other websites in your sector are doing with their content. Videos? Infographics? If that's the case, give those formats a go as well! When individuals write about relevant subjects online, there is a greater likelihood that they will wish to link back to your website if they find the information you give to be most useful and distinctive.
Use Images On Your Website as A Law Firm SEO Strategy
It is a lawyer's responsibility to seek out and secure new business. The more proficient you are in search engine optimization, the more likely consumers will come across your website while looking for legal assistance online. Therefore, it is necessary to understand how to optimize your site for search engines if you want more high-quality visits to your site. Guarantee that every picture used on your site is of excellent quality and appropriate for its context. 
Your text should be interesting and persuasive, so focus on solving your readers' issues and writing about things they care about. It should also be written in a simple style; if there is any legal terminology that readers may not be acquainted with, define them at the conclusion of each article so they can recognize them when they appear in subsequent pieces.
Website Depot, a premier provider of web design and content creation services, is here to answer your questions about our Law firm SEO strategy. We know you're probably wondering how to implement a successful search engine optimization strategy at your law firm. Call Website Depot at  (888 ) 477-9540 for more information on what we can do for you.