Does Your Website Need an Overhaul?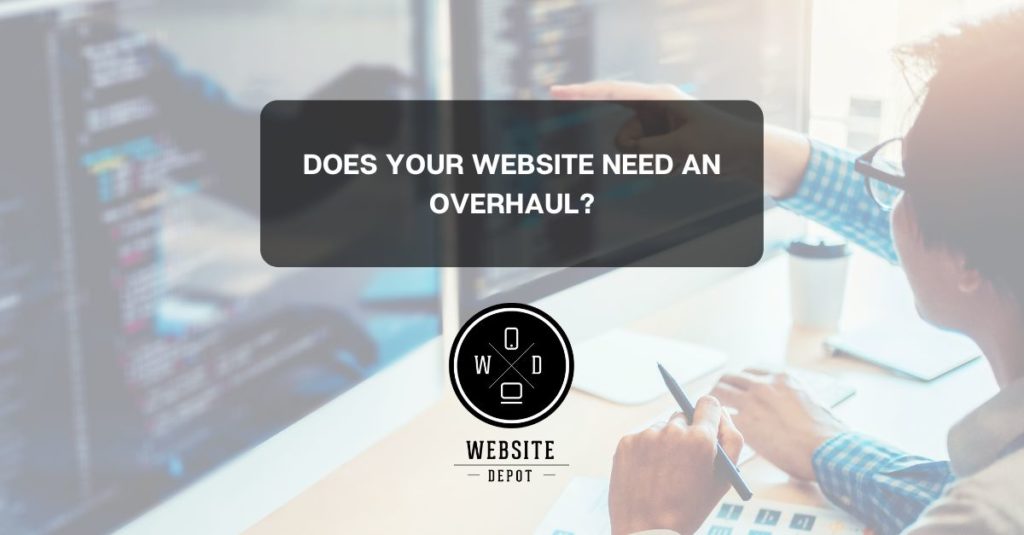 Does your website look dated? Are you struggling to attract new visitors? If so, it might be time for you to consider contacting an agency about website redesign services.
Having an outdated website can cause visitors to become frustrated and lose interest quickly, which can lead to a decrease in sales and traffic. Luckily, there are a few tell-tale signs that can help you determine if your website needs a makeover.
If your site is creating a poor user experience or ranks low in the searches, it's time to schedule a consultation for redesign services.
Why You May Need to Redesign Your Website
Even with a few simple changes, you can create a website that is visually appealing and easy to navigate. Let's look at why you may need to redesign your site.
A Poor User Experience (UX)
If your UX design is poor, you need to review your current website and see where you can make improvements. The user experience refers to the way in which a person interacts with a website, app, product, or service. 
Therefore, poor UX can negatively impact the success of any online business. Address the issue ASAP.
Both visitor satisfaction and conversion rates usually plummet when the UX is less than satisfactory. If your UX issues are especially troublesome, you may even see a dramatic drop in traffic. 
Therefore, redesigning your website is one of the best ways to address issues with UX. 
While you want to act immediately, you also want to give yourself enough time to create a user-friendly design. Rushing the process can create further problems – problems that prevent you from fixing your website's design.
Improving Your Site's UX: Steps You Need to Take
To improve your UX, you need to focus on:
Simplifying the navigation – making it more intuitive, or easy to access and use.

Building a responsive design – one that can be used on all types of electronic devices – PCs, smartphones, and tablets

Featuring a cleaner more streamlined design

Optimizing content for search engines.
Low Search Engine Rankings
If you suspect that your website is receiving fewer organic visitors or you have noted that its search engine rankings are poor, it's time to look at redesigning your site.
Why Your Rankings May Have Taken a Plunge
Lower rankings in search engines may result from a variety of factors, including the following:
Broken links

An outdated design

Low-quality content
You can give your rankings a boost by adding new and more relevant content, repairing broken links, and optimizing your web pages or images. 
An Outdated or Low-Quality Web Design
Maybe your web design looks outdated or of low quality. If so, visitors will not want to visit your site. To make your platform more engaging, your site should reflect your brand and tie it into the types of products and services you sell. 
Also, if your brand does not align with your site's design, it can lead to navigational difficulties. An outdated website, as noted, also causes sites to dip in the rankings. If your site is showing signs of wear and tear, you should make plans to revamp it now.
How to Update Your Website's Appearance
Make sure your redesign focuses on your company's mission and is both easy to access and understand. Keep things simple–the font, colors, and pages–so people can find what they're seeking and can contact you with ease. Give it a professional appearance – one that instills consumer trust and confidence.
Mobile Accessibility Issues
A responsive website design will enable you to overcome mobile accessibility issues. This is extremely important, as your website should be mobile-friendly as well as work on other devices. 
Because most people use their smartphones, you don't want to have a website that does not have a mobile-friendly design. This type of mistake can lead to lost revenue and a decreased customer base.
A Slow Low Speed
If your website is experiencing issues with a slow load page speed, you may need to redesign it. When website visitors are waiting for pages to load, they often become impatient or frustrated and leave or abandon a site.
If you're experiencing slow load times and decreased traffic and sales, it's time to make an upgrade. When redesigning your site to pick up the pace, you also want to optimize your pages and images and remove unnecessary plug-ins. It also helps to reduce image sizes to boost the website speed
Benefits of a Site Redesign
If your site is broken or outdated, it will quickly lose its appeal, thereby causing a poor UX and a drop in the rankings. 
A redesign will improve the UX, and website responsiveness, and allow you to interact with your customers more. After a time, you'll notice an increase in sales and a better flow of traffic.
What to Keep in Mind
When redesigning your platform, think about how your visitors are using it. What are their needs? What solutions are they seeking? Are you making it easy for them to navigate the site? Will they get what they need from your site quickly and effectively? When a website exceeds a customer's expectations, they are more likely to return to the platform and become a repeat customer.
Tips for a Successful Website Redesign
When redesigning your website, keep the following tips in mind:
Choose a design that aligns with your brand.

Solve a problem and provide value with your site's design.

Be consistent when you revamp your site. This will make it more accessible and add to the UX.

Create a seamless UX design.

Give yourself enough time to review and redesign the site so you can successfully improve the features you offer customers.

Contact Website Depot for Your Website Overhaul Now
If you've decided that it's time to redesign your website, you may be wondering where to start. You'll get what you're seeking when you contact Website Depot. Whether you need to create an e-commerce website or you need a site for professional practice, you'll receive what you need in digital marketing help. Call (888) 477-9540 for all the exciting details now.