Does a Full Service Web Agency Include Social Media Marketing?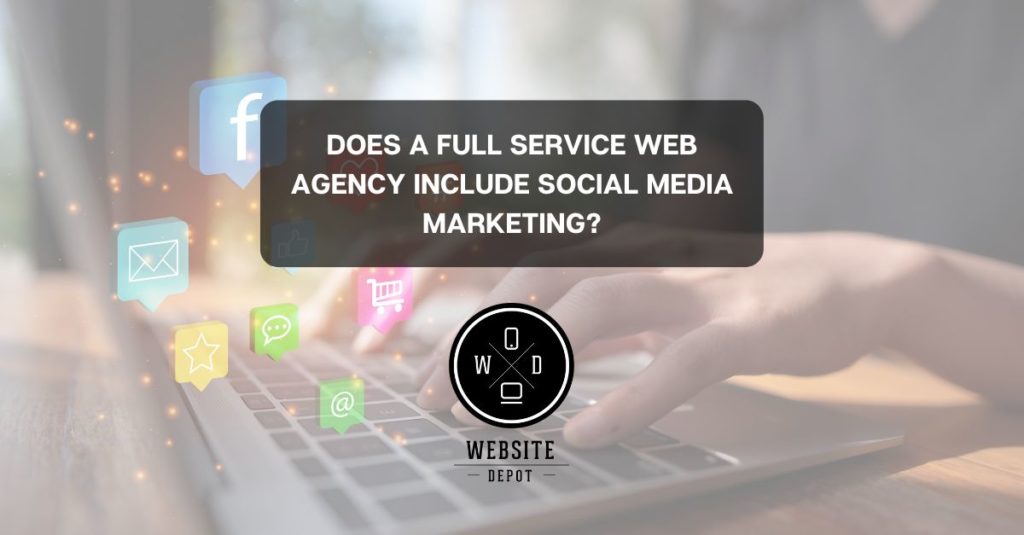 Digital marketing, website optimization, and Search Engine Optimization can take your business to the next level. You might consider a Full Service Web Agency to help you reach your professional goals in 2023. But do these agencies include social media marketing? Here's everything you need to know. 
What Is Social Media Marketing?
Social Media Marketing refers to various marketing strategies implemented into social media platforms like Instagram, Facebook, Twitter, and YouTube. Social media strategies are crucial for growing modern-day businesses. 
Millions of users access different platforms daily and interact with various businesses, brands, and other users. Marketing your services and engaging with customers on these channels can help you reach a broader audience. 
Does Website Depot Offer Social Media Marketing?
Yes, Website Depot provides social media marketing services, depending on the package. We can implement different strategies and techniques if you opt for the comprehensive Digital Marketing Package. Alternatively, we can start to optimize your social presence in the SEO Package.
Why Do I Need Social Media Marketing?
Nearly everyone uses social media. We all scroll through platforms like Instagram, TikTok, Facebook, and YouTube. Potential customers encounter brand advertisements each time they long on. In fact, 90% of users follow at least one business on Instagram. 
You're missing out on the largest audience available if you don't tap into social media. Effective marketing strategies can help engage your audience, attract more customers, and increase sales. 
What Social Media Strategies Should I Consider?
Although social media marketing is crucial, the wrong strategies can turn away customers if you aren't careful. There are various methods you can use to enhance your social media presence, including some of the following.
Prioritize Your Customers
Customers can tell when a business is using social media strictly to increase sales. This style of content can increase sales in the short term but drive away customers over time. It's crucial to prioritize your customers and create content that speaks to them. Engage your audience and treat them like fellow humans for the best results.
Short Form Content Engages Users
You can create short-form content on social media to engage users. Content can vary from short clips, pictures, stories, and more. For example, you might create a short clip for an Instagram Reel that encourages your audience to like a post for a discount code. This way, you're increasing engagement and providing your customers with value. 

Hire a
Full-Service Web Agency
Today!
Digital marketing is challenging to navigate if you don't have experience. You can spend hours learning techniques and strategies without improving your circumstances. That's why your company needs to utilize one of our professional marketing strategies. 
Our veteran staff of SEO experts is here to guide you through the process and take the load off your shoulders, allowing you to focus on changing lives. Contact us today to begin a strategy consultation. Speak today with one of our experts. Whether you're looking for social media marketing, Google advertisements, or keyword adjustments, we're here to help.