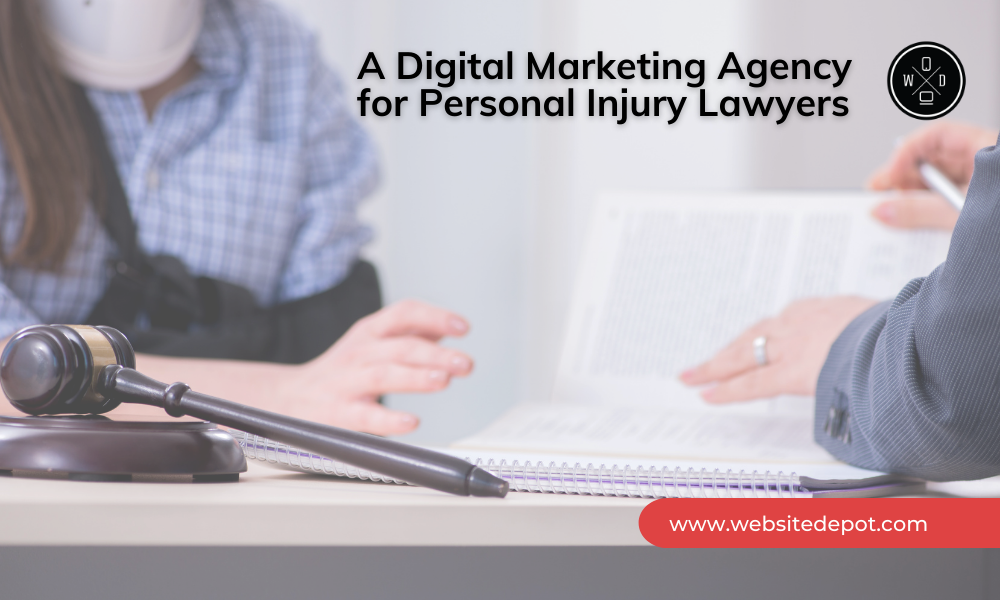 There are more than 200,000 online searches for lawyer-related keywords every month. 
Many of those, if not a majority of those, are for personal injury attorneys. 
It's as competitive as it gets. 
But, the rewards can be incredible. 
If your law firm is what comes up when prospective clients search for a "personal injury attorney" in your area, it can make all the difference in the world for your firm. 
With our omnichannel digital marketing for personal injury attorneys, we can help you to be more successful with your local SEO. 
That way, you can connect to more prospective clients in and around your area. 
You don't have to take our word for it. You can see our portfolio of law firms and attorneys who've grown with us. Now, we can help you go to the next level, too. 
SEO to Grow Your Firm 
We help our clients to do better with their SEO than ever before. 
It's not just about finding the best keywords, it's about finding the best keywords for your firm. 
So, we draw upon our years of research to find the best keywords for your practice and your prospective clients. 
Then, we devise a strategy that works for you. 
No matter what kind of personal injury law you specialize in, whether it's vehicular accidents, motorcycle accidents, slip and fall accidents, wrongful death or so much more, we've helped lawyer clients who are exactly where you are right now. 
Just as you wouldn't recommend that a prospective client with a potential personal injury case go with a law firm that doesn't specialize in personal injury law, we don't recommend that a personal injury attorney law/firm work with a digital marketing agency that specializes in anything other than the legal field. 
High Google Rankings that Drive Conversions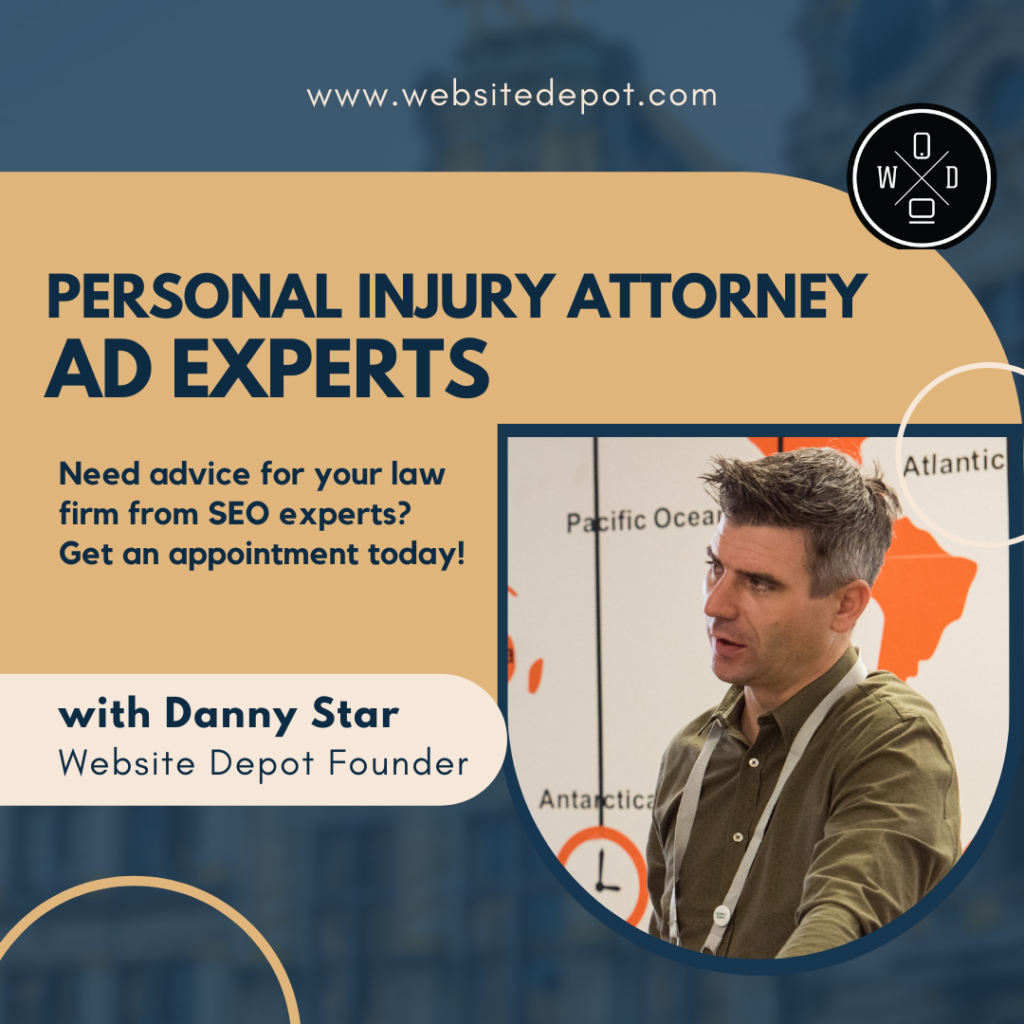 We can help your law firm to climb the Google rankings for the keywords that matter. 
But, that's only the beginning. 
It's not about just getting you to the very top of the Google rankings (although that's helpful). 
What's important is turning all of those clicks into conversions and paying clients. 
For several years now, Website Depot has been a Certified Google Partner. 
That means Google shows us "under the hood," how their algorithm works. 
So, we can utilize that information to help your law firm to ascend the rankings. 
For one, we've helped many law firms to be "Google Screened." 
Google only wants the best attorneys to appear at the very top of the Google rankings. That's one way that Google stays on top. 
So, they created the "Google Screened" program. It's essentially the "Google Seal of Approval," letting Google users know that these are attorneys they can trust. 
We can help to shepherd you through the Google Screened process so that your firm is up there in the rankings where it belongs. 
Responsive Web Design and Mobile Optimization 
SEO is powerful. 
But, SEO by itself isn't enough to help grow your business online. 
SEO is, at its core, about driving traffic somewhere. 
That's where a responsive website comes in. 
A personal injury attorney's website has to serve many functions. 
Online, a personal injury attorney's website is their office, waiting room, billboard, classroom, and so much more. It's what makes a first impression and, if it's not great, a last impression. Prospective clients judge your website as if they were meeting you in person. 
There's no such thing as a personal injury attorney's website that's "good enough." 
We design websites that are responsive. 
As you know from your own experience, if you open a website on your phone that takes too long to open, or doesn't load entirely, or perhaps maybe doesn't work, you aren't going to stay long on that site. 
If someone has an experience like that on a personal injury attorney's site, they're very unlikely to come to that attorney with their personal injury case. 
So, you want a website that's as responsive as possible, that's completely optimized for mobile. 
We can build you a website that shows you as you want to be seen. 
Content Marketing from Legal Professionals 
There's more to a website than its mobile optimization, its responsiveness (though those are critical). 
Your website needs content. 
Specifically, it needs great content. 
One of the many factors by which Google ranks websites is "bounce rate." That's basically a measurement of how long someone is on a website. 
The longer they're on a website, the better. The longer a user is on a website, the more Google sees that website as a great match for the keyword that brought someone to the website, should it be "personal injury attorney," "personal injury lawyer near me," or the like. 
That said, the opposite is true, too. 
If people go to a lawyer's website and find poor or even mediocre content, the odds of them continuing to read are quite low. So, they'll leave (or "bounce") more quickly. That's a sign to Google that this site is not a good match for the keyword, so Google will then bury that site in its rankings. 
That's not what you want to happen. 
That's just one of the many reasons you want great content on your site. 
Content establishes your authority, your credibility. 
When someone sees great content on your site, they know that you're the personal injury attorney they can trust with their case, with their life. 
We know how important content is. So, we make sure that you have content worthy of your firm. 
To that end, we have established, experienced legal writers to provide you with content. They can make sure that your authority comes through loud and clear, blog after blog, landing page after landing page.
Beyond Written Content 
All of the above having been said, there's more to content now than just blogs. 
You can have a great blog that says a thousand words. 
However, a video can say a thousand words (or more) that much faster. 
Moreover, it can connect to even more folks. 
You want blogs, service pages, and the like to serve as educational tools, a way to help folks to know more about how you can help them in a specific scenario. 
Here at Website Depot, we can also provide videos and podcasts, too. 
Edited by professionals, these videos will connect your law firm to more people than ever before, showing your authority in every frame. 
Additionally, our podcasts, hosted by experts, will display your expertise while showing the human side of your firm, so that when prospective clients see them, they'll know you're exactly what they're looking for.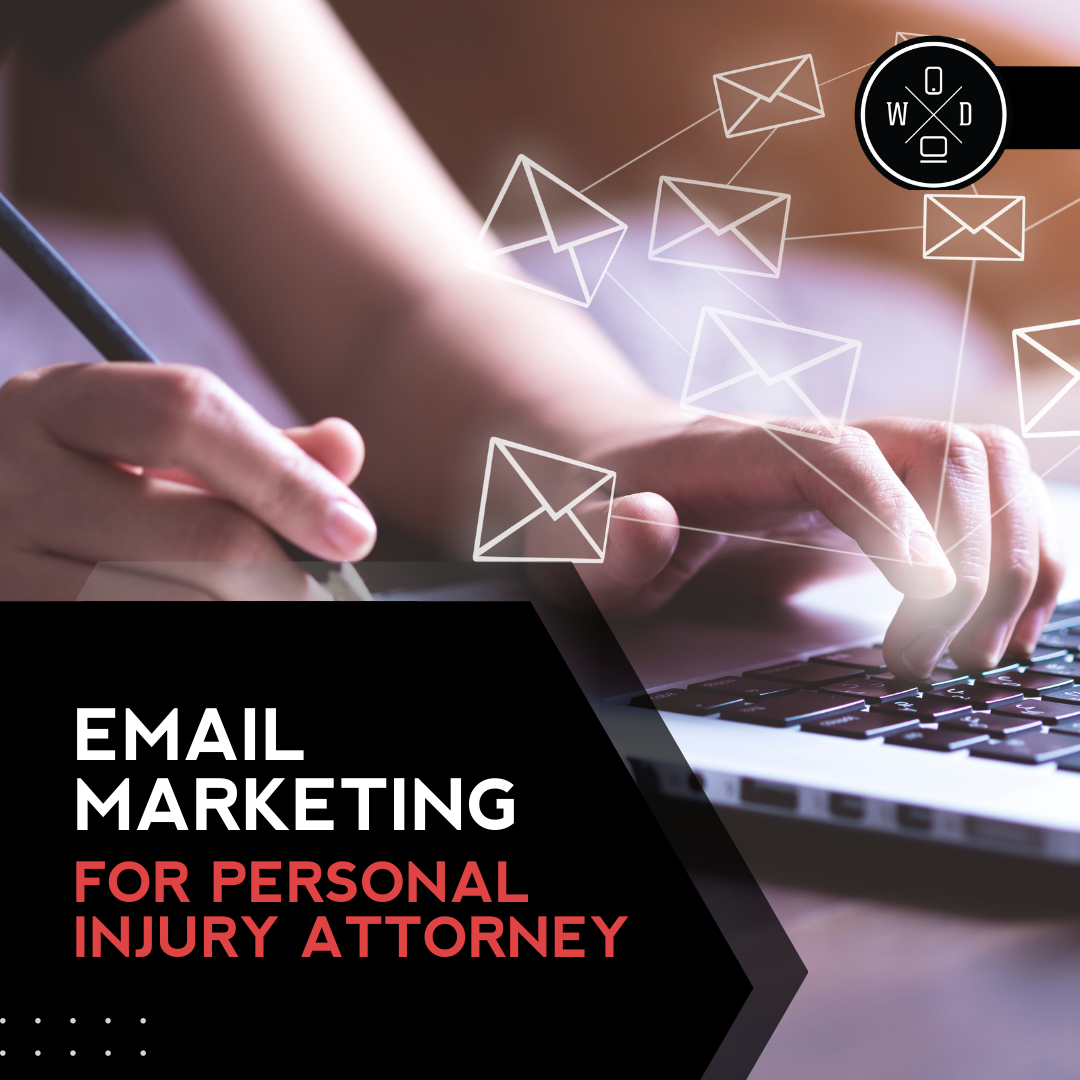 A Digital Marketing Agency for Personal Injury Attorneys 
Those are just some of the services that we can provide to personal injury attorneys. 
You work so hard for your firm. By outsourcing your Digital Marketing for personal injury attorneys to the pros, you can focus on what you need to focus on — all while your firm rises in the rankings. 
We've worked with so many firms in the past that we can develop a strategy that's right for your firm. 
You can be as involved as you want. We have lawyer clients who are involved in practically every decision of import. By that same token, we have many other attorneys who are "hands-off," who let us handle everything while they work their jobs. 
We develop your strategy around what's best for you. 
It's time to take your personal injury practice to the next level. 
For a free consultation with our professionals, give us a call at (888) 477-9540.