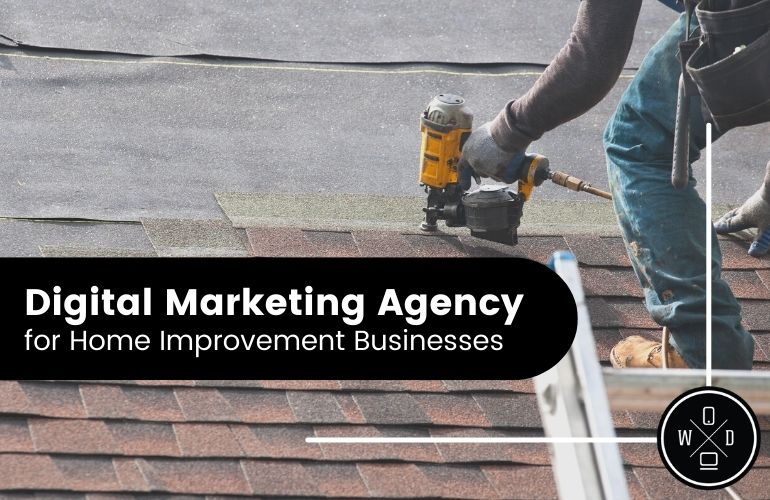 Have you been looking to get more leads for your home improvement business? Have you found yourself falling behind your competition online? Roofing contractors, HVAC companies, general contractors, tree trimming companies, construction companies, and others – no matter what your home improvement specialty is, it's competitive. To truly stand out from the rest, you need omnichannel digital marketing solutions that have been specifically designed for your company. Our digital marketing agency for home improvement companies can help. 
Think of us like a "general contractor" for digital marketing. We can provide all of the services you may need as well as specialized, individual ones. A website, SEO strategy, content marketing, social media marketing, paid ads management, and so much more – if there's a way to grow your home improvement business online, we can help. 
What Can a Digital Marketing Agency Do for Home Improvement Businesses?
We can target more of your potential customers. Then, we can put your home improvement business in front of them. Moreover, we can do that in such a way that your company is seen how you want it to be seen. 
We can build on the brand you have so that it's exactly what you want it to be. Then, we can do thorough keyword research, so as to find the best keywords for your business and your potential clients. Once your SEO strategy is ready, we can unleash pro content marketing as well as paid ads, working in tandem, all to drive potential leads to your website. 
We can improve and optimize your website, too, even building it from the ground up if necessary. Just as your home improvement company may provide ongoing maintenance for your clients, we can do the same for your website, SEO, and more, so that you build on the results to go to a higher level. 
How Can I Market My Home Improvement Business in the Digital World?
Of all the digital marketing strategies we use for our home improvement clients, one of the best and most effective is that we help to build their authority. Really, that's so much of what people are looking for from a home improvement company. They want someone they can trust. They want someone who can do the work, who's done it before, and who knows what they're talking about. We can make sure that your home improvement company is seen that way throughout the digital world. 
Really, we're essentially an experienced contractor. Just instead of doing drywall, retrofitting, or anything like that, we do digital marketing. When we do a comprehensive audit for our home improvement companies, that "audit" could very well be seen as an "inspection." We see what's working, what isn't, what could be improved, and then we sit down with you and explain, completely, how we'd go about fixing it and making it better. 
Over the years, we've provided many services for our home improvement clients that have helped their businesses to grow, regardless of their specialty. 
Web Design for Home Improvement
Your website is, in many ways, your office online. Before you invite anyone into it to tell them what you can do, you want to make sure that it's as great as can be. That's where our web design can help. We'll design you a website that meets your specific needs, showcasing your work portfolio in a way that always fits your brand. 
Your website will be responsive, optimized for all devices (so that anyone can access it and use it on any kind of phone, tablet, and so forth). Moreover, it will have fresh, engaging, value-laden content, showcasing your experience, knowledge, and how you can help. That includes blogs, of course, but it will also include videos, podcasts, and more. 
With your website, you will be able to let prospective clients know they can trust you, that you can meet their needs and exceed their expectations, all while gently guiding them towards reaching out to you for a consultation. 
SEO for Home Improvement and Construction
When you reach out to us, our experts will build an SEO strategy just for your home improvement company. That means we'll find the keywords that are best for your business and then target them aggressively. That way, when your prospective clients search for keywords related to your company, they'll be led to your site. 
Improved SEO can help your company in a variety of ways. SEO, when done right, can showcase your authority, your integrity, and just how good you are at what it is that you do. Moreover, it can make sure that the user experience at your website is optimal. The better the user experience at your site, the more likely someone is to reach out to you for a consultation. 
From building reputable backlinks, citations that improve your authority, content prospective clients can trust, and so much more, we can make an SEO strategy to scale for your home improvement company. That way, it grows as you do. 
PPC Home Improvement
When it comes to PPC ads ("pay per click") and SEO, for the best success of your home improvement company, it's not "either-or." It's "both." By harnessing the power of both SEO as well as properly-managed PPC ads, you can help your home improvement company to climb the Google rankings higher and possibly even faster than you might think. 
Paid Search (another synonym for "PPC") is a "pay to play" ad service, but it can be very effective. It can be targeted extremely precisely. You can pick not just the geographic region you want to target, but the exact demographic, day of the week, time of the day, and so forth. Of course, you're paying for these ads. So, you want to make sure that your strategy is as effective as possible. That's where we come in. 
Over the years, we've helped so many home improvement companies to be able to use paid search to grow their business. It's a question of resource allocation: we can build a strategy for you and then make sure that you're getting the maximum ROI from it. 
Social Media Management Service
Social media is more important than many home improvement companies may realize. Your company's presence online should build your authority, letting everyone who sees your feeds know that you can meet your client's needs and, just as importantly, you're there for your clients. By building an interactive and engaged community, you can increase both awareness of your brand as well as your ROI. 
In many ways, social media management isn't just about advertising and selling your services, it's about customer service, too. We can work with you to be able to provide just that, with a brand and presence you'll be proud to represent your company. 
Review and Listing Management for Home Improvement
"Word of mouth" is more important than ever before. Now, it takes the form of online reviews. Our professionals work to make sure that not only is it easier to get reviews from your customers, but we can also make it so that you can manage them, too. 
Reviews build trust. The more prospective clients trust you, the more likely they are to reach out. Thus, we make sure to leverage your reviews properly. From your website, to your social media, to your Google My Business, and elsewhere, reviews from your satisfied customers can be put to good use: specifically, helping to reach more soon-to-be satisfied customers. 
Beyond that, we also manage your listings, too. That way, no matter where someone comes across your company online, they'll see your correct phone number, name, address, hours, services, and much more. That can go a long way towards building trust, too.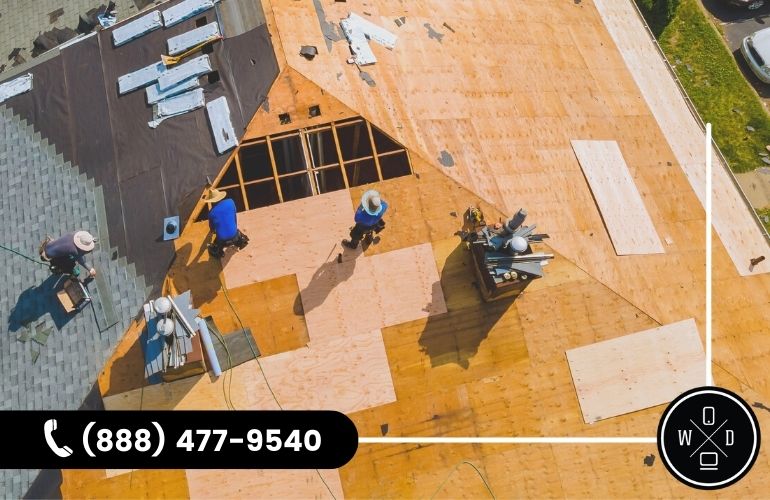 Home Improvement Companies We've Worked With
If there's a kind of home improvement company, the odds are good that we've helped them to grow in the digital world over the years. From roofers to HVAC companies, electricians to tree trimming service professionals, we've connected home improvement companies to their clients. 
Speaking of the latter, "Your Way Tree Service" has been with us for a long time. Why? Because we helped them to stand out from the rest. How? By highlighting the local area they served, we were able to better target those that could benefit from tree trimming, pruning, stumping, maintenance, and the like. 
Journey Roofing and Construction is another home improvement company that we're proud to have worked with. The goal there was to make sure that they ranked for some of the most competitive keywords in the area: "roof repair specialist," "roof inspection," and the like. Through working with them, we were able to help them to rank highly enough to improve their ROI. 
Some of our clients work with us on a "project by project" basis, but others are with us for the "long haul," so to speak. Case in point: American Cool Air and Heating. An HVAC maintenance company, we've been working with them for almost a decade at this point, helping to grow their brand awareness and increase leads over time. We're proud of their growth, to see how far they've come and we're glad to continue working with them. 
Full-Service Web Agency for Home Improvement and Construction
The home improvement companies mentioned in the prior section are some of our favorites, yes, but they're not exceptions. Rather, they're just some of the home improvement companies that we've helped to grow over the years. Regardless of what your company's home improvement specialty is, we can help. 
We have many different packages for home improvement companies of all kinds. So, we can find one that it's your exact, specific needs. That said, we offer customized packages as well. Thus, we can make one that's just right for you. Se Habla Espanol. For a free consultation with our digital marketing agency home improvement specialists, you can reach us through our site. Or, you can give us a call at (888) 477-9540.