Developing a Website for a High Risk Business: How to Improve the User Experience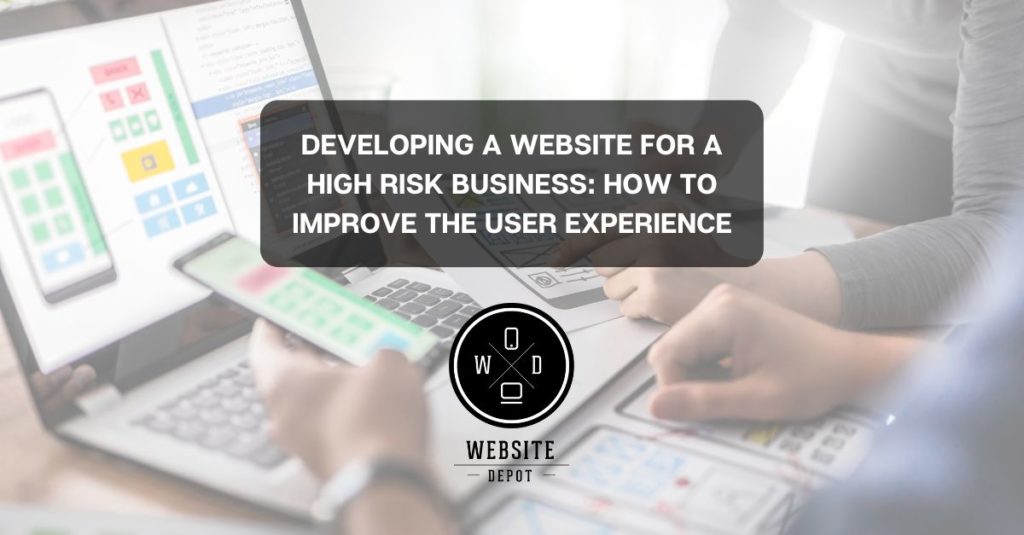 If you are a high-risk business, you have unique web design and payment challenges. High-risk companies are businesses that may have some issues with legality or have a greater chance of failure. Therefore, a website for a high-risk business must be user-friendly and responsive.
So, what types of businesses are considered high-risk?
Examples of High-Risk Businesses
While the list below is not inclusive, it gives you an idea about which businesses are considered a higher risk.
These platforms include:
Airplane charter companies, including travel sites

Amazon and eBay stores

Attorney referral services

Bankruptcy lawyer websites

Online gambling

Vape and CBD stores including drug paraphernalia websites

Nutraceuticals and supplement retailers

Coin dealers

Debt consolidation companies

Furniture sellers

Dating and adult websites

Psychic services

Investment services and get-rich-quick sites

Sweepstakes and lottery websites
Again, the above sites represent platforms that have a higher risk of receiving chargebacks or failing, so they also have special requirements with respect to web design. Not only should the sites be responsive, but they also should support customer questions or concerns.
Strategies for creating an intuitive design
One of the best ways to protect customer data and make navigation easier is to create a secure and responsive web design. Your goal then is to produce a pleasant user experience (UX). 
The UX for a site then is linked to an intuitive design. This means that the web visitor knows exactly what to do on the site. They don't have to think twice. The constituent elements of the site are organized so the user can quickly access information and make transactions with ease. While this design is inconspicuous, it does not mean it is unremarkable.
To make the site more intuitive, it's important to feature clear directions – directions that answer customer questions and concerns. By offering clear steps and guidance, customers can quickly and easily find the information they seek. 
Strategies for protecting customer data
To protect customer data, make sure that sensitive data is secure. Following an HTTPS protocol will prevent customer information from being stolen or accessed by malicious hackers. 
You also should use strong passwords and two-factor authentication. Make sure only authorized users can access sensitive data.
Deleting data and backing up information is another way to protect and secure information. Taking these steps will protect users from identity theft and other malware activities.
Encrypt the data transmitted so customers feel confident about using your site. You should remain PCI-DSS compliant.
Remember that risk is measurable, so keep this in mind as you create a website design. Don't confuse it with uncertainty, where the probability of something happening is unknown.
Best practices for testing and deploying the design
It's also imperative that you test your website design for your high-risk business. By taking this step, you can identify any issues that could compromise customer data or the UX.
Using a Manual Test
You can test the design in one of several ways. For example, you might use a manual test. This involves having someone interact with the website to look for possible issues. They may be able to find problems that an automated tool may miss.
A manual test features user acceptance testing (UAT), which allows for the assessment of menu types, fonts, and workflow logic. A manual tester may find a problem or defect in a website's design whereas an automated test delivers a binary result.
Automated Testing
Automated testing entails running a software program to check for site issues. You may use this app during development or after the website has been deployed. A quality assurance (QA) IT team runs the scripted test using an automated testing tool.
The binary result the team receives gives them a simple "yes" or "no" answer about website performance. Automated UAT software can mimic repetitive tasks on a regular basis with precision. You can use this tool as a backup for manual test results.
Accessibility Testing
Accessibility testing involves making sure that your website is user-friendly to people who may have a disability. As a result, they may find it challenging to use your site. For example, adding a screen reader can assist visitors who are visually impaired. By adding assistive tools for people who are impaired, you can also increase the number of visitors to your site.
Benefits of hiring a professional web design agency
Building a secure and responsive web design is challenging and time-consuming, even for experienced designers. That's why you should strongly consider working with a web design agency. 
Hiring a professional web design agency can help you complete a web development project quickly and efficiently, saving you both time and money. Professional design agencies have the skills and experience needed to deliver quality results. 
That's because the agency understands the unique challenges associated with building a secure and responsive web design for all types of businesses. They can secure your site as well as make it navigable and user-friendly.
Use their experience to see what fits best with your industry and its unique requirements.

Contact Website Depot to Develop Your High-Risk Website
If you want to ensure the success of your high-risk business, contact Website Depot – the go-to web design agency. Give them a call at (888) 477-9540 today.