Creating Content for Rehabilitation Center Marketing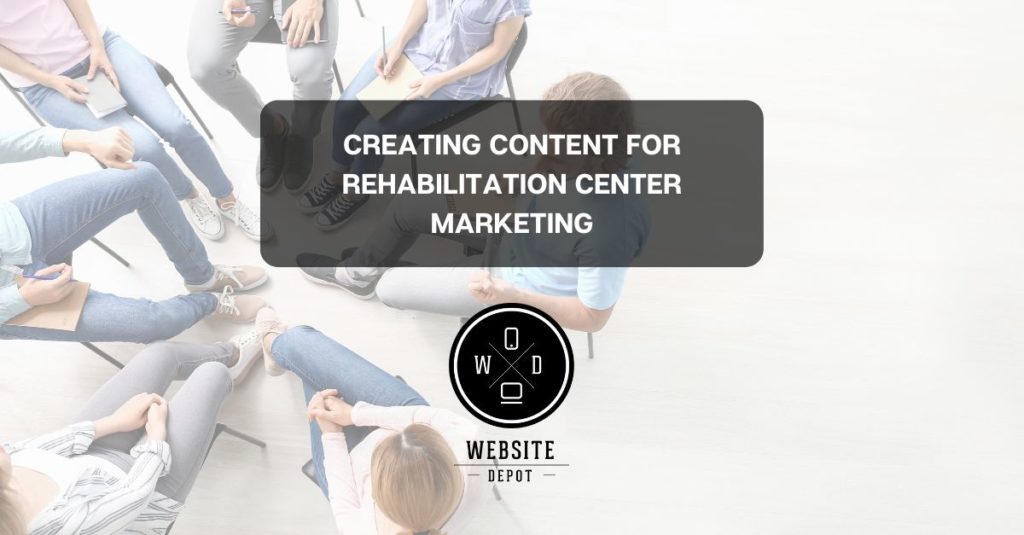 One of the pillars of rehabilitation center marketing is creating high-quality, informative content. Individuals are looking for services they can trust when they're searching through rehab centers and mental health facilities. The content on your website is one of the first ways you can build trust with your clients. Here's how the team at Website Depot creates content for rehabilitation centers. 
Long-Form Pieces
Longer form content pieces typically range from 1,000 to 7,500 words. Long-form content has several unique benefits, including SEO keywords, internal links, external links, and more. With more words comes more freedom.  
Longer pieces allow us to use more keywords in organic ways, helping to rank your website and services higher in Google searches. We use internal and external links throughout the articles. Internal links allow users to find other helpful pages on your site that can include services, informative pieces, and more. External links to reputable sources strengthen your SEO and reputation. 
Informative Content
Individuals are usually trying to learn or get informed when they search for rehabilitation centers or mental health services in their area. They might be looking for services for a friend, family member, or themselves. These individuals will have questions about different conditions, symptoms, treatments, and what to expect.
That's why it's vital to include informative content that keeps the readers on your website. Someone who needs help might click off your website if they can't find an answer to their question. In some cases, they might not find the services they're looking for and disregard treatment altogether.
We'll create research-backed, informative pieces that are easy to read and keep your readers attention. We might develop articles on alcoholism, detox programs, and what to expect after treatment. With these pieces, your readers will build trust, learn, and seek out your services when they need help.
Website Optimization
Nowadays, websites need to be optimized for smartphones, tablets, and desktop environments. Someone who needs help is more likely to click off the page, look elsewhere, or forego treatment entirely if a website isn't optimized correctly.
It's vital to ensure your website is optimized for all platforms and devices. Someone viewing your website on their phone or tablet needs to be able to navigate the site with ease. That's where our responsive web design services can come in handy.
We'll ensure that the informative and engaging content on your website is easy to navigate. What's worse than a hard-to-navigate website that doesn't answer your questions? Not with Website Depot. 
Seek Professional Rehabilitation Center Marketing Today 
We understand the importance of helping people obtain sobriety, stability, and peace. Unfortunately, your business won't reach as many people without a proper marketing strategy. That's why it's essential for your company to utilize one of our marketing strategies. 
Our veteran staff of SEO experts is here to guide you through the process and take the load off your shoulders, allowing you to focus on changing lives. Contact us today to begin a strategy consultation. Or call us at (888) 477-9540 to speak with one of our experts. Whether you're looking for social media marketing, Google advertisements, or keyword adjustments, we're here to help.