Creating a Successful Landing Page in 2023: Tips and Practices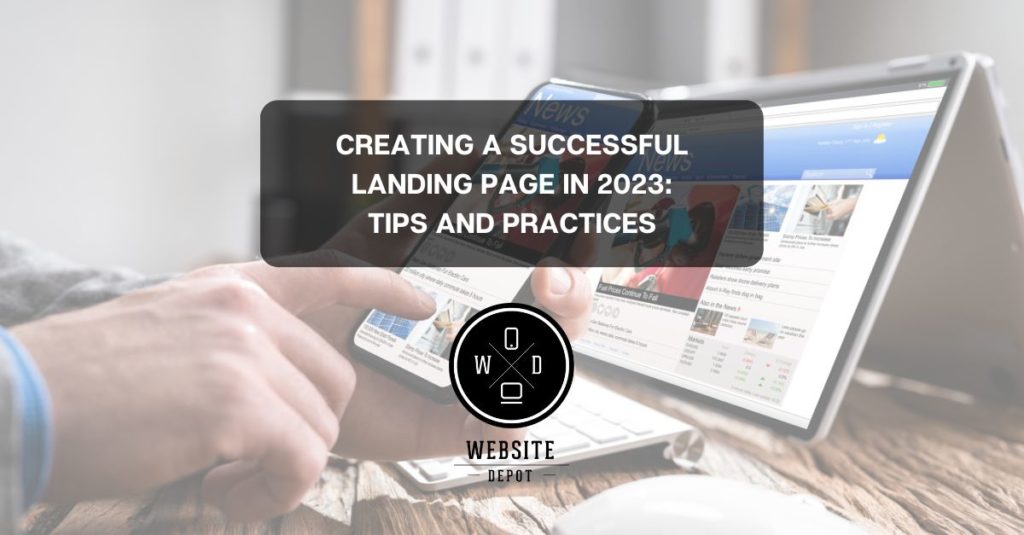 A landing page is a standalone web page specifically designed to convert visitors into leads, customers, or potential clients. A landing page is a crucial component of any responsive web design, as it provides customers with essential information about your brand, services, and goods. Landing pages must attract visitors' attention and direct them further into exploring your site. Whether it is a contact form, a sub-category page, or an e-commerce page, a successful landing page has distinguishing characteristics. 
The importance of landing pages lies in their ability to focus the user's attention on a specific action, such as filling out a form, making a purchase, or signing up for your website's newsletters. Today we will examine some characteristics of an effective landing page.
Better Targeting
Landing pages allow businesses to create tailored experiences for different segments of their audience. For example, a business can create a landing page specifically for visitors who clicked on a Google ad and another landing page for visitors who clicked on a Facebook ad. In the end, it's all about meeting and satisfying the users.
A Simple and Straightforward Concept
When designing a landing page, clarity of concept should be your number one priority. Users will visit your website and navigate in search of obvious prompts or indicators of the information they seek.
For instance, if someone visits your website to view a certain service, such as "attorney services," you should have a landing page that introduces the service (via a header), employs visuals that reinforce this concept, and contains text that is optimized for users and web crawlers. These should be the most important parts of your page's design, as well as contact forms, case studies, subcategory pages, and galleries that must be used to support them.
Optimize Copy & Offers for Your Traffic Sources
It's important to think about where your traffic is coming from and build your landing page and other information around what your audience wants and needs.
For example, social media traffic is less conversion-focused than traffic from PPC sources. Users of social media who are unfamiliar with your brand may not be in a position or mindset to do business with you just now.
For example, if users are coming from social media, it's usually better to run a lead magnet campaign than to try to sell your products or services right away. Similarly, pages geared for organic traffic tend to have a lower conversion rate than shorter pages with copywriting. When you only want traffic from PPC sources that have a high intent to buy, you shouldn't try to optimize your page for search engines or SEO traffic.
Develop Trust Using Trust Signals
Trust signals are a part of the conversion element of a website that is sometimes neglected. When we visit a page, we unconsciously examine it for warning signs and potential problems. Adding trust signals to your website is one of the best ways to demonstrate your experience and proficiency. Accreditations are a way to show that you are trustworthy and to connect with reliable sources of information and service providers.
Testimonials and reviews are another great way to provide credibility and convince users about the call to action on your site.
It is essential to remember that trust signals, while useful, should not take up too much space on your landing page. Try to incorporate them with carousels, footers, or strategically positioned business logos, and your landing page will appear more professional and believable.
Responsive Websites With Quick Loading Times Are A Must
Users can visit websites using a variety of different-sized devices, including mobile phones, tablets, laptops, and desktop computers. Responsive design enables you to create landing pages that properly fit screens and display crucial information. For instance, a laptop's header picture can include a huge header, a top menu, and a contact form. A mobile device must utilize space more efficiently. On a mobile device, your landing page may consist of a header with a brief introduction, followed by content and forms, and a more compact yet efficient navigation menu.
Adapt Your Pages to Your Website´s Persona
Lastly, you must verify that your landing pages are consistent with your brand. This involves analyzing and potentially reworking web pages to conform to a particular aesthetic, including typography, color palette, picture style, and voice. If you have multiple landing pages, they should be as uniform as possible for consistency and usability. By doing so, you strengthen your brand and improve the effectiveness of your landing pages.

SEO Experts at Your Fingertips
At Website Depot, we have all the necessary tools and expertise to not only create websites and landing pages that are both visually appealing and effective, but we are also experts at SEO and creating quality content and responsive web design. If you need assistance developing a new website or would like to learn more about how we can use SEO to increase your conversion rate and visibility, please contact us now, and we will assist you with including all of the necessary elements of an effective landing page.