Client Testimonials for Rehabilitation Center Marketing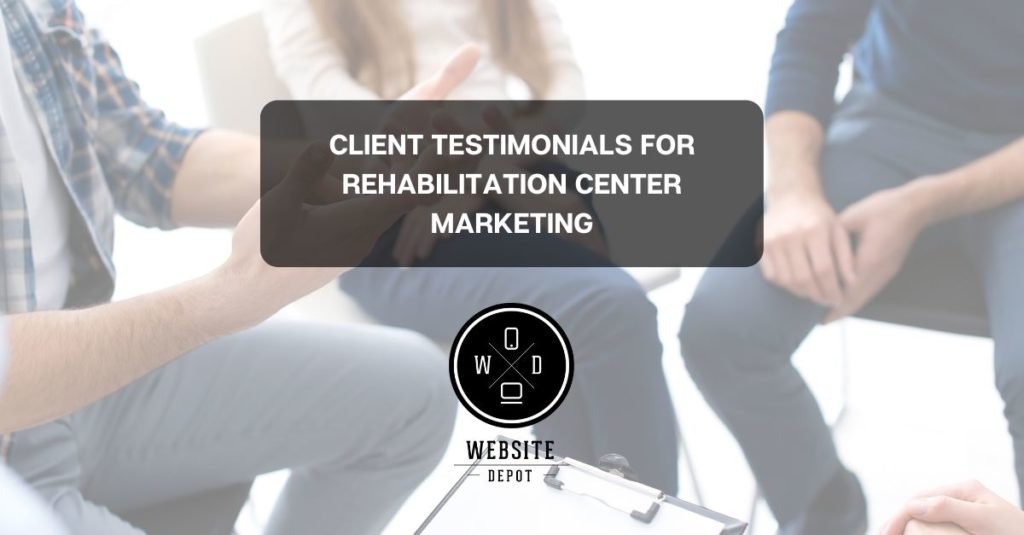 Rehabilitation center marketing is like walking a tightrope. If you go too far in one direction, you risk coming across as money-hungry, unhelpful, and untrustworthy. Unfortunately, you can't change as many lives if you go too far in the other direction and forgo marketing altogether. So how can you find the balance in marketing strategies? Website Depot is here to help. 
Your Past Successes Are Keys to Winning Now
One of the only things you have as a business, especially as a rehabilitation facility, is your past successes. Your success stories are essential to building trust, respect, and hope in your future clients. 
People are looking for a light at the end of the tunnel when searching for rehab or mental health services. They want to know they'll succeed if they sign up for your program or services. That's where client testimonials and past stories come into play. 
Client Testimonials Generate Trust
Unfortunately, rehabilitation facilities and mental health services can still negatively affect them. People hear horror stories of lousy staff members, wrong medications, and worse. Client testimonials and success stories are some of the ways you can find these negative biases.
Showcase Your Staff
One fear many people have is that rehab center staff members will be cold, insensitive, and frightening. Positive client testimonials allow you to highlight your staff and how clients were treated in the past. 
You can reach out to one of your alumni and ask them how they were treated. They`ll sure be happy to say positive things about the staff, their favorite counselors, and how they were treated. All of these elements help build trust in people seeking help.
Use Success Stories to Create Hope
Seeking rehabilitation, detox, or mental health services can be scary. Many people who need these services the most, are entering uncharted waters. They want to know that there's a light at the end of the tunnel and that their situation will improve. 
That's where your alumni's past success stories come into play. You can showcase past clients who have gone through it and beat the obstacles in front of them. Past success stories give people seeking mental health services hope and show that your services really do work. 
Get Professional Rehabilitation Center Marketing Packages Today 
We understand the importance of helping people obtain sobriety, stability, and peace. Unfortunately, your business won't reach as many people without a proper marketing strategy. That's why it's essential for your company to utilize one of our marketing strategies. 
Our veteran staff of SEO experts is here to guide you through the process and take the load off your shoulders, allowing you to focus on changing lives. Contact us today to begin a strategy consultation. Or call us at (888) 477-9540 to speak with one of our experts. Whether you're looking for social media marketing, Google advertisements, or keyword adjustments, we're here to help.