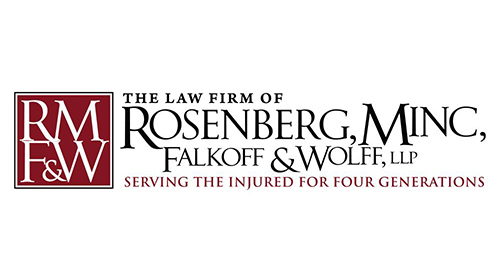 Client
Law Firm of Rosenberg
---
About the Client
The Law Firm of Rosenberg, Minc, Falkoff, & Wolff is a New York-based law firm that focuses on personal injury and medical malpractice cases. Whether they are handling cases of traffic accidents, medical neglect, breach of duty, premises liability, product liability, or workplace injuries, the RMFW Firm has all the necessary experience to handle such cases.
---
The Problem
There are over fifty thousand lawyers in New York City, which means that it's always going to be difficult to stand out. If people are searching for a lawyer, what is the chance that they'll run into a specific given one? Well, one in fifty thousand. Even with decent marketing efforts and excellent services, it's going to be hard to handle those odds. That was the problem that the Law Firm of Rosenberg, Minc, Falkoff, & Wolff kept stumbling upon. When people are looking up injury lawyers in New York City, they are bombarded with hundreds of options, so how does any firm make sure that they are able to stand out in this landscape? That's when the law firm approached Website Depot.
---
The Solution
When it came to figuring out how to best revitalize the Law Firm's marketing efforts, it was up to the Website Depot team to rethink their approach. They signed up for a full silver-level digital marketing package meant to build on existing efforts on the part of the client. With their existing digital presence as a base, we optimized their content, complemented it with social media accounts, and used Google Adwords as an additional boost. Because of all the competition in the city, it was important, not just to make the firm stand out, but to have the informative content to back up that attention. Focusing efforts on gaining attention without good content to actually generate leads beyond that is a common mistake in digital marketing efforts.
---
Results
As Website Depot's marketing efforts began to pay off, so did the firm's investment. The overall attention received by the website began to grow, which in turn led to more leads being generated. Of course, a law firm isn't the kind of service that is immediately hired upon stumbling upon it. Once the lead is generated, it's no longer the marketing's job but the firm's to turn the leads into clients. However, the more leads the firm receives, the more likely it is that they'll turn those into paying customers, and the marketing efforts indeed translated into more leads.
---