Attorney SEO Marketing: The Most Important Factors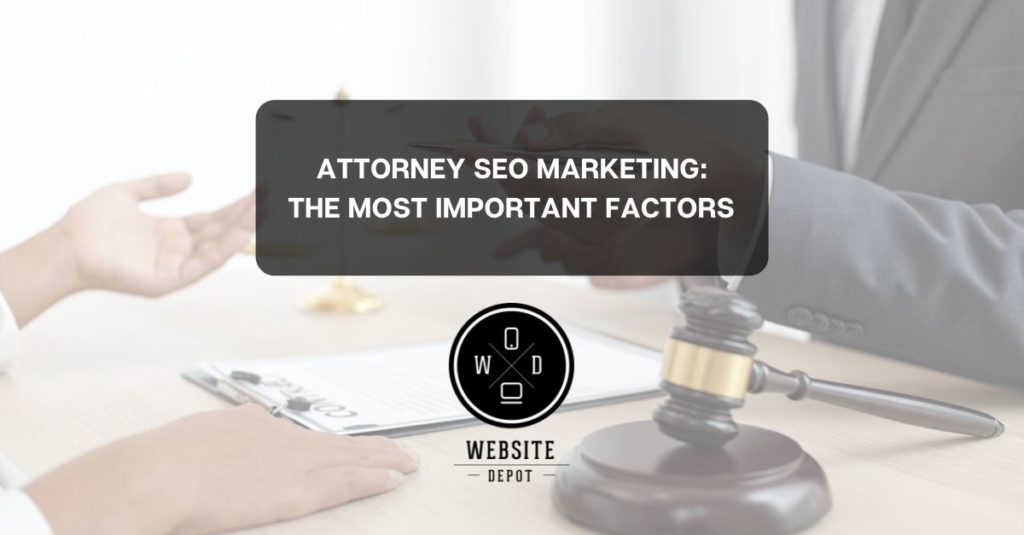 So what is an attorney SEO? Let's get started with some definitions. Search engine optimization (SEO) is the technique of influencing the appearance of a website in a search engine's unpaid search results. It includes both the methods used to make pages more visible and those used to avoid making them less visible. A good SEO company will help you reach Google's top 10 positions. Having a great SEO strategy will not only help get the right people to your business, but it will also do so at the right time. According to lifehack.org, increasing conversions improves customer retention, which aids in building a long-term clientele of loyal repeat customers who will constantly come back to you time and time again, allowing you to focus on servicing them and attracting more clients. For that, they need something called backlinks on your site. Because of the intense competition on the internet, your company cannot afford to overlook optimization. Here are a few essential factors of attorney SEO marketing to help you stand out from the multitude.
Optimizing Your Website on a Local Level 
In most cases, these are behind-the-scenes modifications that will have no visible impact on how your website appears. They will, on the other hand, improve your Google rankings. A variety of elements on your website, including your header, content, URL, picture, title tags, and Meta attributions, instruct Google to index your page. This information provides Google an idea of how to make your website accessible to your target audience in the most comfortable manner.
Navigability 
The importance of first impressions cannot be overstated. If your website is challenging to browse, visitors will not spend enough time on it to even contemplate becoming a customer. This has an impact on your search engine optimization rating as well. The length of time visitors spend on your site, on each page, and the number of times they click on your website only to immediately hit the "back" button impact your search engine optimization. This affects your bounce rate, which is measured in percentages. The lower the number of time users spend on your website and the faster they leave it, the greater your bounce rate will become. The bounce rate of your website will be improved if you make it as simple as possible for customers to obtain the content they are looking for.
Content 
Although it is tempting to believe that keyword stuffing is the most effective method of developing content, this is not the case. Users will be drawn to your website by relevant, helpful material updated regularly. You'll also be able to demonstrate to Google that you're involved and making a positive contribution to the world. This is also the most effective method of generating backlinks to your website—a backlink link on one website that directs the visitor to a different site. Search engines like it when other people recommend your website. Because the search engine returns to you more often, another website contains a link to your website. Your rating will increase as a result of these links. Backlinks should never be acquired under any circumstances. This will harm your rating.
Analyzing Your Website 
An audit of your current website is the first step in developing any lawful marketing plan. Among other things, this involves a look at your keyword use.
Keywords 
It is best to choose keywords that are most relevant to your sector to reach your target audience. These keywords should not be chosen without doing a thorough investigation. Make a list of things your ideal consumer would type into a search engine to come to your site. Competitor analysis might assist you in discovering what keywords your rivals are using. Valuable or underutilized vocabulary may be brought to your attention in this way. Searching for keywords relevant to your sector is simple using Google Analytics and Google Keyword Planner.
Endless Loops Or 400 Errors By The Help Of Attorney SEO 
When users cannot discover the information they are seeking, this is referred to as a dead end. It is possible to get 400 errors if a page is not correctly set up and cannot be loaded. Both of these issues will boost your bounce rate since consumers will typically abandon your website due to these mistakes. The above information should give the readers a good idea of what they need to do and consider when looking for a law firm marketing company. There is a lot to believe, but start with the basics and work your way up. Even if you have an excellent and effective system right now, don't be afraid to change things up as you grow. And just because your site ranks well for specific keywords early on doesn't mean you can't implement changes down the line that will enhance those rankings and make them more effective. With all that in mind, it couldn't hurt to take our advice from the beginning of this article and find yourself an SEO expert before tackling the rest. After all, the more educated you are about SEO marketing for lawyers, the easier it will be to get there yourself.